Senior Writer: Naina khare
Reading Time:
10
Minutes
Published :
May 15, 2023
Call monitoring is one of the proven ways to win and retain more customers. It enables you to understand and meet customer needs, ease their frustrations, provide agent training, and work on improvement areas. At a time when 82% of customers expect brands to meet their expectations, we cannot afford to take it lightly.
Call monitoring can be best done with phone call monitoring software. Here is a guide on call monitoring, its importance, best practices, and features to consider while selecting a call monitoring software.
We have also curated a list of the 15 best call monitoring software with their features, pros and cons (based on reviews), and pricing for you to make an informed decision.
Need a reliable and affordable business phone system? Look no further than DialerHQ.
What is Call Monitoring? 
Call monitoring definition isn't limited to listening in on your agent's calls to improve performance and customer service.
Instead, call monitoring has become the process of tracking and analyzing phone calls (inbound and outbound) plus customer interactions across multiple channels (SMS, live chat, social media, and more).
Call quality monitoring assesses the call quality, improves agents' call performance, builds/optimizes marketing strategies, and delivers better solutions.
Expert Advice
"Not choosing to improve customer service when you have all the resources is not wise. That's what you'd be doing if you don't monitor your customer calls to understand customer needs and enhance customer satisfaction. As for adopting call center monitoring software, ensure you don't get lured by software loaded with features. Rather, leverage our list to select the one that best suits your business needs, size, and kind. "
Why is Call Monitoring Important?
72% of customers share their positively decent experiences with 6+ people, and 13% with a negative experience share it with 15+ people. That's a pretty solid reason for you to work on delivering delightful customer service. And call monitoring can help.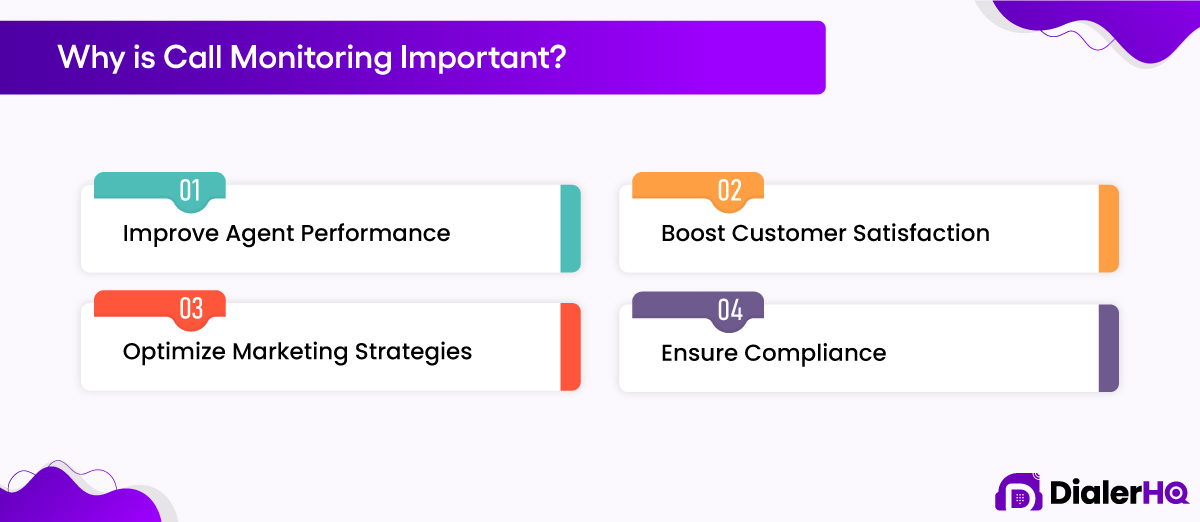 Call monitoring ensures customer satisfaction and empowers you with actionable insights to work on your process's new-found or existing inefficiencies.
Here are 4 more reasons why call quality monitoring is important:
1. Improve agent performance
Monitoring phone calls and agent-customer interactions helps in evaluating agent performance. 
With call quality monitoring, you can have an in-depth view of agent performance (to train them accordingly) and answer critical assessment questions. For instance, you can assess whether your agents are confident on calls, how they cater to a certain query, or to what extent they meet customer service standards.
These factors help the quality assurance team determine the agent's compensation and incentives to promote them at the right time.
2. Boost customer satisfaction 
You can improve customer satisfaction only by knowing your customer's problems, expectations, sentiments, intent, and views on your product/service. The good news is that monitoring and analyzing customer calls and interactions can help you gain this information.
Telephone monitoring also helps you understand customer behavior patterns and alerts you on negative interactions, which is necessary to maintain the best customer experience and boost customer satisfaction.
Based on your customers' problems, customize your software product to resolve the issues. There are top-tier software development companies in Calgary that help you design a system that fits your specific needs.
Improving customer satisfaction enables you to proactively reach out and solve customer issues (87% of customers want this).
3. Optimize marketing strategies
You must market your products in a way that addresses your customers' pain points and keeps them coming back for more. This is impossible without knowing what they are struggling with and how your product can solve it.
And that's where monitoring and analyzing customer calls/interactions can help. 
Optimizing your marketing strategies to incorporate solutions to your customers' problems will make them feel cared for. This increases customer retention, boosts loyalty, and maintains your competitiveness in the market. 
4. Ensure compliance
Constantly monitoring calls and customer interactions helps you gauge when legal or regulatory standards are unmet. You can then work on being compliant instantly before it becomes a problem. By monitoring phone calls, you can ensure that:
Agents are transparent about the product's functionality and service inclusions

Correct prices are told to the customers without any false promises of discounts

There's no bias in the agent's advice just to meet sales targets
When you keep these points in check, you promote transparency among agents, which has a long-lasting impact on the organization's success while ensuring compliance.
Call Monitoring Best Practices
Implementing call monitoring best practices can streamline contact centers' processes and help you achieve your business goals. Here are 4 best practices you must consider while monitoring your customer interactions: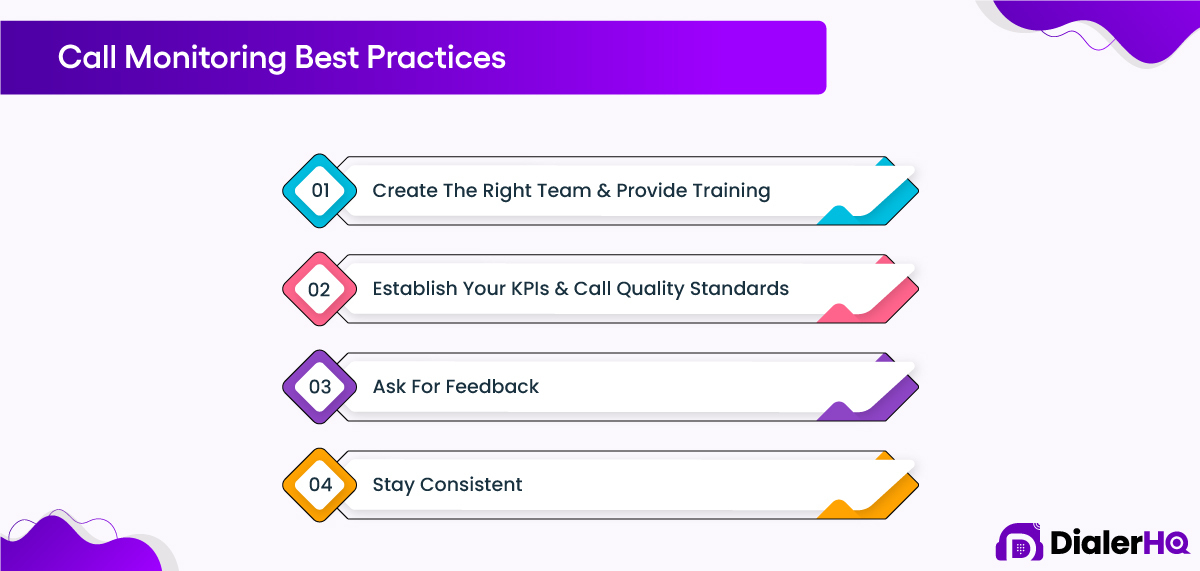 1. Create the right team and provide training 
Even the best tool can lead you nowhere until you have the right team–contact center supervisors, managers, and excellent call center agents to understand and work on achieving your business goals and needs. Because technology in itself adds no value, it's how you use it that makes a world of difference.
Also, you must train your team so they know and adhere to your specific customer service standards, without which they might find it challenging to reach their full potential and quit. Note that 94% of employees won't quit if you offer suitable training and development opportunities.
2. Establish your KPIs and call quality standards 
Ensure quality assurance by establishing key performance indicators and call quality standards. KPIs are the goals set for agents to shoot. The metric helps managers compare the actual performance to predefined standards and gauge inconsistencies for improvement.
Another best practice is to set call quality standards that managers gauge via customer satisfaction surveys. This indicates the quality of services your customers have been receiving. These surveys include questions about whether the agent met compliance standards or understood customer needs. 
How does it help? 70% of customers are more likely to purchase from you if you understand customer needs.
3. Ask for feedback
Direct feedback helps you spot and correct the areas that need improvement. Now feedback can be internal or external. Internal feedback is what you give after listening to call recordings or live calls to a call center agent based on their overall performance.
On the other hand, gathering external feedback includes asking customers about their experience at the end of the call or sending surveys via email. This will give you insights into where you can improve and how you can ace the customer service game.
4. Stay consistent
If you occasionally monitor your contact center's calls, drawing conclusions or understanding behavioral patterns will be challenging, making it difficult to improve customer service. So make sure you consistently monitor customer interactions. When you do, agents tend to perform better and not overlook any compliance or standards. 
Key Features to Consider While Selecting a Call Monitoring Software 
Call monitoring software has multiple features with advanced monitoring functionality that may or may not be useful for your business. But here are 5 non-negotiable features to consider while selecting phone call monitoring software: 
Call routing

routes customer calls to reps with expertise in solving a particular issue

Call recording

is a

call monitoring feature

that records all the inbound/outbound calls agents answer or transfer for future reference

Call barging

is a

call monitoring feature

for managers to access and take over live customer calls when necessary for better query resolution

Call whispering

is to

guide agents during live calls without notifying the caller for enhanced customer support

Live sentiment analytics

gauges whether the call's sentiment is positive or negative. It lets you proactively take over to extend better support
Comparison Of Top 15 Call Monitoring Software
Brand Name
Key Features
Pricing
Free Trial
DailerHQ

Outbound calling
Call recording
Lead management
CRM integration

Unlimited: $12/month
Free: Software $0
Custom: Contact sales

10 Days
CallHippo

Virtual phone system
Call forwarding
Call recording
Voicemail

Basic: $0
Bronze: $15.71/month
Silver: $22.96/month
Platinum: $38.68/month

10 Days
RingCentral

Business phone system
Video conferencing
Team messaging
File sharing

Core: $20/month
Advanced: $25/month
Ultra: $35/month

14 Days
Dialpad

Cloud-based phone system
Team messaging
Video conferencing
AI-powered features

Standard: $15/month
Pro: $25/month
Enterprise: $22.95/month

14 Days
Ringover

Cloud-based phone system
Call forwarding
Voicemail
Conference calling

Smart: $19/month
Power: $39/month
Enterprise: Contact sales

7 Days
Zoho Desk

Ticket management
Multi-channel support
Automation
Self-service portal

Standard: $9.68/month
Professional: $16.95/month
Enterprise: 29.05/month

15 Days
Nextiva

VoIP
Video conferencing
Team messaging
Auto-attendant

Essential: $18.95/month
Professional: $22.95/month
Enterprise: $32.95/month

NA
Freshdesk

Ticket management
Multi-channel support
Automation
Knowledge base

Free: $0 up to 10 users
Growth: 12.09/month
Pro: 43.57/month
Enterprise: 68.99/month

21 Days
CloudTalk

Cloud-based phone system
Call center features
Call routing
Reporting and analytics

Starter: €25/month
Expert: €50/month
Custom: Contact sales

14 Days
Zendesk

Ticket management
Multi-channel support
Knowledge base
Automation

Suite Team: $49/month
Suite Growth: $79/month
Suite Professional: $99/month

14 Days
PhoneBurner

Power dialer
Sales CRM integration
Call recording
Local ID tracking

Standard: $127/month
Professional: $152/month
Premium: $169/month

NA
Aircall

Cloud-based phone system
Team collaboration
Call routing
Analytics and insights

Essentials: $30/month
Professional: $50/month
Custom: Contact sales

7 Days
Genesys Cloud CX

Contact center platform
Omnichannel support
AI-powered automation
Analytics and reporting

Voice: $75/month
Digital: $95/month
Digital + Voice: $115/month
Digital + WEM: $135/month
Digital + WEM + Voice: $155/month

30 Days
Kixie

Cloud-based phone system
CRM integration
Power dialer
Call recording
Analytics and reporting

Integrated: $35/month
Professional: $65/month
Outbound Powerdialer: $95/month
Enterprise: Contact Sales

7 Days
GoTo

Online meetings
Video conferencing
Screen sharing
Webinar hosting
Collaboration tools

14 Days
15 Best Call Center Monitoring Software
Ideally, call center monitoring software must have high functionality to support your business's success. But finding the perfect one can be challenging, so here are the 15 best call monitoring service providers that give the best call monitoring services.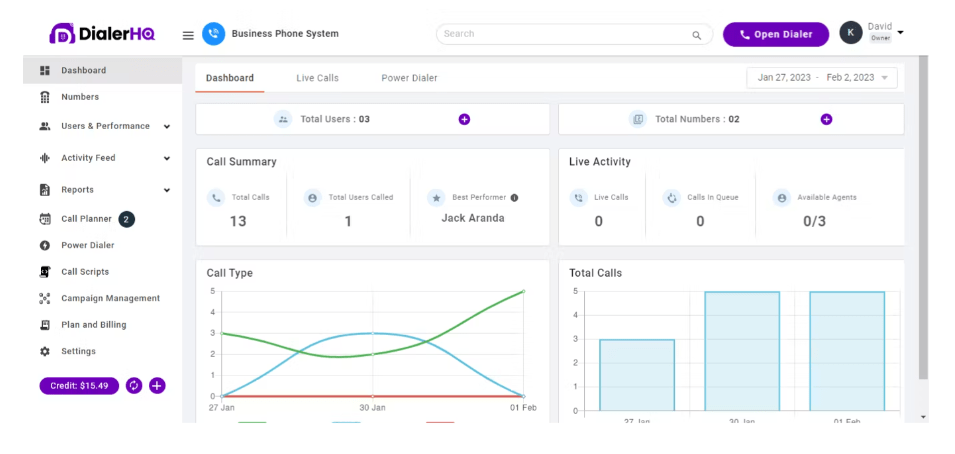 DialerHQ, one of the best call center software, aims to provide you with the most seamless business communication and call monitoring feature. Packed with advanced and innovative features, DialerHQ is equipped to fulfill your business-specific needs, regardless of the business's size.
Features
Data-driven analytics

Call monitoring 

Call barging

Outgoing call tracking

Call whispering
DialerHQ Pros and Cons
DialerHQ's interface is highly user optimized.

Its support team follows a customer-first approach and provides quick resolution.

Excellent customer service.
There are limited safety features so less reliable.

Its call quality lags sometimes, hampering user experience.
Pricing
Unlimited: $12/user/month
Custom

:

Contact sales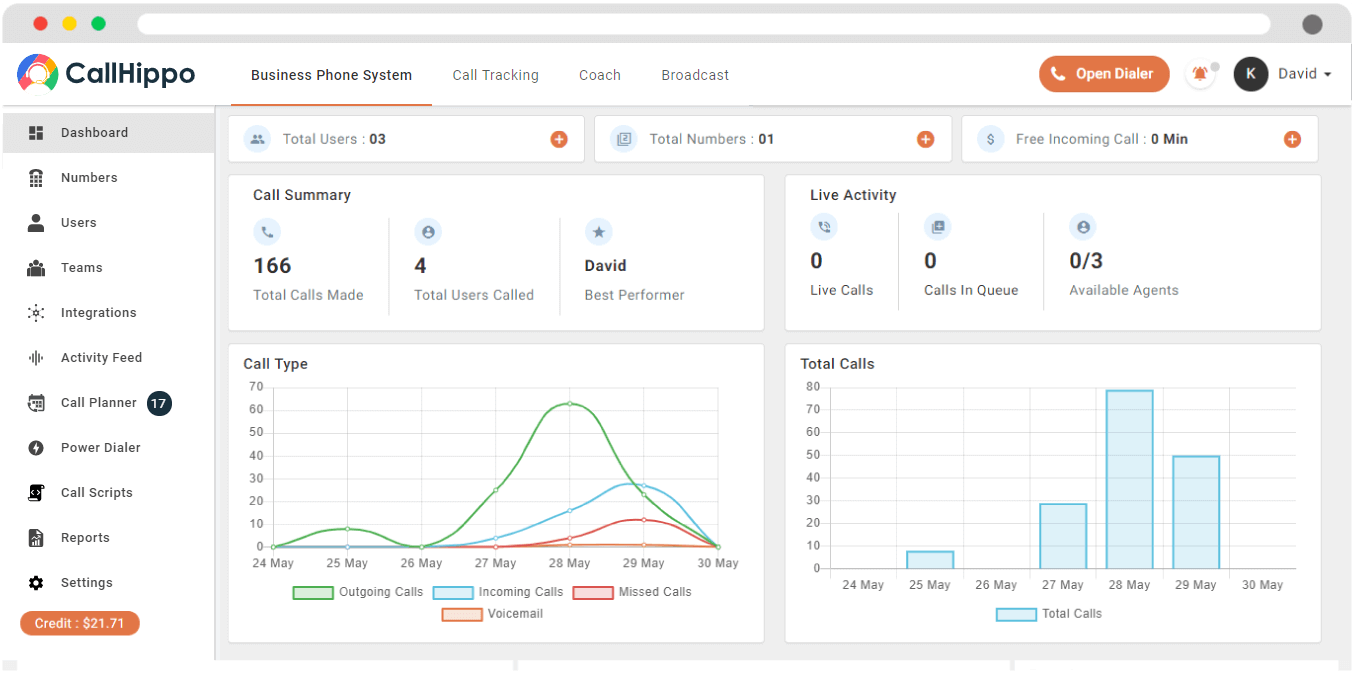 CallHippo, a powerful call-monitoring software, works as a right hand to businesses by automating workflows, enhancing agent productivity, and closely tracking team performance. With CallHippo, you can expect to deliver the best customer experience ever.
Features
Call recording

Smart call forwarding

Call analytics
CallHippo Pros and Cons
CallHippo provides advanced customization to match your business needs and boost agent productivity.

The tool offers quick onboarding.

It provides great interaction with other features.
There are no call recording logs in the CRM.

CallHippo offers a limited trial period.
Pricing
Bronze

: $16/user/month

Silver

: $24/user/month

Platinum

: $40/user/month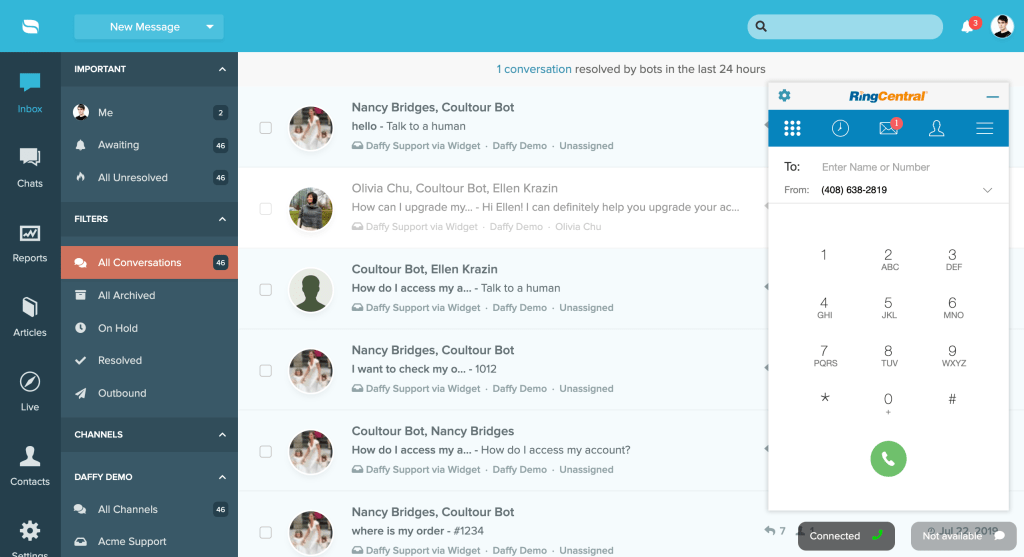 RingCentral, one of the best call monitoring tools, lets you efficiently manage and support the sales team to enhance productivity. It has a plethora of features that are strategically curated for you to dive deep into customer behavior.
Features
Call takeover

Queue management 

Real-time call tracking

Call logs
RingCentral Pros and Cons
RingCentral makes it simple to access and download recordings.

It offers an all-in-one centralized dashboard.

The software supports 30+ digital platforms.
It offers CRM integrations as add-ons.

RingCentral doesn't offer a free trial.
Pricing
Core:

$20/user/month

Advanced:

$25/user/month

Ultra:

$35/user/month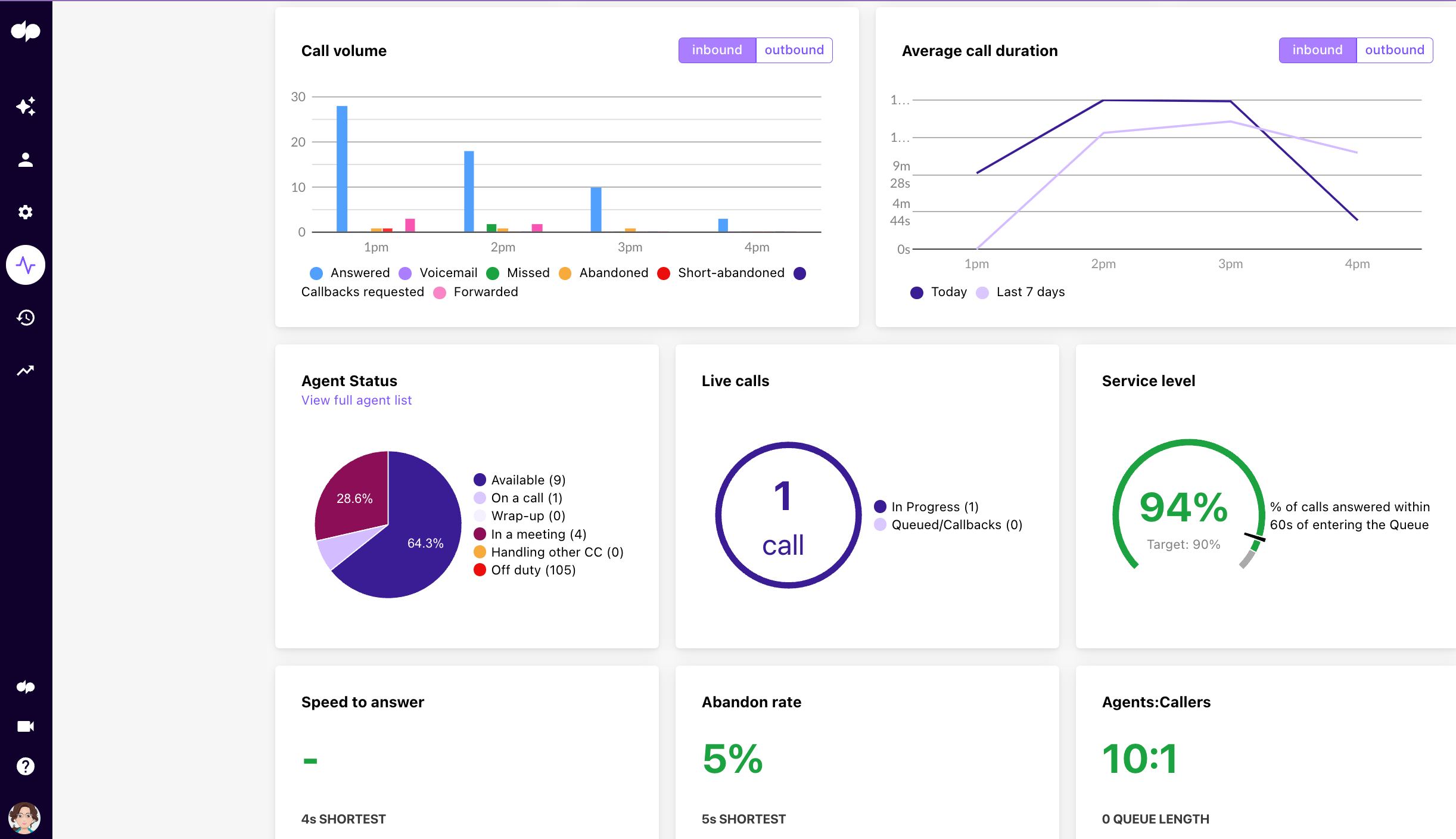 Dialpad, an AI-based platform, has one unified app where you can collaborate with your teams and support customers efficiently. It also automates workflows and gives the most relevant suggestions so agents can work faster without getting overwhelmed by the number of support requests.
Features
Call listening

Agent screen capture

Automated real-time call transcription

Live sentiment analysis 
Dialpad Pros and Cons
Dialpad is highly equipped to run quality assurance checks.

It empowers your agents to handle critical calls with ease.

The tool gives a detailed overview of the progress of all the customer calls.
The app may freeze sometimes.

Its load time can be slow.
Pricing
Pro/Enterprise

:

Contact Sales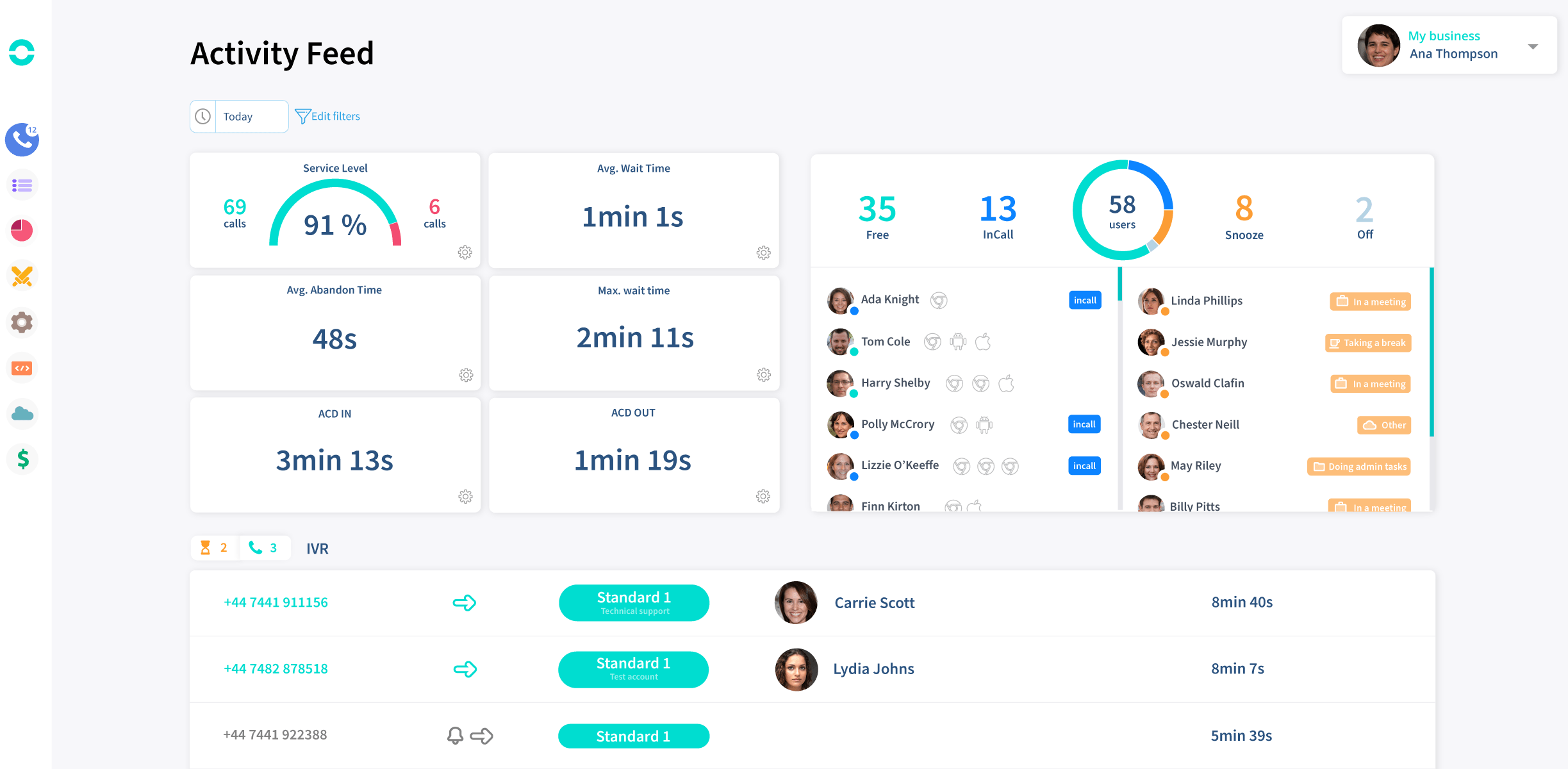 Ringover is a call-monitoring software that facilitates friction-free tracking, management, and improving agent performance and customer interactions. Its easy-to-use cloud-based system has the most intuitive interface and provides efficient integrations with your favorite apps.
 Features
Ringoverview

Advanced call statistics

Dual listening

Conversation joining 
Ringover Pros and Cons
Ringover is easy to use for both sales agents and managers.

The software adapts well to small or large numbers of employees.

It offers 99% uptime and end-to-end encryption of all business communication.
Ringover's customer support can be unresponsive.

There are some audio issues.
Pricing
Smart: $19/user/month
Power: $39/user/month
Enterprise: Contact Sales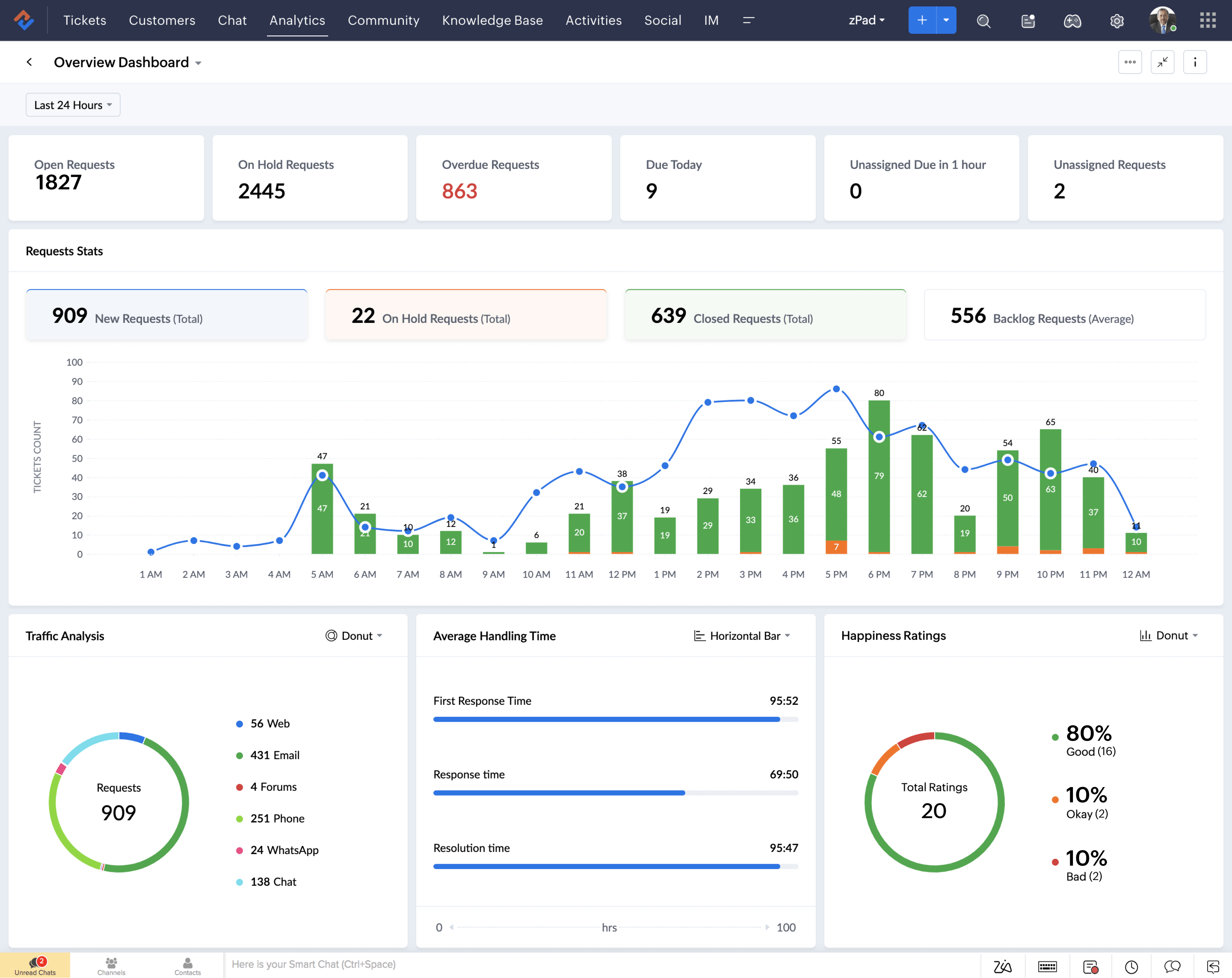 Zoho Desk is a call monitoring software that believes in making agents productive, managers impactful, and customers satisfied. With Zoho Desk, you can maintain consistency in customer service to build unwavering relationships with customers. 
Features
Queue performance

Call disposition and notes

Post-interaction CSAT rating

Call logs filters
Zoho Desk Pros and Cons
Zoho Desk offers a wide range of customization options.

It provides prompt service to VIP customers by asking them to contact specific agents/managers.

The tool is known to reduce missed call rates by letting you define business hours and holidays.
Its UI is outdated.

The software has a steep learning curve.
Pricing 
Express:

$7

Standard:

$14

Professional:

$23

Enterprise:

$40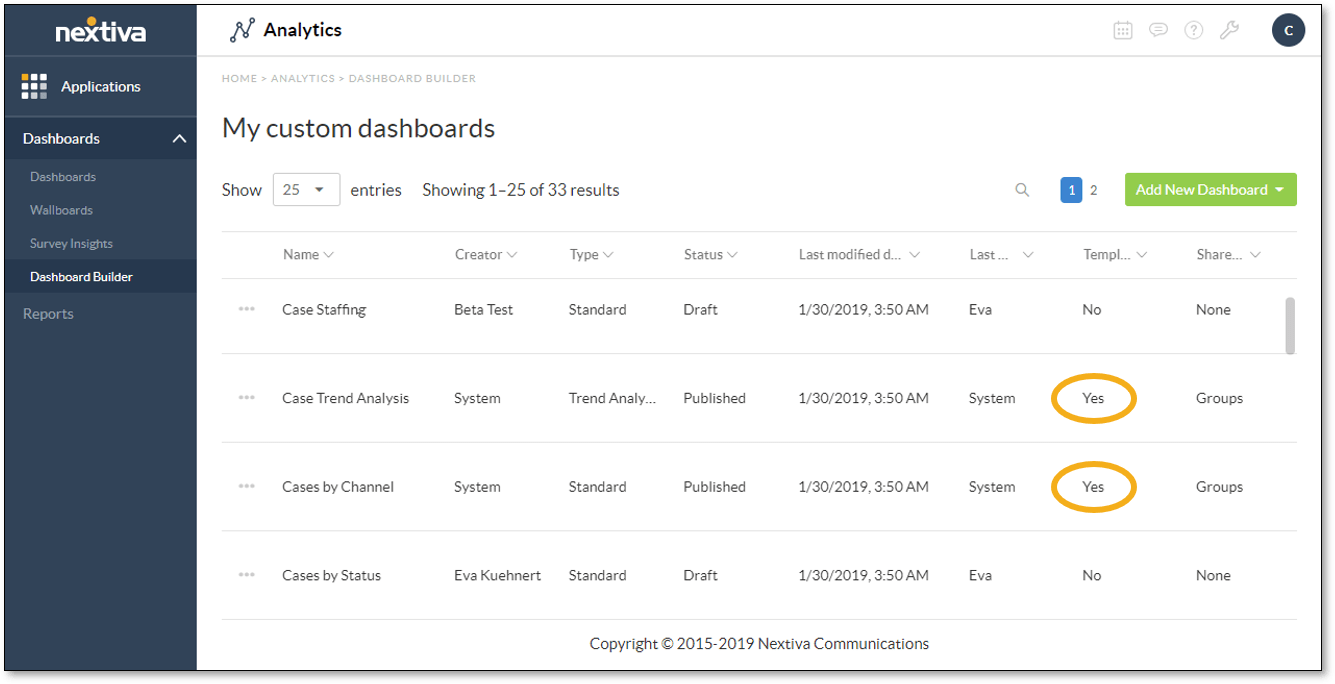 Nextiva, a call monitoring software, can change your business game by simplifying your operations with one easy-to-use solution. Not just that, it provides you with powerful productivity and customer experience tools so you grow faster and work smartly. 
Features
Peer-to-peer listening

User, role, and access management

Queue management 

Call routing
Nextiva Pros and Cons
Nextiva presents complex features in an easy way for inexperienced users.

It collects customer feedback to improve areas of inefficiencies.

The software makes it easy to adjust and edit workflows.
The calls may drop during conference calls at times.

The platform has some technical glitches.
Pricing 
Essential:

$18.95/user/month

Professional:

$22.95/user/month

Enterprise:

$32.95/user/month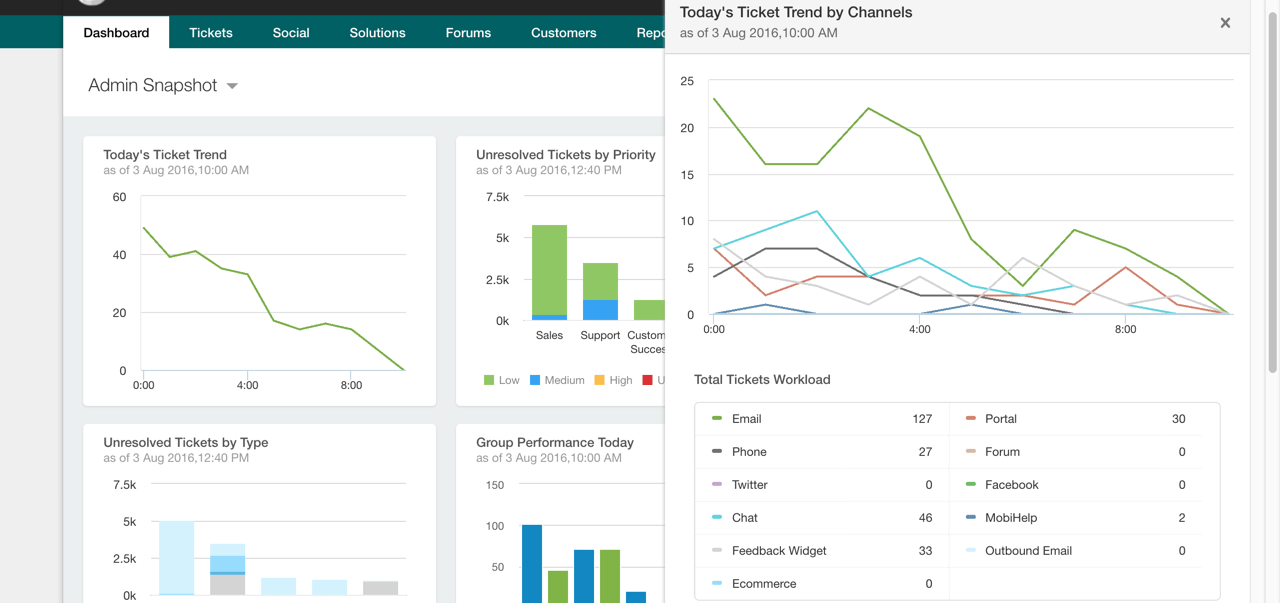 Freshdesk is a modern business phone system that facilitates easy call management and internal team collaboration. It aims to make customers happy and improve customer relationships without the hassle and cost of whole business software.
Features
Service level monitoring

Abandoned call metrics

Live dashboard

Call center reporting and analytics
Freshdesk Pros and Cons
Freshdesk's web and app interface is easy to navigate.

The tool makes it possible to track your agents anytime, anywhere.

It enables you to provide detailed agent performance feedback for an improved customer experience.
The software has a steep learning curve.

It has limited customization options.
Pricing 
Growth:

$15/agent/month

Pro:

$49/agent/month

Enterprise:

$79/user/month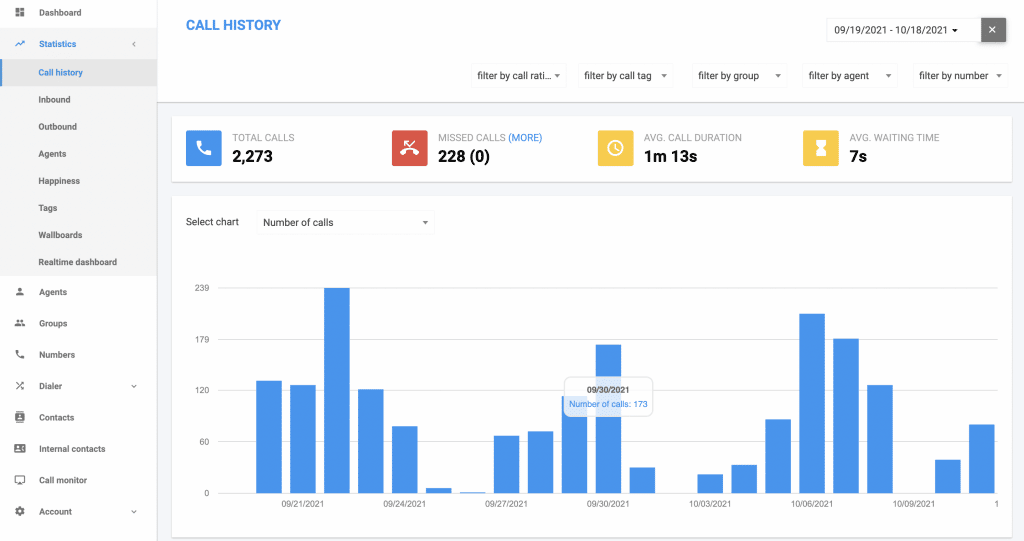 CloudTalk is a call center software that allows you to drop in on active calls via the dashboard, gauge agents' performance, and ensure an exemplary customer experience. Whether you want to listen, intervene, or join a conversation, you can do it all with CloudTalk.
Features
Automated call distribution

Wallboard

Emotion analytics

Smart detection of missed calls 
CloudTalk Pros and Cons
CloudTalk provides agent statistics to reward high performers and train low performers.

It offers a choice between a mobile app and web-based software.

The software gives first-hand customer behavior insights for making informed decisions.
Agent call downloading option is unavailable on CloudTalk.

It doesn't have any option to pause call recording.
Pricing
Starter

: $25/user/month

Essential:

$30/user/month

Expert:

$50/user/month

Custom

:

Contact Sales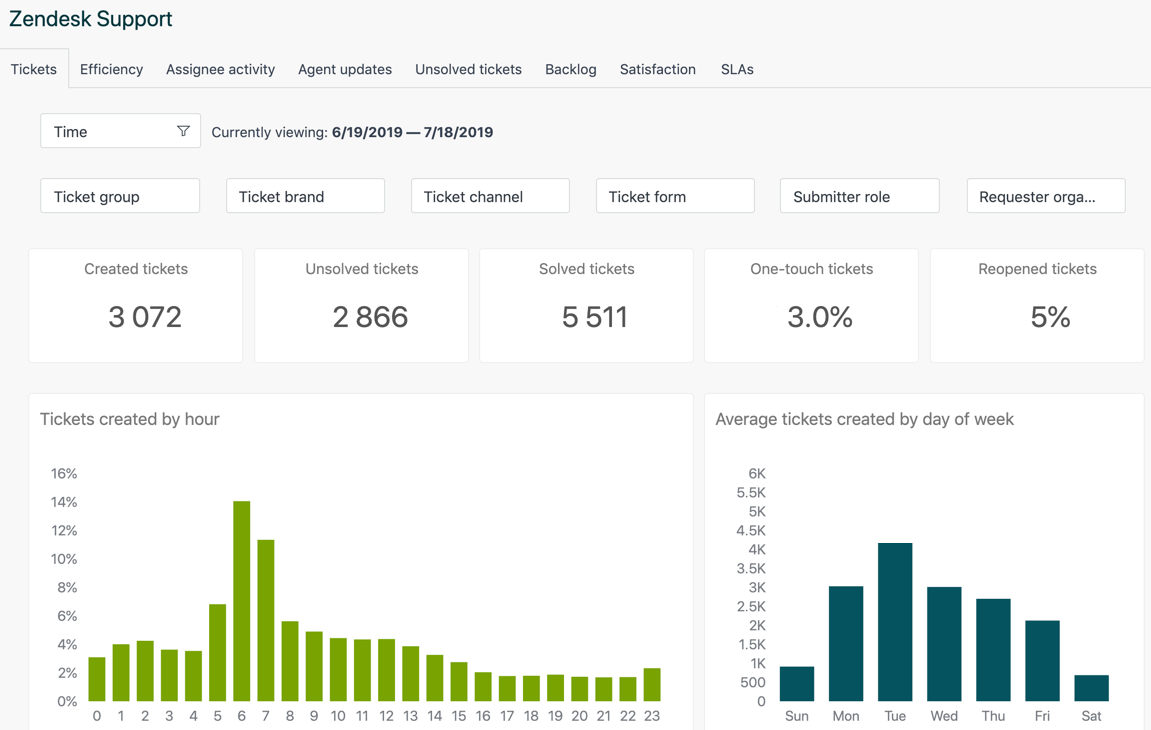 Zendesk, one of the best contact center solutions, integrates with Zendesk agent workspace and enables you to deliver the smoothest customer experience. You can expect enhanced productivity and accurate call quality monitoring with Zendesk.
Features
Overflow, group, and after-hours call routing

Centralized workspace

Call quality notifications

Call recording
Zendesk Pros and Cons
Zendesk is easy to navigate.

It offers a 99.95% uptime SLA.

The software efficiently tracks agents' activity and resolves tickets.
Zendesk offers 24*7 phone call live support as an add-on.

Some of its great features are available in more expensive plans—unsuitable for small businesses.
Pricing
Suite Team

: $49/user/month

Suite Growth

: $79/user/month

Suite Professional

: $99/user/month

Suite Enterprise

: $150/user/month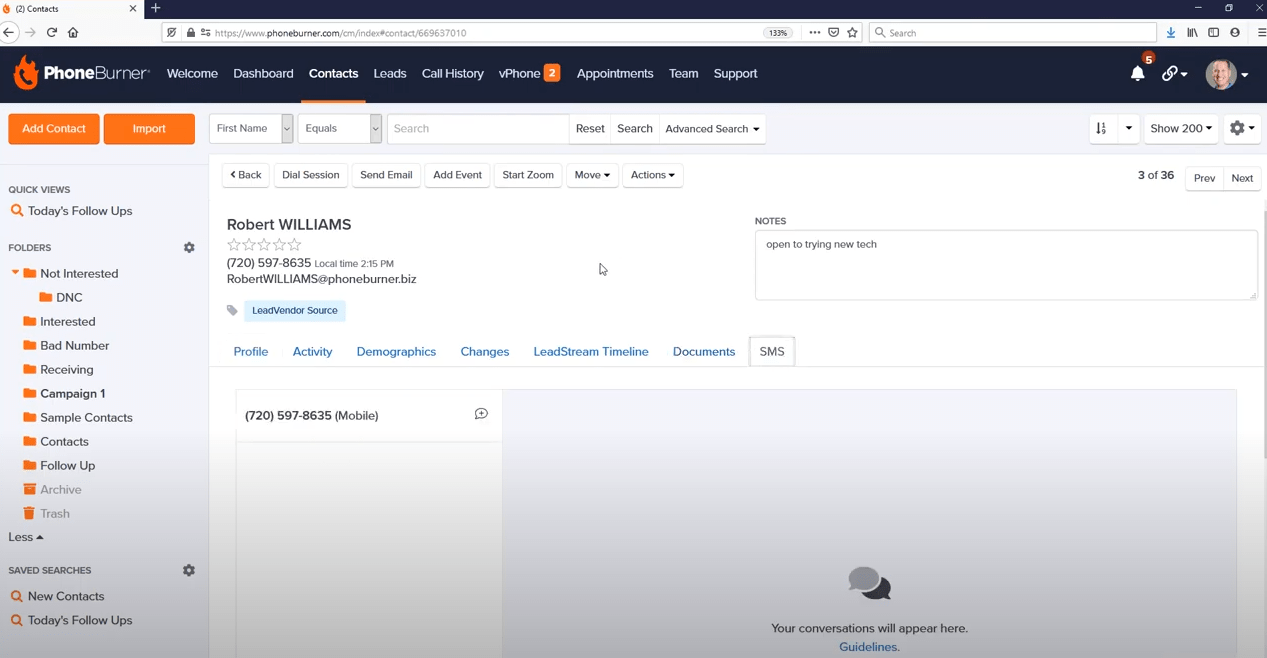 PhoneBurner is a contact center solution that helps you spot the friction points on active calls and develop agents based on the requirements. PhoneBurner lets you do it all with utmost ease and professionalism, from nurturing the pro reps to training the newbies.
Features
Automatic call tracking

Activity tracking

Live monitoring and coaching

Real-time leaderboards
PhoneBurner Pros and Cons
PhoneBurner has an award-winning support team to set up your account for free.

It offers 100% lag-free connections.

The tool integrates seamlessly with Salesforce, Zapier, HubSpot, and 150+ connections.
Setting up call lists on PhoneBurner is challenging.

The software speed is quite slow.
Pricing
Standard

: $127/user/month

Professional

: $152/user/month

Premium

: $169/user/month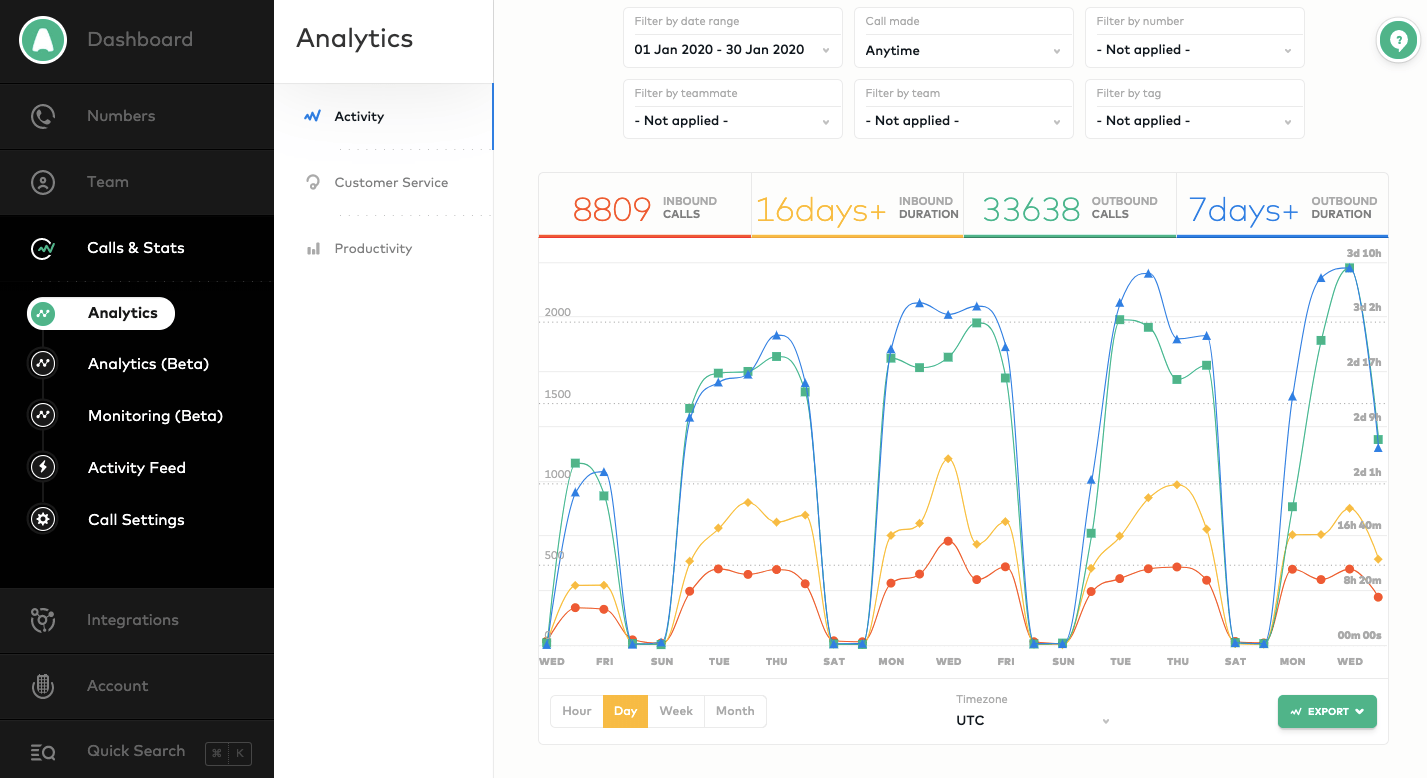 Aircall call monitoring system lets businesses fly high by constantly improving customer interaction and service. It lets you view and listen to all call center agents-customer ongoing calls. It also facilitates mistake correction during active calls without disturbing the flow.
Features
Shared call inbox

Custom filters

Activity feed 

Basic, custom, and advanced analytics
Aircall Pros and Cons
Aircall promotes best call practices.

It allows easy scaling as pricing plans suit all business sizes and needs.

Its desktop and mobile apps allow collaboration on the go.
Aircall's mobile app has limited functionality.

It provides limited call customizations.
Pricing
Essentials

: $30/user/month

Professional

: $50/user/month

Custom

:

Contact sales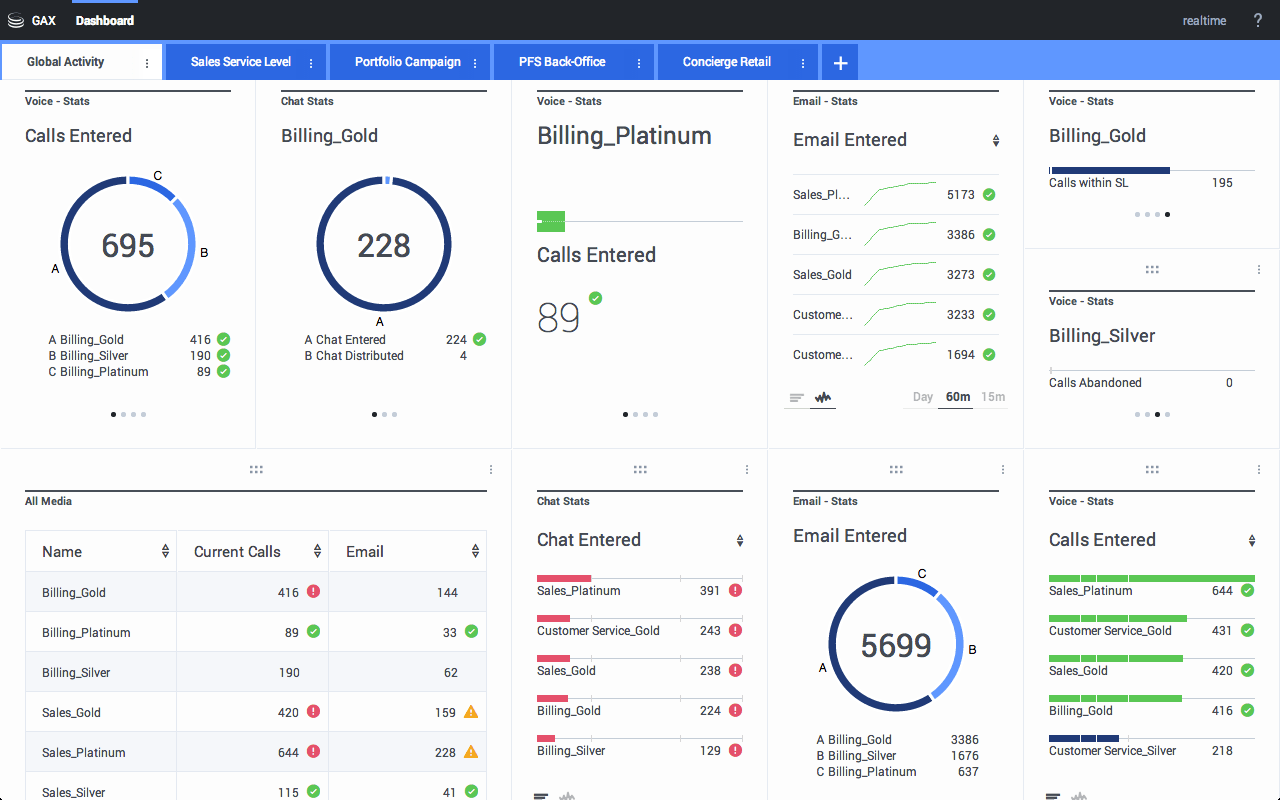 Genesys is a smart yet comprehensive call quality monitoring software that empowers employees and satisfies customers best. You can say goodbye to time-consuming monitoring practices with Genesys AI contact center software.
Features
Speech and text analytics

Quality management

Interaction recording

Screen recording
Genesys Pros and Cons
Genesys stores unlimited interaction recordings.

It automates all the quality assurance processes.

The software provides actionable customer insights to work with.
Genesys doesn't offer in-depth reporting.

Some audio issues have been reported on the platform.
Pricing
Voice: $75/month

Digital: $95/month

Digital + Voice: $115/month

Digital + WEM: $135/month

Digital + WEM + Voice: $155/month
Kixie is a unique call monitoring system packed with advanced call center tracking tools. It provides automated texts and calls for sales teams and can easily be integrated with top CRMs. You can try Kixie for free without adding your credit card.
Features
Warm transfer

Filter and search tools

Business Snapshot

Custom Automation
Kixie Pros and Cons
Kixie offers unlimited cloud storage.

It provides continued support after onboarding.

The tool is known to cut a lot of manual labor.
It doesn't notify you of incoming calls sometimes.

The tool doesn't offer any SMS templates.
Pricing
Integrated

: $35/month

Professional:

$65/month

Outbound Powerdialer:

$95/month

Enterprise

:

Contact Sales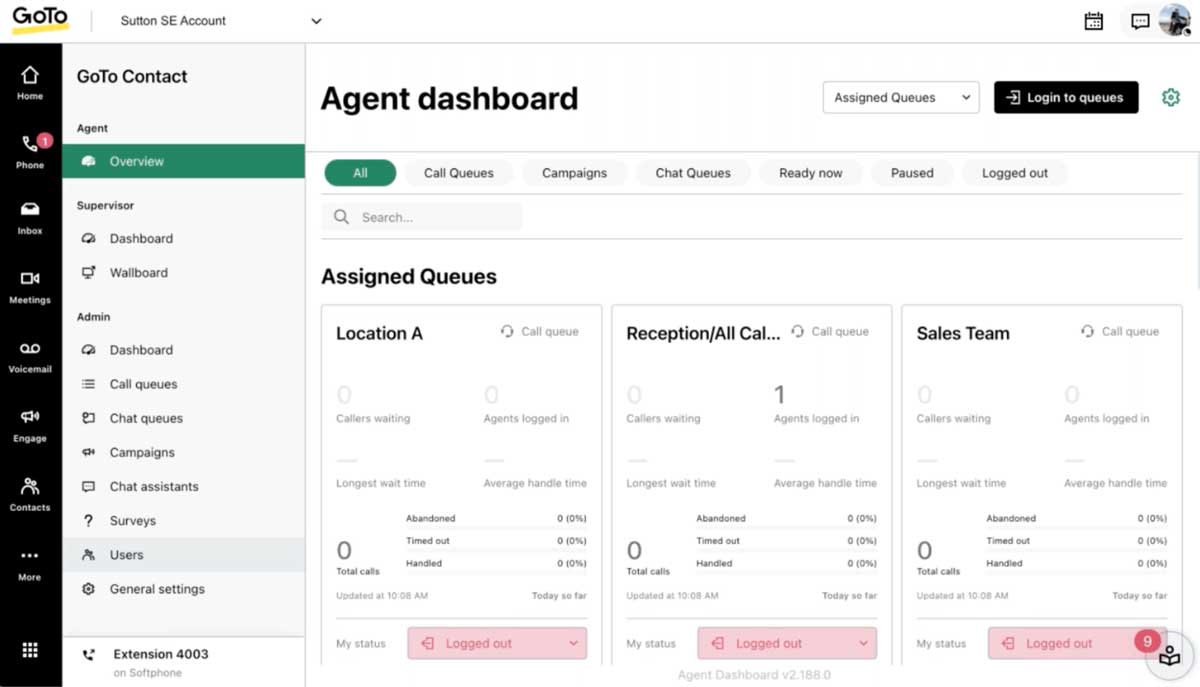 GoTo is a call center monitoring software that enhances customer experiences better than ever. It trains agents and improves their performances with GoTo's listen, whisper, and barge modes. Whether you want to give information to agents or resolve issues yourself during active calls, GoTo is your best bet.
Features
Customizable chat surveys

Missed call indicator

Agent wrap-up 

Tag management
GoTo Pros and Cons
GoTo's call quality is top-notch and reliable.

Its admin portal is easy-to-use.

It is simple to switch between numbers when contacting multiple clients on GoTo.
Setting user permissions is difficult on the software.

There are issues in loading previous calls.
Pricing
Wrapping Up 
Understanding and fulfilling customer needs is mandatory for a flourishing business. And call center monitoring software is a tool to do exactly that. It allows you to listen, barge, and whisper during active calls so you know what customers need and their areas of dissatisfaction.
For best results, choose the software that not only does the bare minimum of monitoring calls effectively, but also helps you stay productive with its advanced functionalities. We can't wait to see your business thrive.
FAQs
No, call recording refers to the idea of recording voice conversations. In contrast, call center monitoring is when managers closely track calls to gauge and improve agent performance and deliver an enhanced customer experience.
To check if your cell phone is being monitored, look out for these signs:
Increased data usage
Suspicious files/applications you didn't install
Suspicious text messages you ever sent
Here are the steps to stop your phone from being monitored:
Go to settings
Click on Privacy
Go to the tracking option
Toggle off the option that allows all the apps to track
DialerHQ has many high-utility features that are easy to set up and navigate, making it an easy win among other call monitoring solutions.

Naina Khare is a full-time freelance writer who fiercely believes in the power of storytelling and primarily holds expertise in creating content for B2B SaaS brands. She's infinitely curious and happiest when reading, writing, or exploring spirituality and self-growth.
Updated : December 4, 2023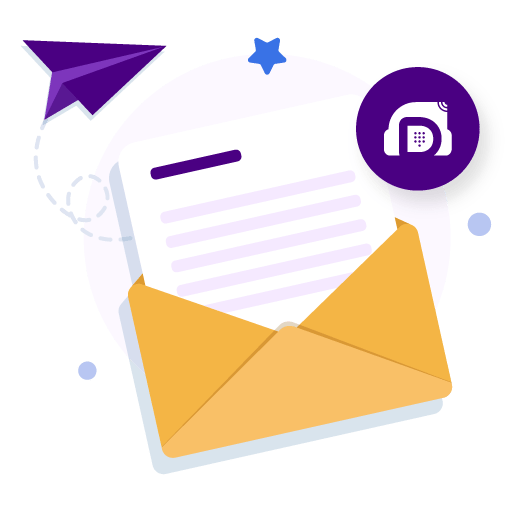 Let's Stay in Touch
Subscribe to our newsletter & never miss our latest news and promotions.

+15K people have already subscribed