Senior Writer: Urmi Shah
Reading Time:
18
Minutes
Published :
August 30, 2022
Do you know what your customers love? They love talking on the phone with real humans.
It's so simple, but it's true: in today's digital world, many customers still prefer to talk over the phone when reaching out to customer service. The immediacy and familiarity of a good old-fashioned call build trust between a customer and a customer service agent.
You want to give customers the best experience possible—you want them to be able to reach out to you and have their questions answered as quickly and efficiently as possible. But it's challenging to do that when you're not equipped with the right tools. That's precisely where the call center software comes in!
Need a reliable and affordable business phone system? Look no further than DialerHQ.
Call center software is essential for managing your team's workload and ensuring every customer gets the best possible experience from your business. So let's learn more about Software for call centers, their features, their benefits, and most importantly, how to pick the right one for your business.
What is a Call Center Software?
Call center software is a set of programs designed to make it easy for call center agents to manage their calls, track their performance, and route calls as needed. It's an essential part of any successful call center operation.
Contact center solutions allow you to run your call center operations more efficiently. And are required to perform various tasks, including
Customer Support – answering customer questions or resolving their issues.
Sales – introducing new products, providing product information, and upselling existing customers.
The best call center software allows you to automate these tasks so that agents can focus on the most critical parts of their jobs.
Expert Advice
"Businesses should invest in call center software to boost productivity and customer service operations. Companies can automate several processes with call center software, including call routing and queuing, which lowers wait times and assures timely customer service. The program also offers useful capabilities like call recording and analytics, allowing organizations to track agent performance, pinpoint areas that need development, and make informed choices. Additionally, call center software connects with customer relationship management (CRM) systems, enabling personalized interactions and simplifying easy access to customer information. Ultimately, it equips companies to provide remarkable client experiences, increase productivity, and spur revenue development. "
What are The Different Types of Call Center Solutions?
Different types of Call Centers solutions are designed for different services. For example, some call center solutions are made for outbound calling, others are geared for inbound calling, and others are made for both.
Along with providing different purposes, call center softwares can be cloud-based systems, hosted or on-premises.
Please keep up with the article to understand the different types of call center softwares and their purpose.
Hosted, cloud-based, and on-premise call center solutions
Hosted, cloud-based, and on-premise are different call center solutions designed for a purpose.
Hosted directly means hosting; the software vendor stores the data in their highly secured servers hosted online on a third-party vendor. As a result, it is less costly than any other call center solution.
The On-Premise solution stores the data on your server. In this case, you have to purchase your server, which includes installing, & updating the software yourself.
It is straight; hosted call center software offers less maintenance but is less featured than cloud call center software.
Inbound and outbound call center solutions
Let's talk about the two other types of call center solutions: inbound and outbound phone systems.
Inbound call centers are generally used by businesses that offer services or products like amazon.com.
They use inbound call center softwares to manage thousands of customers' incoming calls with different queries and requirements for help.
The outbound call center softwares are used by companies who do the outbound calling.
Why Do You Need A Call Center Software?
Call center software is responsible for handling customer inquiries, complaints, and sales inquiries. Furthermore, contact center solutions are also responsible for nurturing existing customers and closing new business deals.
Software for call centers is designed to help your team provide the best possible customer service experience. Contact center software can automate repetitive tasks, manage lead generation campaigns and sales opportunities, schedule employees' time off, monitor phone calls, track customer behavior, and more.
Here are some of the most significant benefits of investing in software for call centers:
Improved Customer Service: Call center software helps you track each customer interaction. This allows them to see which agents are providing high-quality customer service. And the ones who need additional training. It also allows them to see how long each call takes to adjust staffing levels.
Better Data Management: Organizing your data into a centralized system makes it easier to access information. In addition, this will save you time researching or analyzing trends within your business that could affect future growth plans.
Increased Efficiency: contact center software allows you to track every aspect of each customer interaction. For example, from the moment a customer calls in, all the way through until they hang up, you can see how long it took to get their order placed and shipped out. You can also track which departments they contacted, what time they called, and what part of the country they live in. This level of detail helps you to understand your customers better so that you can provide better service in the future.
Easier Management: A call center management system does your hard work tracking each employee's performance. It ensures that their skills are updated with new technology and training requirements. In addition, the software will automatically send emails reminding the agents about upcoming events before starting new projects or assignments.
Better reporting: Call center software facilitates a better understanding of the customer experience. It allows you to measure key metrics such as average handle time or the number of abandoned calls—to optimize your service for maximum efficiency and effectiveness.
Improved employee productivity: With calling center software, employees can easily access information about individual customers or groups of customers, allowing them to personalize their interactions accordingly. The result is happier customers who have a better experience overall with your company.
Lower Costs: Call center software allows companies to lower costs by automating repetitive tasks, reducing phone bills, and improving efficiency. This can result in cost savings ranging from $5,000 to $20,000 per year for small businesses and up to $1 million per year for large enterprises with thousands of employees.
Before we delve into the details further, let's take a step back and consider the most crucial features a calling center software needs.
What are the Must-Have Features for A Call Center Software?
While call-center software may seem complicated at first, it pays to have a call-center software that streamlines all your tasks with the right set of tools.
Whether you're a small, mid-sized or larger business, you might require more or fewer call center software features. We have jotted down the top must-have features for contact center software to make the decision easier.
Omnichannel can be described as the ability to communicate with customers in multiple ways and provide a unified customer experience. This includes anything from social media and chat platforms to live phone calls, email, or even video calls. Omnichannel enables businesses to communicate with customers on the preferred channel, reaching a wider audience and improving the overall customer experience.
Did you know that omnichannel shoppers have a 30% higher lifetime value than those who shop using only one channel? (Google). Call center software that contains omnichannel functionality will allow you to create campaigns across multiple channels to reach a more significant number of customers.
In addition, an omnichannel system will allow your company's agents to respond automatically to incoming calls by connecting directly to the customer's social media account. It also allows you to access the exact personal information they have provided on the platform.
The features that make contact center systems great are all tied to the brand's ability to connect with customers. This includes the software's ability to route calls, which is an essential feature to consider if you're looking for software for call centers.
Call routing in calling center software refers to how your calls are transferred from one agent to another. Keep in mind that this doesn't just mean transferring calls between agents on the same floor or extension; call routing can also include automatic call distribution across different locations, departments within a company, and even different companies.
There are many ways to transfer calls, but some of the best products will handle complex transfers with minimal effort and be flexible enough to work with your individual business needs. For businesses to function properly, contact center software must be able to process transfers seamlessly—especially when it involves multiple parties or locations.
Many of today's high-end call center solutions accommodate third-party integrations seamlessly, which helps businesses further streamline their processes. A good call center software solution will provide an intuitive interface that allows you and your employees to access and utilize information quickly.
CRM integration is a must-have feature for call center software. It provides your agents with an efficient way to track activities, making it easier for them to identify trends and improve customer experience.
74% of respondents say that call center CRM software gives them better access to customer data, allowing for more personalized service.
Call center software is a powerful tool that allows you to manage customer interactions and multiple communication channels in one place. While this is useful on its own, it becomes even more so when it's integrated with the rest of your business tools, such as CRM systems.
With the right call center CRM software, you can:
Track calls in real-time and see what works (and what doesn't) by analyzing results in a single dashboard
Get instant access to contact information so you can quickly find the right person
Use automated dialing technology to save time when calling customers on the phone
Create custom campaigns based on specific data points (such as postcode or product purchased) and send them out via email or SMS text message;
4. Cloud-Based Calling
It's no secret that cloud-based call center software is becoming an increasingly popular solution for call centers. It's no wonder, as the cloud offers many advantages, including cost savings, scalability, and flexibility.
However, one of the most important benefits of using cloud-based call center software is its ability to make and receive calls from anywhere in the world using any device with an internet connection. This means that agents can use technology like smartphones and tablets to provide better customer service.
Cloud-based calling also allows organizations to use more advanced features like integrations with CRMs and reporting tools to drive results.
Here are some other ways cloud-based call center software can help your organization:
No upfront costs: Cloud-based call center telephone systems require no upfront investment — you only pay for what you use (monthly or annually). So there's no need for expensive hardware or software that won't be used thoroughly or quickly depreciate over time.
Scalability: A cloud-based call center management software is scalable and can grow with your needs — from a handful of agents to thousands across multiple locations with ease. And because it's hosted on the provider's infrastructure, you don't need additional equipment.
5. Reporting
Reporting in call center software allows you to see how your agents perform, identify trends and patterns, and measure your team's effectiveness.
It is one of the most essential workforce management tools in contact center solutions. Without proper information, you won't be able to see where your business is going or how it's performing.
A good reporting feature will give you access to information such as
How many calls have been answered and abandoned?
How long are calls taking?
What percentage of agents are reaching their productivity goals?
How many times have customers been transferred?
6. Outgoing call
Outgoing calls in a calling center software are as important as incoming calls. Many customers prefer talking to a company representative before buying a product or service. The outgoing call feature enables call center agents to make outbound calls to potential customers and market the company's products and services. It also helps them gather more information about the customer's needs and requirements.
This feature is essential for any call center software since it allows agents to speak directly with customers. Without this feature, agents will have to transfer calls back and forth between themselves and their supervisors or managers. This can be time-consuming, especially if they need to consult with multiple people before they can offer a solution or answer customer questions. This also adds additional cost to each call by increasing the number of people involved.
Not only do outgoing calls help reduce costs, but it also improves productivity by saving time to transfer calls between employees who are busy handling other clients' queries.
IVR is an acronym for Interactive Voice Response. The IVR feature in contact center software allows your business to customize and direct customers to the appropriate department or person when they call you. You can also use IVR to gather information from your customers, such as their names and number, before connecting them with an agent.
8. Call Scripting
It allows you to create a script for your agents that can be used for all types of calls, and it will save you time by reducing the need for agents to memorize every possible scenario that could arise when talking to a customer.
Call scripting also makes sure that your agents are following best practices when they are communicating with customers. If you have experienced call center agents, they will already know what to say, but if you are hiring new agents or handling a high volume of calls, there may be some confusion about handling certain situations.
Some call centers use scripting to create their proprietary language among their employees. This is effective because it reduces training time and ensures that everyone knows what is expected of them during each customer interaction.
9. Escalation management
The term "escalation management" is a common phrase in the call center industry. It refers to a real-time software solution that enables agents to escalate calls.
When a customer calls your business and gets transferred to an agent who can't answer their question, they may get frustrated and hang up the call. This can lead to bad reviews, negative feedback, and even lost sales. That's why businesses need an escalation management system to handle escalated calls properly without losing any customers along the way!
You can provide customers with clear answers and solutions faster when you use escalation management. This improves your customer service and increases your team's productivity.
Here are some reasons you need escalation management:
It helps you handle difficult or complex issues without losing sight of the customer's needs.
It allows agents to provide accurate answers and solutions quickly, which reduces customer frustration and helps them resolve their problems faster.
It enables your team to provide consistent service across multiple channels, including phone, email, and social media messaging platforms.
Comparison of Top 15 Call Center Software 
If you're looking for call center software for your business, there are plenty of options to choose from. We've compiled a comparison table on the basis of feature, price, pros, and cons,of the top nine call center software providers to help you make an informed decision.
| Software Name | Key Features | Pricing | Pros | Cons |
| --- | --- | --- | --- | --- |
| DialerHQ | Power dialer Customizable caller ID Call recording Voicemail drop | Starting from $12/month per user | - Offers a power dialer for efficient call handling - Customizable caller ID - Call recording and voicemail drop features | - Need Stable Internet Connection |
| CallHippo | Virtual phone system Call forwarding IVR CRM integration | Starting from $16/month per user | - Offers a virtual phone system with call forwarding and IVR features - CRM integration available - Affordable pricing options | - Some features may not be available in all pricing plans |
| 8×8 | Unified communications platform VoIP Video conferencing Contact center solutions | Starting from $24/month | - Offers a unified communications platform with a range of features - Contact center solutions available - Custom pricing options | - Pricing may be higher than some other options |
| RingCentral | Cloud-based phone system VoIP Team messaging Video conferencing | Starting from $20/month | - Cloud-based phone system with VoIP and team messaging features - Video conferencing available - Affordable pricing options | - Some features may not be available in all pricing plans |
| Nextiva | VoIP Video conferencing Team messaging Auto-attendant Call recording | Starting from $17.96/month | - Offers VoIP, video conferencing, and team messaging features - Includes an auto-attendant and call recording - Provides customizable call routing options | - Higher starting price compared to some other options - Some users may not need all the features offered |
| Grasshopper | Virtual phone system Call routing Voicemail transcription Custom greetings | Starting from $29/month | - Easy to set up and use - Provides a professional image with features such as custom greetings and voicemail transcription - Offers a mobile app for remote access to calls and messages | - Lacks some advanced features such as call recording and monitoring - Can be expensive for larger teams |
| Aircall | Cloud-based phone system Advanced call routing Team collaboration features Analytics and reporting | Starting from $30/month per user | - Offers advanced call routing options and integrations with other business tools - Provides analytics and reporting for call performance and team productivity - Includes team collaboration features such as shared inbox and notes | - Can be expensive for larger teams - Lacks some customization options for call routing and settings |
| JustCall | Cloud-based phone system Call tracking and recording SMS and voice broadcasting Integrations with CRM and other tools | Starting from $24/month per user | - Offers call tracking, recording, and analytics for improved customer service and sales - Provides SMS and voice broadcasting for marketing campaigns and customer outreach - Integrates with various CRM and other business tools | - Lacks some advanced call routing options and collaboration features - Can be expensive for larger teams |
| Dialpad Talk | Cloud-based phone system AI-powered voice recognition and transcription Video conferencing and screen sharing Team messaging and collaboration | Starting from $15/month per user | - Offers advanced AI-powered features such as voice recognition and transcription for improved call quality and productivity - Provides video conferencing and screen sharing for remote collaboration - Includes team messaging and collaboration features for improved communication and productivity | - Lacks some customization options for call routing and settings - Can be expensive for larger teams |
| Zendesk | Omnichannel support AI-powered chatbots Ticket management Real-time analytics Self-service options | Starting from $49/month | - Offers omnichannel support for seamless customer service - AI-powered chatbots can help automate repetitive tasks - Real-time analytics provide actionable insights - Self-service options can help reduce support costs | - Pricing may be a bit high for some businesses - Some features may require additional costs |
| TalkDesk | Omnichannel support Integrations with popular CRM platforms Call routing and IVR Real-time analytics Virtual phone system | Starting from $75/month | - Offers omnichannel support for seamless customer service - Integrates with popular CRM platforms for better data management - Call routing and IVR can help streamline operations - Real-time analytics provide actionable insights - Virtual phone system can help reduce hardware costs | - Custom pricing may be a deterrent for some businesses - Some features may require additional costs |
| Vonage | Voice, messaging, and video communications Integrations with popular business software Call routing and IVR Real-time analytics Virtual phone system | Starting from $19.99/month | - Offers a range of communication options for better customer service - Integrates with popular business software for better data management - Call routing and IVR can help streamline operations - Real-time analytics provide actionable insights - Virtual phone system can help reduce hardware costs | - Some users may not need all the features offered - Pricing may be a bit high for some businesses |
| Ringover | Voice, messaging, and video communications Call routing and IVR Real-time analytics Integrations with popular business software Virtual phone system | Starting from $24/month | - Offers a range of communication options for better customer service - Call routing and IVR can help streamline operations - Real-time analytics provide actionable insights - Integrates with popular business software for better data management - Virtual phone system can help reduce hardware costs | - Some users may not need all the features offered - Pricing may be a bit high for some businesses |
| Freshcaller | Cloud-based phone system IVR and call routing Call recording and monitoring Team collaboration tools Integrations with popular CRMs | Starting from $15/month per user | - Offers a cloud-based phone system - Provides IVR and customizable call routing options - Includes call recording and monitoring features - Offers team collaboration tools - Integrates with popular CRMs like Salesforce and Hubspot | - The basic plan has limited features - Some advanced features require higher-priced plans |
| 3CX | Unified Communications WebRTC-based video conferencing Live chat and customer service Call recording and reporting IVR and call routing | Starting from $175/year | - Offers a range of unified communication features - Includes WebRTC-based video conferencing - Provides live chat and customer service tools - Call recording and reporting features are available - Supports IVR and customizable call routing | - Free version has limited features and support - On-premises deployment may require technical expertise |
Top 15 Call Center Software For Your Business
DialerHQ is a private low-cost app that provides international calling & texting by using your Wi-Fi or mobile data. With DialerHQ, you can get an extra phone number for yourself or someone else and uses it anywhere in the world to stay in contact with family, friends, or business partners.
Send unlimited text messages and make unlimited calls to 55+ countries. Dialer HQ phone number is the easy way to have one personal and one business phone number on occasion.
Key Features
Affordable, Superior Call Quality, And Exceptional Portability

Unlimited International Calling & Texting

Seamless Business Phone Line Setup

Call Recording & Call Routing

Free Number (Standard) And Call Forwarding
Pricing:
Standard – $10/per month
Premium – $20/per month
Unlimited – $30/per month
DialerHQ Pros and Cons
24 x 7 customer support

Advanced call management features

Free trial

Excellent portability

Exceptional call quality

Affordable subscription plans
Requires high-speed internet
CallHippo is a cloud-based VoIP phone system to meet today's advanced communication needs. Available both as a web app and a mobile app, it lets sales, marketing, and support teams make and receive global calls. You can buy virtual phone numbers from more than 50 countries and add users to the same number. In addition, CallHippo allows businesses to make calls to receivers across the globe.
Businesses can set working hours on their CallHippo accounts to greet callers with a recorded message or custom music during non-working hours or when put on hold. Agents can also access the CallHippo app for Android to make and receive calls even when they're not in the office or on the go.
To ensure that your business never misses a customer call, CallHippo offers you a scalable solution that can be accessed on a monthly subscription basis. In addition, this virtual phone system allows you to manage your call-routing rules and display time zones on your dialer before making an international call.
Key Features
Interactive Voice Responses (IVR), Automatic Call Distribution (ACD), And Auto-Dialer

Real-Time Dashboard To Monitor The Performance Of Teams And Individual Agents

Computer Telephony Integration And Call Monitoring

Call Categorization For Better And Faster Resolutions

Integrates With 100+ Apps, Including Shopify, Zapier, Freshdesk, And Hubspot
Pricing:
Bronze- $15.99/per month
Silver – $20/per month
Platinum – $38.99/per month
CallHippo Pros and Cons
Allows forwarding calls to a number of your choice for easy accessibility

Cost-effective as it uses no additional hardware

User-friendly interface for hassle-free interaction management

No additional cost for international calls and texts

Clear HD voice for quick query resolution
Limited safety features

Lagging call quality
8×8 is powering a communications revolution. They deliver innovative software, cloud-based communications, and business intelligence to businesses worldwide. The cloud communications platform is helping companies work smarter and faster by providing on-demand voice, video, chat and contact center services to their employees, all via one convenient user interface.
With 8×8, you can make the most of your business technology. They provide cloud-based communications solutions that empower your workers to connect anywhere, anytime—from desktops, mobile devices, and softphones via desktop sharing, video chat, and virtual conferencing to unified communications with email, voicemail, and instant messaging.
Key Features
Timely Feedback, Intelligent Coaching, And Collaboration Tools

Intelligent Routing And Proactive Self-Service Options
User-Friendly, Intuitive, & Design-Led Application
Call forwarding and better accessibility
International calling and texting
Easy setup and portability
Reporting & Analytics, CX Journey Mapping
Unlimited Media Storage And Ext-To-Ext Calling
Pricing:
Small business phone system – $15 per/month (30-day trial)
Business phone system – $24 per/month
Advanced business phone system – $44 per/month
8×8 Pros and Cons
Easy to set up and assign users

Lots of features in high-end plans

The learning curve is very small, making it easier for new employees to understand and use the VoIP system

Cross-platform functionality and experience is good
Customer support could be improved

The basic plan is expensive, given the features it offers

If you don't have a robust WiFi connection, the call quality will reduce significantly

Connecting Bluetooth headphones to the app is complicated
RingCentral offers business cloud communications and contact center solutions based on its powerful Message Video Phone™ (MVP™) global platform. RingCentral's flexible, cost-effective platform empowers modern mobile and distributed workforces to communicate, collaborate, and connect via any mode, any device, and any location.
RingCentral is a cloud-based phone system that supports both desktop and mobile users. One unique feature it provides is "RingOut," which enables you to call any phone number or internet-enabled computer with a single touch of your mouse or finger. Additionally, RingCentral has powerful call delegation and answering rules so you can be sure calls are routed to the right individual.
Key Features 
AI-Enabled Virtual Agents

Local, Toll-Free, & Vanity Numbers With Extensions
IVR/Self-Service And Automatic Callback
Omnichannel, Skills-Based & Data-Driven Routing
Prebuilt Reports & Business Intelligence Integration
Pricing:
Essentials – Free Trial – 20 Users Per Month
Standard – $27.99/month/user
Premium – $34.99/month/user
Ultimate – $49.99/month/user
RingCentral Pros and Cons
Free trial

Voicemail transcription

Call analytics feature

Compliant with GDPR and HIPAA

Excellent call management options

Easy deployment

Intuitive dashboard
Not scalable

Poor call quality

The custom greeting option is not available
Nextiva is a simple, easy-to-use solution that helps you connect with more callers in less time and with fewer agents. In addition, you can use Nextiva to get features like IVR, automatic call routing, call forwarding, call recording, and call queuing.
Made with business owners (not tech wizards) in mind, Nextiva's solutions are easy to set up and use. Businesses can scale up or down as needed, adding applications such as sales and service productivity tools anytime.
Nextiva also received recognition from its customers across multiple categories in the 2021 Gartner Peer Insights 'Voice of the Customer: Unified Communications as a Service, Worldwide report.
Key Features
Best-In-Class Inbound, Outbound, & Blended Global Contact Center

Unlimited Participants In Voice & Video Conferencing
Auto Attendant (Multi-Level) And Voicemail
Intelligent Virtual Agent (IVA)
Omnichannel Support And Essential Quality Management (QM)
Pricing:
Essential – $18.95/user/month
Professional – $22.95/user/month
Enterprise – $32.95/user/month
Ultimate – $57.95/user/month
Nextiva Pros and Cons
Easy-to-understand platform

Instant addressing of queries

Conversation and team project tracking to make an informed decision

Alignment with market trends via data analytics of call logs

Automation of repetitive tasks
No free trial

Costly premium features
Want to be more professional but still stay connected? Grasshopper is a phone system designed for entrepreneurs—available on desktop, mobile, and apps. It's just like a traditional phone system, but there are no hardware costs. And the mobile and desktop apps allow you to communicate wherever business happens: in the office or home on your cell phone.
Grasshopper, the virtual phone system designed for entrepreneurs and small businesses, is simple and requires no hardware. You can it for business communication from wherever business happens—on your cell phone, in the office, or at home—with a robust set of features that include local number, toll-free, and vanity numbers; unlimited business calls and texts; voicemail transcription delivered to your email; unlimited extensions for each department or employee on your team; and custom greetings. The mobile apps are available for Android and iOS devices, as well as Macs and PCs.
Key Features
IVR / Voice Recognition & Knowledge Base Management

Unlimited Calls And Texts In The U.S. And Canada
Voicemail Transcription & Custom Greetings
Live Virtual Receptionist (Ruby)
Team Collaboration Tools And 24/7/365 Customer Support
Pricing:
Solo – $26 – per account, per month
Partner – $44 – per account, per month
Small Business – $80 – per account, per month
Grasshopper Pros and Cons
Custom greetings and business call alerts help you look and sound professional

Route incoming calls to take multiple calls without showing a busy signal to customers

Incoming call control to screen callers and get more information before answering

Voice talent allows you to record clear professional voices for automated greetings

24*7 customer support to solve queries
No call recording

No advance call management features
Aircall provides a cloud-based phone system for sales and support teams with 3+ users. It seamlessly integrates with the most popular CRM and Helpdesk tools, helping you communicate clearly and efficiently.
Admins can instantly add numbers from 100+ countries and scale their teams according to seasonality. Accessible by desktop and mobile apps, Aircall is trusted by over 7000 companies worldwide. Start a risk-free trial to see Aircall in action.
Aircall is a cloud-based call center platform that can help your support team transform customer experiences. The software has features such as skill-based routing and queue callback. The unique call whispering feature enables managers to advise teammates behind the scenes and help make an impact right at the point.
Additionally, Aircall has call center analytics so you can monitor the performance of your agents individually or as a team.
Key Features
Local And International Numbers In 100+ Countries

100+ Business Tool Apps And Integrations
Unlimited Simultaneous Outbound Calls
Get Real-Time Insight Into Individual And Team Metrics
Ring Groups, Call Recording, Email Reporting, And Call Monitoring
Pricing:
Essentials – $30/user
Professional – $50/user
Enterprise – Custom
Aircall Pros and Cons
Easy to set up and use

Advanced call management features

Integrations

Mobility

Scalability
Limited international calling

Limited customization
JustCall is a cloud-based phone system that provides your sales and support teams with all the tools they need to make and respond to calls.
The system includes 100+ integrations with CRM & business tools, click-to-call from CRM; live in 70+ countries; SMS workflows & automation; 3 sales dialers to choose from; call queueing and forwarding, comprehensive analytics, conversation intelligence & much more.
Key Features
Cloud-Based Call Center Software With CRM And Helpdesk Integration

Agent Coaching & Call Scoring
IVR And Time-Based Call Distribution
Custom Analytics & Reports, Personalized Onboarding Support
Integrates With 100+ CRM And Business Tools
Pricing
Standard – $24.00/ Month
Premium – $48.00/ Month
Custom – On Demand
JustCall Pros and Cons
Easy to use

Advanced call management features

Integrations

Mobility

Affordable pricing
Limited international calling

Limited customization options

Limited reporting and analytics features
Dialpad Talk is a business phone system built entirely on the Google Cloud Platform. It provides mobility, flexibility, and security to more than 62,000+ of the world's most innovative businesses.
Furthermore, Dialpad Talk includes native Voice Intelligence features like real-time transcription and post-call summaries with highlighted action items.
Additionally, this calling center software integrates directly with other business-critical cloud applications such as G Suite, Salesforce, and Zendesk for maximum productivity and end-user efficiency.
Key Features
AI Transcriptions, Real-Time Coaching, And A Unified Interface For Both Voice And Digital Interactions

Advanced WEM Capabilities For Quality Management, Forecasting,
Agent Scheduling, And Behavior Adherence
Real-Time Speech Analysis, Customizable IVR And Digital ChannelsHeatmaps Of Agent Activity And Customized Wallboards
Call Monitoring (Listen In, Barge, Take Over) Along With Analytics & Reporting
Pricing
Standard – $15.00/ Month
Premium – $25.00/ Month
Custom – On Demand
Dialpad Talk Pros and Cons
AI-based voice intelligence

Free trial

Actionable analytics

Customizable dashboard

Affordable pricing
Integration is limited

No 24/7 customer support option in the basic plan

Not available worldwideZendesk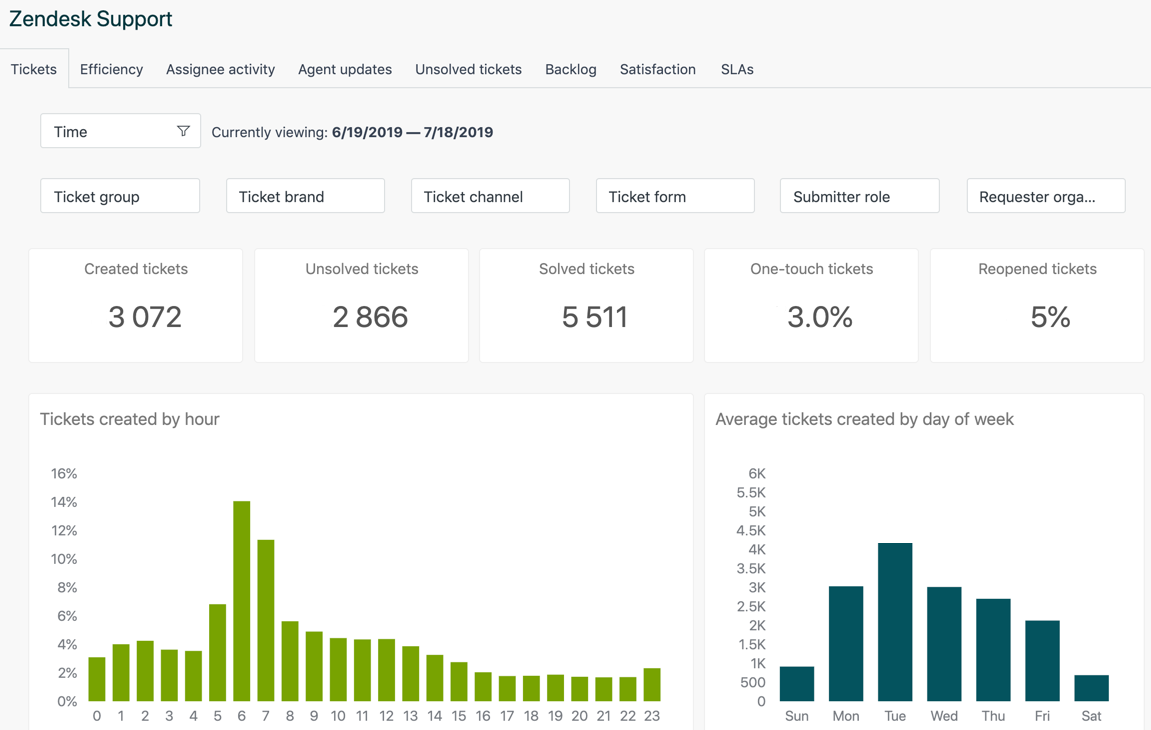 Zendesk is a service-first CRM startup that creates software for support, sales, and customer engagement to improve customer relationships. It enables support agents to manage customer discussions across all channels in a consolidated Agent Workspace. Live chat statistics provide measurable insight into customer happiness and agent efficiency, assisting organizations in improving their support services.
Key Features
Client management for seamless client tasks

Email tracking to optimize emailing abilities

Knowledge base management for cross-functional collaboration

Revenue management for improved customer prediction

Progressive dialer to reduce wait time between calls
Pricing
Zendesk has five pricing plans:
Suite team- $49/user/month

Suite growth- $79/user/month

Suite professional-$99/user/month

Suite enterprise-$150/user/month

Custom plan

Free trial available
Zendesk Pros and Cons
The app has decent drafting features

You can customize it according to your needs

Seamless integration with social media platforms like Facebook and Twitter

The software design is simple
The automation rules are not well explained

It lacks advanced features

The app offers limited search capabilities
Talkdesk is the global cloud contact center leader for customer-centric businesses. Its rapid innovation, deep vertical expertise, and worldwide footprint reflect the app's dedication to ensuring that organizations worldwide can deliver better customer experiences across any industry and through every channel, resulting in higher customer satisfaction and faster business outcomes.
Key Features 
Inbound screen pop to improve customer experience

Concurrent calling to never miss a single business call

Session routing to increase the reliability of the network

Speech analytics to understand customer expectations

Auto dialer to decrease idle time
Pricing
Talkdesk offers four pricing plans:
CX Cloud Essentials- $75/user/month

CX Cloud Elevate- $95/user/month

CX Cloud Elite- $125/user/month

Experience Clouds- Custom pricing

Free trial available
Talkdesk Pros and Cons
The app has a seamless user interface

It allows real-time agent verification

Easy integration available with various platforms

Customer service is highly effective

Exceptional call quality
System bugs need to be fixed

The app experiences downtime issues

Delay in ticket generation and automation
Vonage is a cloud-hosted VoIP solution with cell phone integration, desktop plugins, and voicemail-to-email functionality. Employees can access the full phone system anywhere using free iOS and Android mobile apps. Users may readily scale the system to meet business demands and handle features through the web admin interface.
Key Features
Automatic call distribution for immediate call response

Online voice transmission for better voice quality

Real-time chat for improved sales

SIP trunking for increased agility 

Call scripting to guarantee consistency across the call center
Pricing
Vonage has three pricing plans:

Mobile-$19.99/month

Premium-$29.99/month

Advanced-$39.99/month

Free trial available
Vonage Pros and Cons
The app has an effective phone call recording setup

The call quality is excellent

It has a clean user interface

Employees find it easy to use
The app is faulty of dropped calls

During calls, sudden notifications pop up

It experiences downtime issues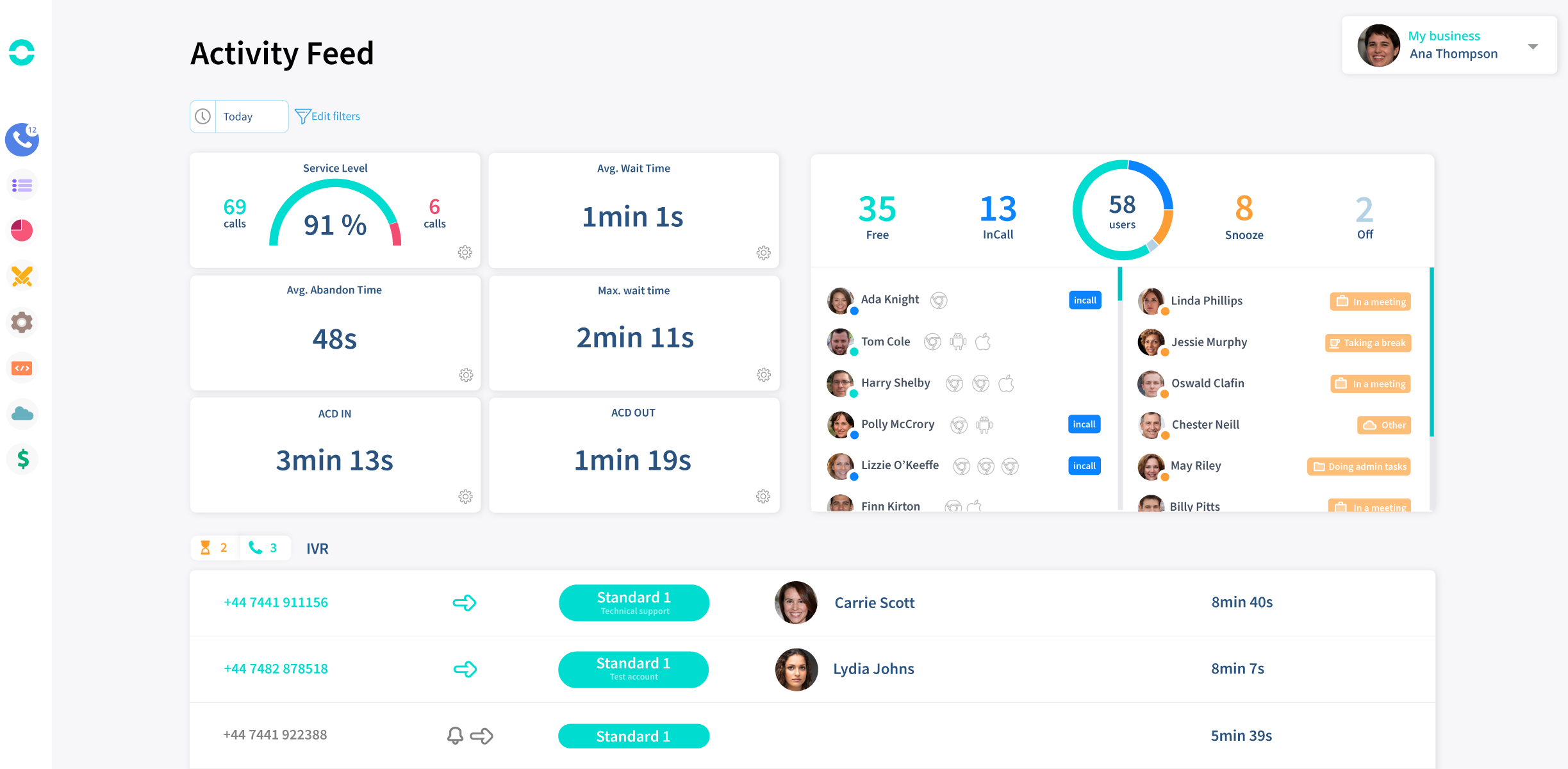 Ringover is a collaborative cloud-based phone solution that enables SMEs, customer support, and sales teams to work smarter by integrating the capabilities of a professional phone system straight into their CRM and Helpdesk. Users don't need to set up and use the system's advanced features. With a few clicks, you can improve your efficiency. 
Key Features 
Call monitoring to identify problematic areas systematically

Automated attendants for faster call handling 

Call logging to gather data on inbound calls

Meeting management to distribute tasks easily

Workforce management for improved employee productivity
Pricing
Ringover offers three pricing plans:
Smart-$24/user/month

Power-$49/user/month

Enterprise-Custom planning

Free trial available
Ringover Pros and Cons
The sales team is highly efficient 

It has an excellent PBX with a varied feature set

The app adapts to all company types

Highly effective recording system
The call quality is average

Improvements can be made to developer access

Audio issues occur at times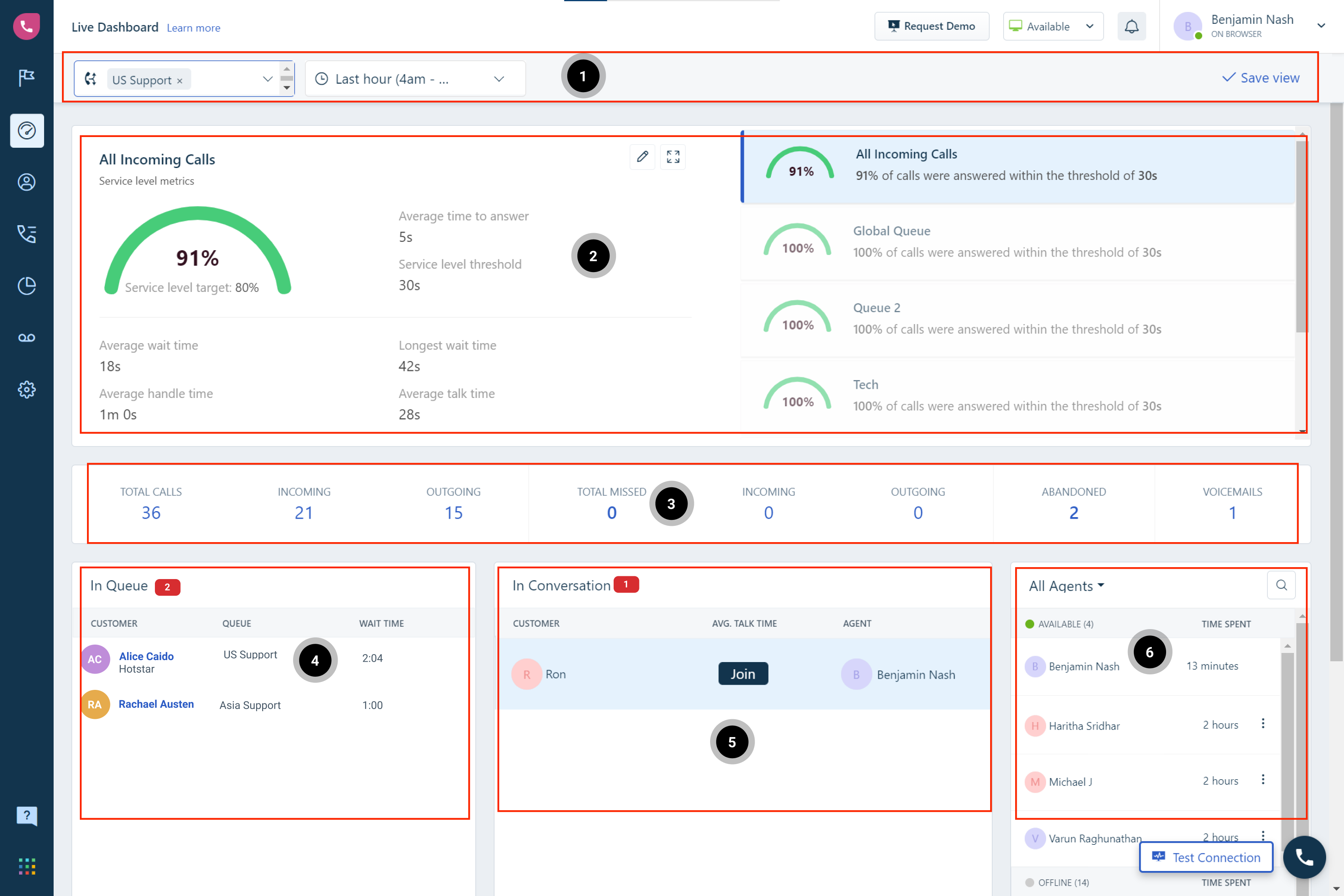 Freshcaller is a cloud-based service that assists organizations in elevating their customer experience easily and cost-effectively. Your agents can have the correct context for personalized consumer encounters regardless of where they connect. Multi-level IVRs, business hours, and holiday settings allow your operators to manage call volumes without sacrificing the customer experience. 
Key Features 
Call reporting for better accountability 

Computer telephony integration to save time and reduce costs 

Time zone tracking to check employee efficiency 

Voice customization to unify messaging across various platforms 

Real-time data for faster decision making  
Pricing
Freshcaller offers three pricing plans:
Pro-$49/user/month

Enterprise-$69/user/month

Growth-$15/user/month

Free trial available
Freshcaller Pros and Cons
Unified customer experience to manage interactions

Seamless channel integration with social media, email, and others

Effective ticket management process to keep track of SLA times

Seamless user interface for improved navigation
Not the best option for beginners

It offers limited customization options

The technical support is average
3CX is a cloud-hosted software-based PBX service that provides users with web conferencing, CRM integration, live chat, instant messaging, and native mobile apps. It offers a softphone for Windows that allows users to make and receive calls from their computers, eliminating the requirement for phone hardware and enabling work outside the office.
Key Features 
Call transfer for improved customer satisfaction

Callback scheduling to manage high call volumes

Telemarketing management for improved sales

Customizable caller ID to improve the answering call rates

SIP trunking to boost virtual local presence
Pricing
3CX offers five pricing plans:
Startup Free

Startup Pro: $175/year

Dedicated Pro: $295/year

Dedicated Enterprise: $330/year
3CX Pros and Cons
The software is user-friendly

It allows seamless integration with various communication platforms

The call transfer feature helps transfer calls seamlessly between agents

It has easy to use configuration system
The licensing management feature is confusing

The AI needs improvement
FAQs
VoIP, or Voice over Internet Protocol, turns voice signals into computer data and sends them over the internet. This method is used by many of the world's largest call centers. It's estimated that nearly 80% of all call centers use VoIP at some level. Because VoIP uses the internet to transmit its signals, it can be transmitted from anywhere on the planet—meaning that a business could hire an employee in India for 1/10th of what they'd pay for someone in California.
The primary purpose of contact center support solutions is to help a business streamline its customer service efforts. Providing a central hub for questions and complaints allows the company to easily track issues, assign them to the right people, and track resolution times. It also allows them to be more responsive to customers' needs by allowing them access to their account information anytime.
CRM stands for Customer Relationship Management. It's a system that allows call centers to manage customer relationships by integrating sales, marketing, and service into one database. As a result, it helps the company better understand customers and provide them with more personalized service.
Several calling center software products are available on the market, but not all are compatible with all telephony equipment. Some products are designed to work with specific types of equipment, while others may only work with certain brands or models. To help you get started, we have jotted down steps to set up call center software.
Step 1: Choosing the right call center software for your business
Step 2: Integrating the call center software with other systems in your business
Step 3: Learning how to use the call center software and train your staff
Content Worth Your Time
Know what's happening in your industry all the time