Senior Writer: Naim Vakil
Reading Time:
9
Minutes
Published :
May 24, 2023
There is a sales team in every business enterprise, whether it be a product or service business. It is an ever-evolving process as sales executives must be innovative and apply different tactics to increase sales and achieve targets. So sales is a creative process, but only skill and creativity are not sufficient to accomplish the determined sales goals.
In this age of digitalization and technological advancements, relying only on conventional sales methods may not provide effective and desired results. Organizations need to use the tools available to amplify their sales and gain a competitive advantage. The best tool available for sales executives is sales dialer software.
Need a reliable and affordable business phone system? Look no further than DialerHQ.
According to a report, the market for auto dialer software was valued at US$ 417 million in 2022, and it is anticipated to increase up to US$ 1 billion by 2032, which provides a CAGR of 9.5% during the forecast period.
In this blog, we will understand in detail what is sales dialer, its requirement in an organization, different types of sales dialer, etc. So stick till the end.
What Is A Sales Dialer?
Sales dialer is a software commonly used in the sales industry to streamline the outbound calling process and make it more effective. In a short amount of time with sales dialer software, sales representatives make a large number of calls in an efficient manner.
Expert Advice
"One of the best ways to increase sales footfall is to induce automation in the process. This can be made possible by utilizing a sales auto dialer software that is robust and provides predictive dialing with which time wastage is minimized, and optimum results can be achieved. So you can choose the best sales dialer for your organization from the platforms mentioned above that are in consonance with your requirements. "
Utilizing a sales dialer can reduce manual and extensive processes of searching, storing, and dialing phone numbers. The numbers get automatically dialed, and the sales executives must focus on conversing with prospects and increasing sales.
Apart from automatic dialing, sales dialer software provides several other advanced features like call recording, third-party application integration, voice-to-mail transcription, reporting, and analysis.
What Are The Different Types Of Sales Dialers?
Different types of sales dialers are available for all kinds and sizes of businesses; it's not one size fits all. Every sales dialer comes with its features and functionalities. On the basis of your workflow and requirements, you must opt for an appropriate type of sales dialer.
Basically, there are three types of sales dialers. They are as follows:
1. Preview Dialers
Preview sales dialers are developed to make calls one by one. As the name suggests, it allows representatives to preview the leads and let them decide if the lead can be called or not. With preview dialers, agents can research contacts, and representatives can have better customer interactions.
2. Progressive Dialers
These types of sales dialers are similar to preview dialers, as calls are made one by one. Also known as power dialer, the main difference between both of them is that in progressive dialing, the representatives cannot review contact information before calling. As the name of the contact in the list comes up, the system hits the dial button. This type of sales dialer is feasible if you have the sales pitch ready, and you must say the same things to every caller.
3. Predictive Dialers
Also known as an autodialer, a predictive dialer is the most important and preferred type of sales dialer. With these dialers, representatives can call multiple numbers simultaneously, unlike the other two types of dialers, where calling is done one by one. This enhances efficiency and productivity as dialing can be done seamlessly with minimal errors. The main feature of this dialer is that it will predict which representative is ready to answer or make the next call.
Now let's have a quick overview of why a sales auto dialer is needed.
Why Is A Sales Dialer Required?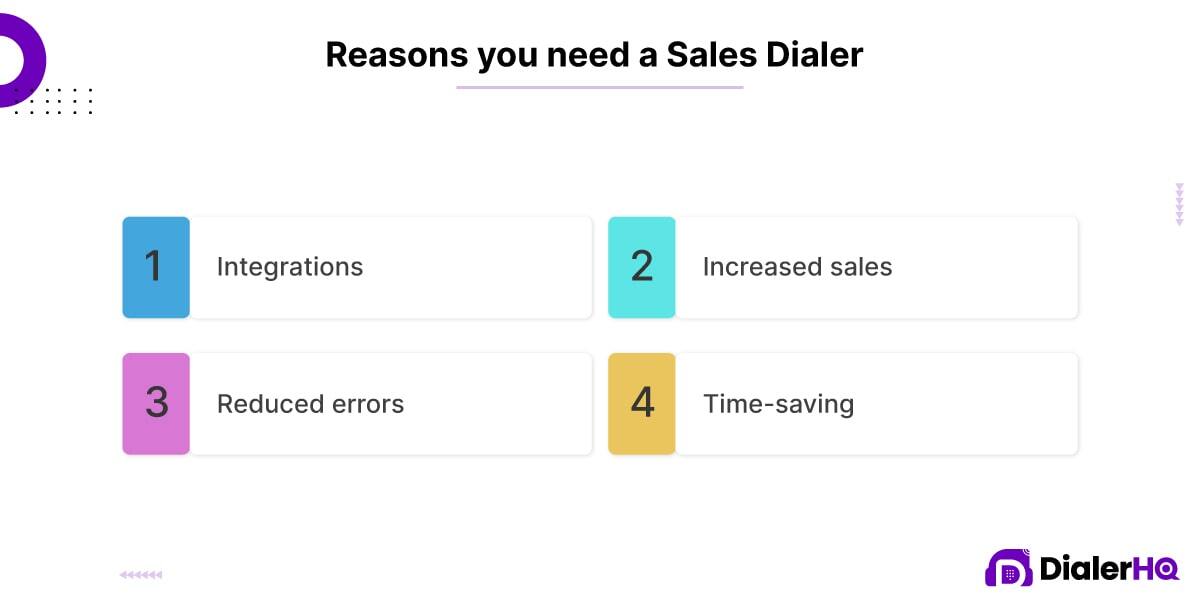 Regardless of what you are selling or which industry you belong to, if you are planning to enhance the operational efficiency of your sales team, then auto-dialer software is a must. In sales, time is of the essence; everything depends on it. Any tool or software that can save time and elevate the representatives' efficiency is a perquisite and a prerequisite.
If you are still indecisive about whether sales dialers are required in your organization or not, below stated points will assist you in making an informed decision.
1. Integrations
The sales dialer software must be easy to integrate with CRM software. Most organizations nowadays use CRM software to maintain customer relations effectively. You must select a sales dialer that offers integration, as once integrated, the CRM will capture all the calling and conversation data and assist in framing effective strategies.
2. Increased Sales
With sales dialer software, you will be able to increase the tendencies of calls, and with the enhanced number of calls increase in sales is inevitable. Sales dialer software also offers a local presence to representatives, which will reduce the rates of calls being ignored and improve the connection rates. The majority of the time, it's observed that calls from an outbound call center are ignored or spammed by prospects majority of the time.
3. Reduced Errors
The chances of errors are way high when numbers are typed in manually. However, with sales auto dialer software, these chances are minimized almost to extinction. When the process is fully automated, errors like typing mistakes, calling the same lead again, skipping a prospect from the list, etc., will not be encountered, and call quality will be enhanced considerably.
4. Time-Saving
As we are all aware, "Time is Money," and in the sales process, this phrase applies literally. Unlike the manual process, utilizing sales dialer software is highly advantageous as it frees ample time. It enables representatives to increase the number of calls daily and eliminates the time between calls.
As a result, a sales dialer is essential as it will amp up the calling speed and efficiency and streamline the entire sales process.
How Can Sales Dialer Software Help Your Sales Team?
If you want to enhance the efficiency and productivity of your sales team, then sales dialer software is the perfect choice for you. The main advantage of sales dialer software is that it automates the process of making sales calls, enabling agents to spend more time conversing with prospects rather than finding and dialing numbers.
With an automated calling process, many calls can be made, so the sales dialer software will be highly assistive to the teams with a large pool of leads or prospects. Moreover, the sales auto dialer software also has the ability to filter out high-scoring leads and make calls on the basis of priority, which will lead the sales team to an improved conversion rate.
The sales dialer software offers tracking reports and analysis, which assist the sales managers in identifying the pain point and offer the necessary training to the teams. Ultimately, this software enhances productivity, streamlines the process, and assists the sales team in generating more revenue.
Comparison Of Top 7 Sales Dialer Software
Brand Name
Key Features
Pricing
Free Trial
DialerHQ

Power Dialer
CRM Integration
Call Analytics
Local Presence

Unlimited: $12/month
Free Software: $0
Custom: Contact sales

10 Days
CallHippo

Virtual Phone System
Call Forwarding
Voicemail
Call Analytics

Basic: $0
Bronze: $15.71/month
Silver: $22.96/month
Platinum: $38.68/month

10 Days
Nextiva

VoIP
Video Conferencing
Team Messaging
Call Recording

Essential: $18.95/month
Professional: $22.95/month
Enterprise: $32.95/month

NA
Salesforce

CRM
Sales Automation
Lead Management
Customer Support

30 Days
Dialpad

Cloud-based phone system
HD video calling
Team messaging
AI-powered features

Standard: $15
Pro: $25/month
Enterprise: $22.95/month

14 Days
RingCentral

Cloud Phone System
Video Conferencing
Team Messaging
Auto-attendant

Core: $20/month
Advanced: $25/month
Ultra: $35/month

14 Days
Aircall

Cloud-based Phone System
Call Routing
Team Collaboration
Analytics and Reporting

Essentials: $30/month
Professional: $50/month
Custom: Contact sales

7 Days
7 Best Sales Dialer Software
Sales dialer software is essential for the sales team of any organization in recent times as it offers high-end features that make the calling process more effective and allows organizations to achieve the determined goals and objectives. Below mentioned are the top 7 sales dialer software.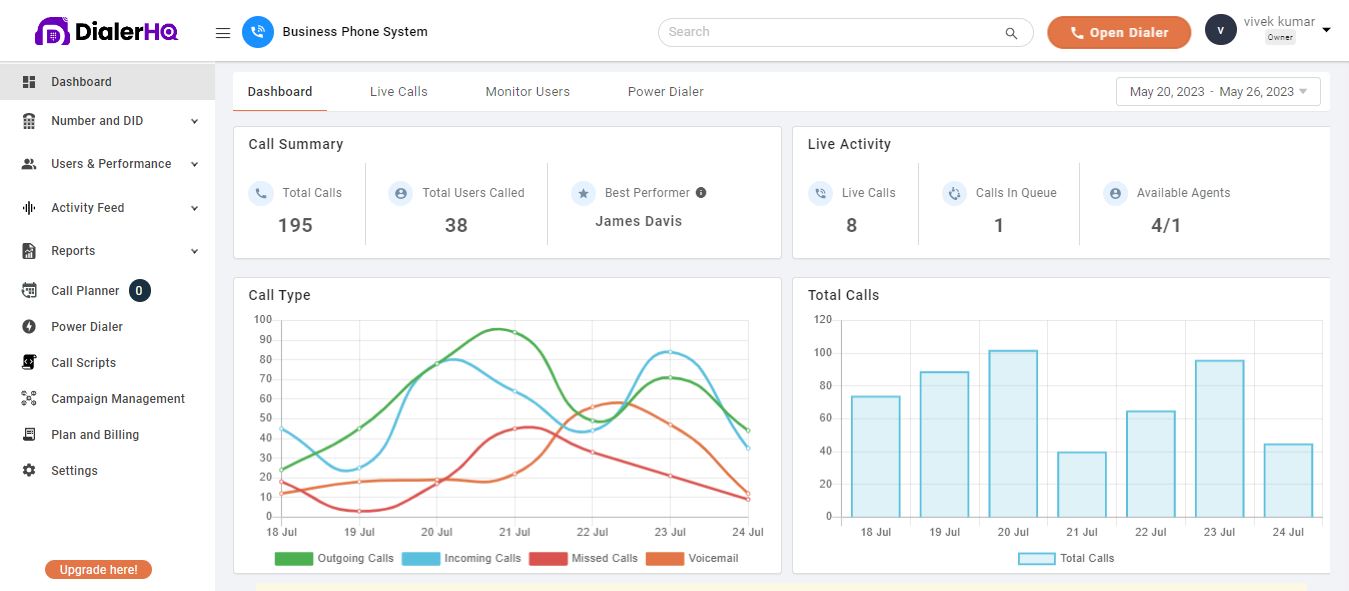 DialerHQ is a communication and collaboration solutions provider which offers robust features that automate the calling process to a great extent. It allows users to make calls quickly, thereby reducing time wastage considerably and gaining effective results, making it one of the most advanced sales dialer software.
Features
Power dialer
Multiple-level call transfer
Real-time reports
Voice broadcasting
Pros and Cons
The integrations allowed with third-party CRM applications are highly assistive.

The user interface is easy and makes it easy for the user to adapt the software.

With the power dialer, the calling can be done seamlessly, and time wastage gets minimized.
Customer support is not available 24/7, which is a major disadvantage.

Reports generated can be made more comprehensive.
Pricing
Three plans are available, namely,
Unlimited: $12/user/month
Free Software: It's completely free of cost and allows unlimited users.
Custom: Custom pricing is offered.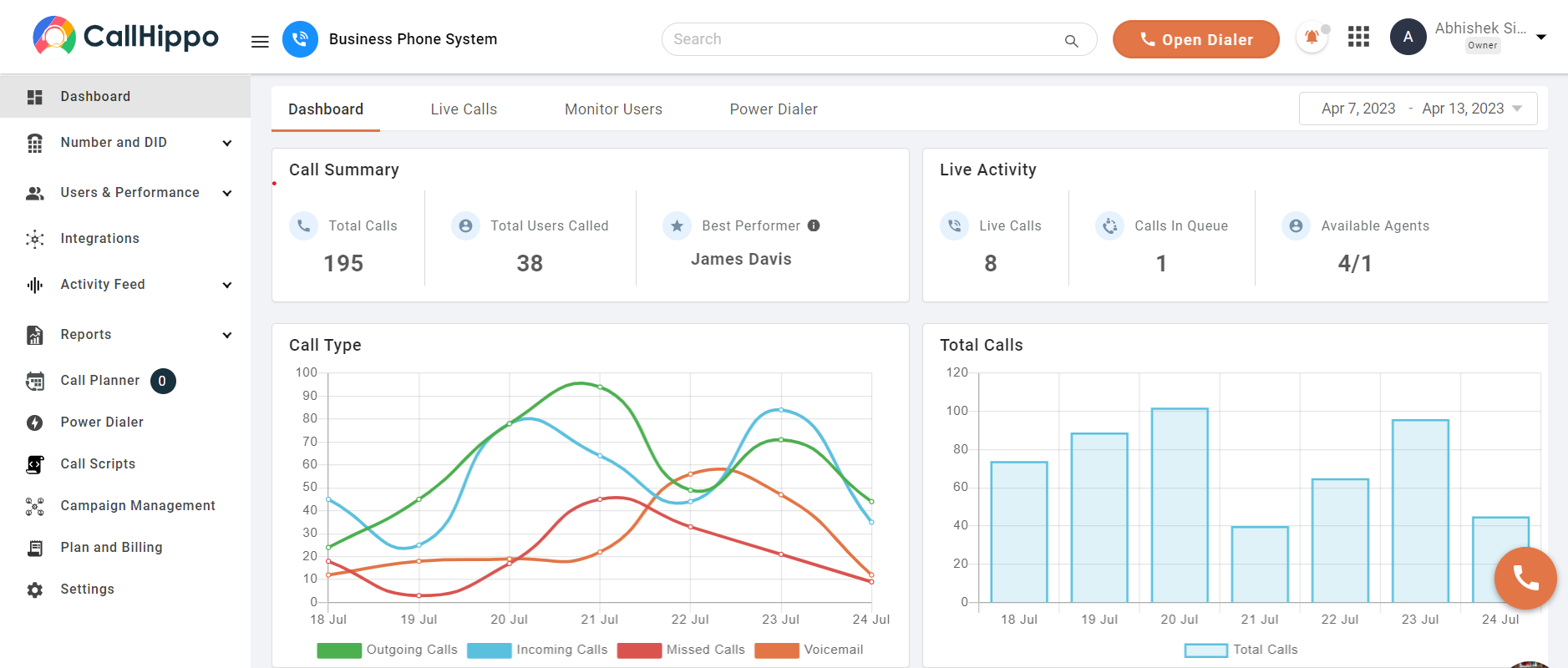 CallHippo is one the best VoIP solutions providers, which amplifies your organization's sales process. It is one of the best sales tools with advanced functionalities that assist in controlling costs, providing reports, automating processes, etc. All in all, it is a perfect sales dialer that meets process requirements effectively.
Features
Call recording
Call tagging
Voicemail to email transcription
Audit logs
Custom integrations
Pros and Cons
Downtime is little to none on the platform, which is a major advantage.

Calling operations are streamlined with automated dialer features.

User interface is advanced, and the platform is easy to navigate.
The call recording feature needs to be improved and made more crisp and clear.

The main disadvantage is that AI-based feature cause errors at times, which hampers productivity.
Pricing
Three plans are offered. They are as follows:
Starter: $12.99/user/month.
Professional: $21.99/user/month.
Ultimate: $30.99/user/month.
A 10-day free trial for all the plans is offered.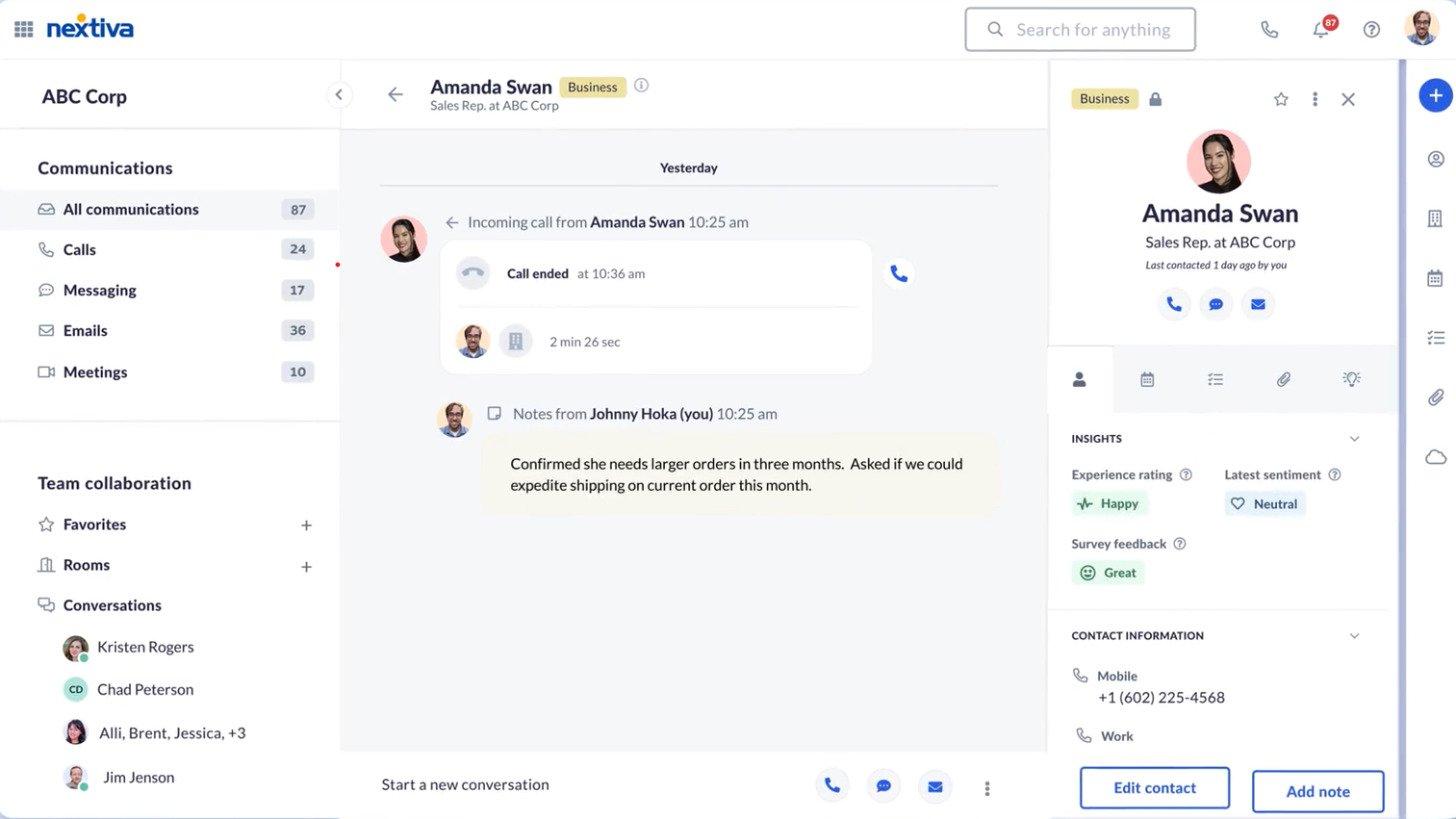 Nextiva is a communications and collaboration platform that operates on cloud-based technology. It offers a powerful dialer that automates and optimizes the dialing process. All in all, it is a viable option for an organization that wants to amplify its sales and gain seamless connectivity.
Features
Voicemail transcription
Call recording
Unlimited conference calls
Single sign-on
Pros and Cons
The tracking and analysis feature is highly accurate and comprehensive.

It can be easily integrated with third-party applications that assist in gaining operational efficiency.

It is cost-effective, making it a viable option for small and medium enterprises.
Customer support is not helpful and lethargic in solving queries.

Privacy and security aspect needs to be improved as it's not quite reliable.
Pricing
Three plans are available. They are as follows:
Essential: $18.95/user/month on annual billing and $25.95/user/month on monthly billing.
Professional: $22.95/user/month on annual billing and $30.95/user/month on monthly billing.
Enterprise: $32.95/user/month on annual billing and $40.95/user/month on monthly billing.
Salesforce offers a cloud-based auto dialer software that amplifies the process of dialing numbers and increases the connection rate with leads. With Salesforce, agents just have to focus on their primary job, i.e., to make sales. The rest of the process is automated and optimized.
Features
Power dialer
Opportunity management
Lead management
Reporting and analysis
Pros and Cons
With its power dialer feature, seamless connectivity can be gained.

It is cost-effective, so affordability is not an issue even for SMEs.

It manages and filters out high-scoring leads.
The reporting feature is accurate but is complicated to understand.

Customization offered is not as required, which needs improvement.
Pricing
Four plans are offered. They are as follows:
Essential: $25/user/month
Professional: $75/user/month
Enterprise: $150/user/month
Unlimited: $300/user/month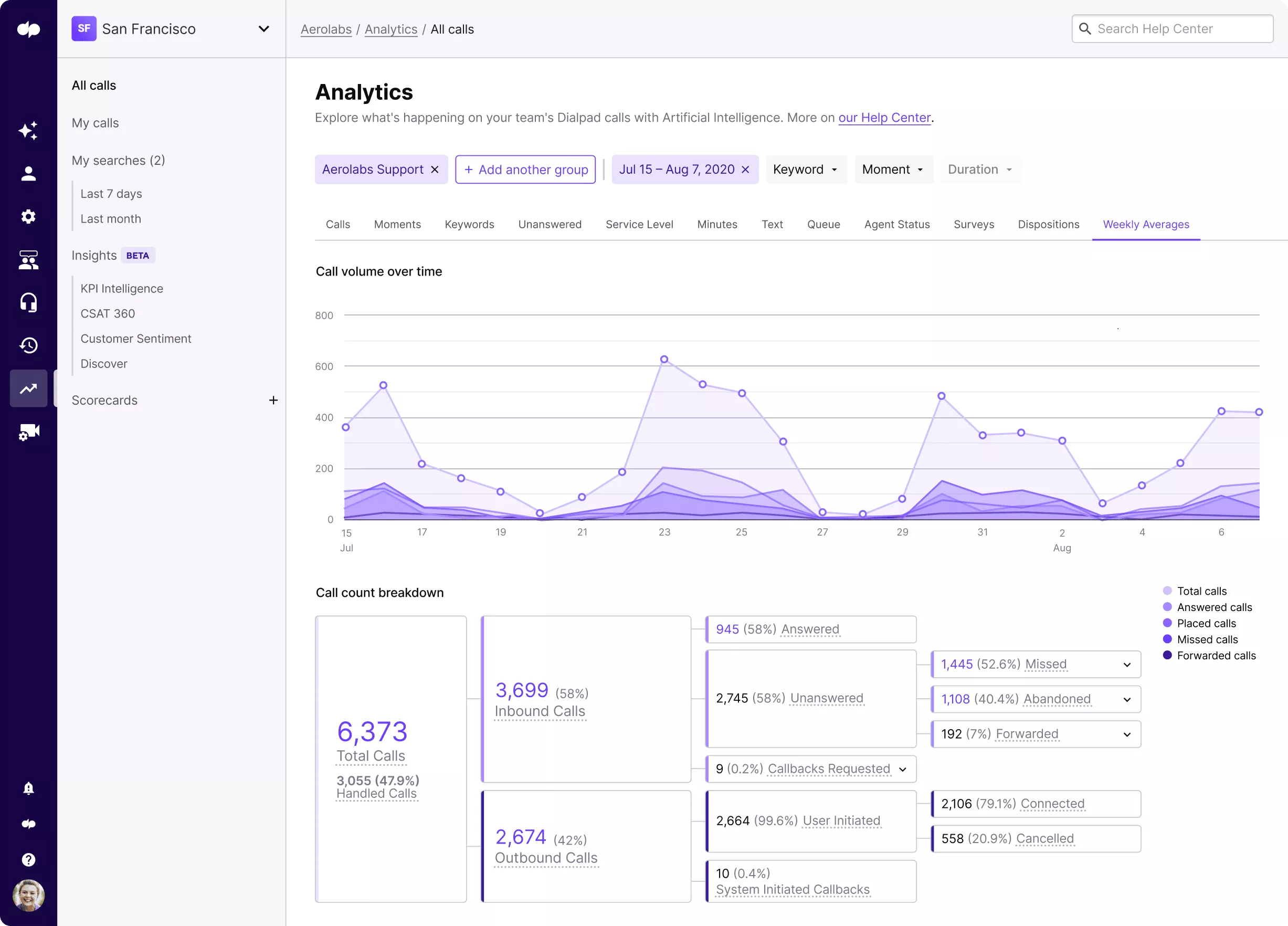 Dialpad is a communication and call center software. It offers features that are beneficial for sales teams and contact centers that want to optimize their outbound and inbound calls. It is a powerful sales dialer that is feasible for businesses of all kinds and sizes.
Features
Unlimited calling
AI Voicemail transcription
Live speech coaching
Call recording
Custom call routing
Pros and Cons
The uptime promised is offered, which allows seamless operations.

Customer support is offered in multiple forms, which are effective and offer a quick resolution.

The features offered at this price are exemplary and make the software preferable.
Most of the features are AI-enabled, and privacy and security are major concerns.

Intensive training is required to enhance performance, which is time-consuming.
Pricing
Three plans are offered. They are as follows:
Standard: $15/user/month on annual billing and $23/user/month on monthly billing.
Pro: $25/user/month on annual billing and $35/user/month on monthly billing.
Enterprise: Custom pricing is offered.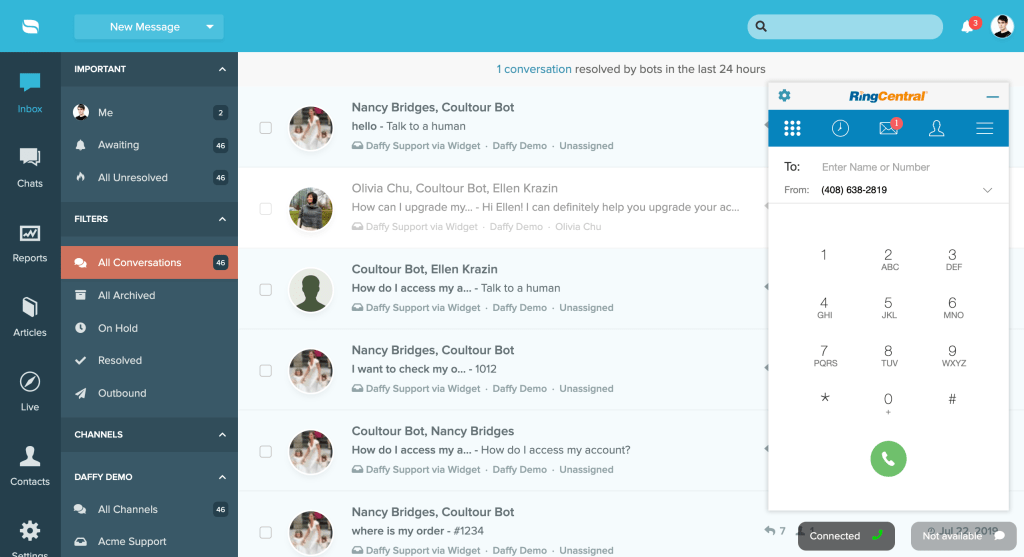 RingCentral is one of the best sales dialer software that offers such advanced features that allow organizations to optimize their outbound calling process. It offers web and mobile applications that allow representatives to make calls conveniently. Moreover, it suits businesses of all types and sizes.
Features
Unlimited calling
Multi-site management
Call recording
Single sign-on
Pros and Cons
Processes can be easily scaled as the platform is easy to adapt.

A comprehensive user interface is offered, which amplifies the operational efficiency of the workforce.

Features are easily accessible, due to which operations can be easily optimized.
Downtime is frequent and this adversely affects the productivity of the teams.

The framework is not secure enough, which is a major drawback.
Pricing
Three plans are offered, namely,
Core: $20/user/month on manual billing and $30/user/month on monthly billing.
Advanced: $25/user/month on annual billing and $35/user/month on monthly billing.
Ultra: $35/user/month on annual billing and $45/user/month on monthly billing.
Free trials for all the plans are offered.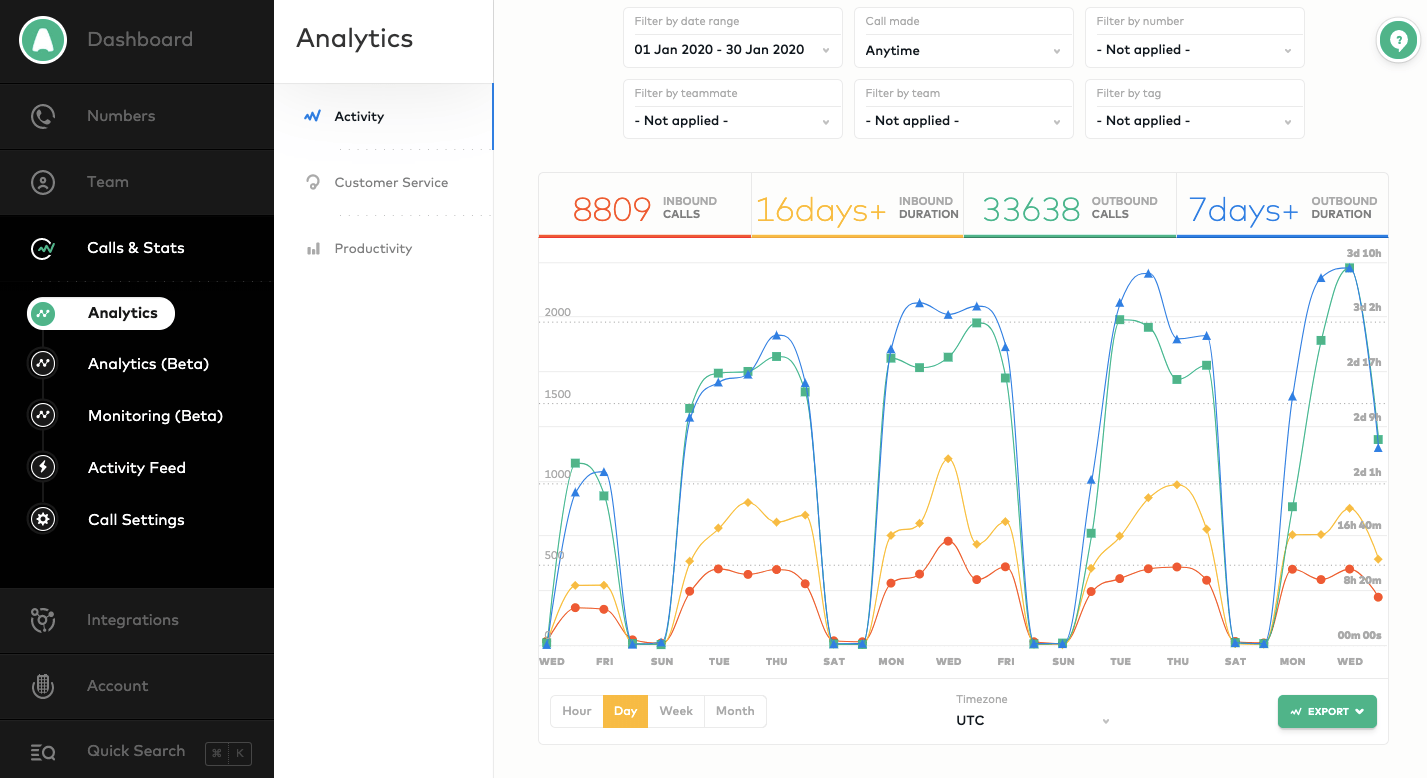 Aircall is an AI-based automated sales dialer software that is focused on optimizing outbound calls. It is highly advanced and club based which allows users to access the lead database from literally anywhere and can make calls conveniently.
Features
Call tagging
Custom onboarding
API access
Smart reporting and analytics
Pros and Cons
It offers easy integration with more than a hundred applications.

Real-time reporting and analytics features are apt and easy to comprehend.

If offers multiple API access that enhances performance and productivity to a great extent.
The platform is costly in comparison to other vendors.

Professionals are required for efficient operability.
Pricing
Three plans are offered. They are:
Essentials: $30/user/month on annual billing and $40/user/month on monthly billing.
Professionals: $50/user/month on annual billing and $70/user/month on monthly billing.
Custom: Custom pricing is offered.
Free trial for essentials and a professional plan is offered.
So, these are the top 7 sales dialer software that you could opt for on the basis of your budget and requirements.
Wrapping Up
Sales dialer software is gaining popularity. According to a survey, on average, a sales agent needs to make 6 to 8 calls per prospect for a successful sales conversion. If you want to gain a competitive advantage, increase your sales, enhance the performance of your sales team, etc., these software are your best option.
Based on that, you can estimate the number of calls a sales representative has to make in a day. This is where sales dialer software comes in. It offers streamlined and seamless calling, and your sales team has to just focus on selling.
FAQs
It varies from software to software, but it's not that tough to set up a dialer; it's self-instructive. You need to sign up and choose a plan. Once the system is up and running, you need to configure the settings like dialer prerequisites and dialer limitations and enable features like sales dialer, automatic call logging local presence, call monitoring, etc.
There are many advanced sales dialer tools. But according to me CallHippo and DialerHQ are the best sales dialer as they are price efficient and offers as advanced features as any other provider.
The sales dialer is a tool that makes phone calls automatically for sales reps and offers other features like call recording, tracking, and analytics. It is used to amplify the sales process.
On the other hand, CTI stands for Computer Telephony Integration. It means integrating the telephony system with other business applications to make the calling more effective.

Naim is an established content writer with over 3 years of experience in the SaaS industry. Specializing in SaaS, Naim has written extensive content on several topics depicting valuable insights to readers. He is keen on expanding his area of knowledge by staying consistent with the latest SaaS trends. His blogs are informative, easily understandable, and involve the best practices prevailing in the SaaS industry.
Updated : December 2, 2023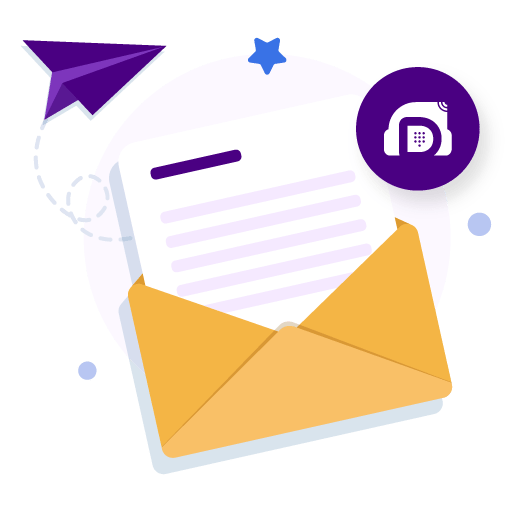 Let's Stay in Touch
Subscribe to our newsletter & never miss our latest news and promotions.

+15K people have already subscribed