Senior Writer: Paras Kela
Reading Time:
6
Minutes
Published :
September 29, 2023
The ability to make phone calls from your computer has become an essential aspect of communication. This convenience allows individuals and businesses alike to stay connected, collaborate, and conduct meetings with ease.
Need a reliable and affordable business phone system? Look no further than DialerHQ.
Whether you're looking for a reliable platform for personal VoIP calls or a robust tool for professional communication, there are several outstanding apps that cater to these needs. In this guide, we explore some of the best applications that empower you to make phone call from PC. We'll delve into their features, pros, and cons to help you make an informed choice based on your specific requirements.
Expert Advice
"When making calls from your computer using VoIP services or communication apps, ensure your internet connection is stable for clear audio. Be mindful of data privacy; choose reputable service providers, and consider using encrypted apps for sensitive calls. Lastly, keep your computer's software and communication apps up-to-date to benefit from security patches and the latest features. "
When do You Need to Make a Phone Call from the Computer?
The integration of technology into our daily lives has become increasingly seamless. This capability has various practical applications and can be quite useful in helping you make a call from the computer-
1. Remote Work and Business Communications
With the rise of remote work and virtual teams, professionals often find themselves needing to make phone calls during online meetings, conferences, or collaborations. Using a computer for phone calls in these situations can be convenient, especially when you need to share screens or documents simultaneously.
You May Also Read : Business Communication: What is it & Why your Business need it?
2. Cost-Effective International Calls
Making international calls from a traditional landline or mobile phone can be expensive. Many computer-based services offer competitive rates for international calls, making it an economical choice for staying in touch with friends, family, or business associates abroad.
3. Privacy and Anonymity
Some individuals prefer to keep their personal phone numbers private. By making calls from a computer, you can use alternative communication methods while preserving your phone number's confidentiality.
4. Integration with Communication Apps
Popular communication apps such as Skype, Zoom, and Microsoft Teams allow you to make voice and video calls directly from your computer. This integration streamlines your communication tools and keeps all your contacts in one place.
How does a Phone Call from a Computer Work?
A phone call from a computer operates through a technology called VoIP, which stands for Voice over Internet Protocol. VoIP converts the user's voice into digital data packets that are transmitted over the internet to the recipient. This technology relies on certain hardware and software components. Users typically require a computer with a functional microphone and speakers or a headset.
Communication apps, such as Skype or Zoom, serve as the software interface for initiating and receiving calls. Users register their phone numbers or email addresses within these apps. When making a call, users dial the recipient's number or select a contact, while incoming calls trigger notifications on the computer screen.
A stable internet connection is crucial for call quality, and encryption is often used to secure the conversation's privacy, ensuring that the transmitted data remains confidential. Overall, making phone calls from a computer has become a versatile and essential communication method in today's digital age.
Why Making a Phone Call From a Computer Is Helpful?
Here's a detailed exploration of why making phone calls from a computer is so helpful:
1. Cost-Effective Communication
One of the foremost advantages of computer-based phone calls is cost-effectiveness. VoIP services often offer significantly lower rates for both domestic and international calls compared to traditional landlines or mobile carriers. This can result in substantial savings, especially for businesses or individuals who frequently make long-distance calls.
2. Flexibility and Convenience
Making calls from a computer provides a level of flexibility that traditional phones can't match. You can initiate and receive calls from anywhere with an internet connection, allowing you to stay connected even while traveling. This flexibility is particularly beneficial for remote workers, digital nomads, and individuals on the go.
3. Integration with Productivity Tools
Many communication apps that facilitate computer-based calls also offer integration with productivity tools like calendars, emails, and project management software. This seamless integration allows you to schedule calls, share documents, and collaborate more effectively during conversations.
4. Unified Communication
Computer-based phone calls often form part of a unified communication ecosystem. This means you can use the same application for voice and video calls, instant messaging, file sharing, and more. Having all these communication tools in one place streamlines your interactions and simplifies your workflow.
5. High-Quality Calls
With a stable internet connection, VoIP technology can deliver high-quality audio for your calls. Some services even support HD voice, which ensures crystal-clear sound, making it suitable for important business calls or personal conversations.
6. Accessibility Features
Computer-based phone calls often come with accessibility features such as call recording, transcription services, and voicemail-to-email forwarding. These features can be immensely helpful for professionals who need to keep records of their conversations or individuals with specific communication needs.
The Best Apps to Make Phone Calls from Your Computer
The ability to make phone calls from your computer has become an integral part of modern communication. Here are some of the best apps for making phone calls from your computer –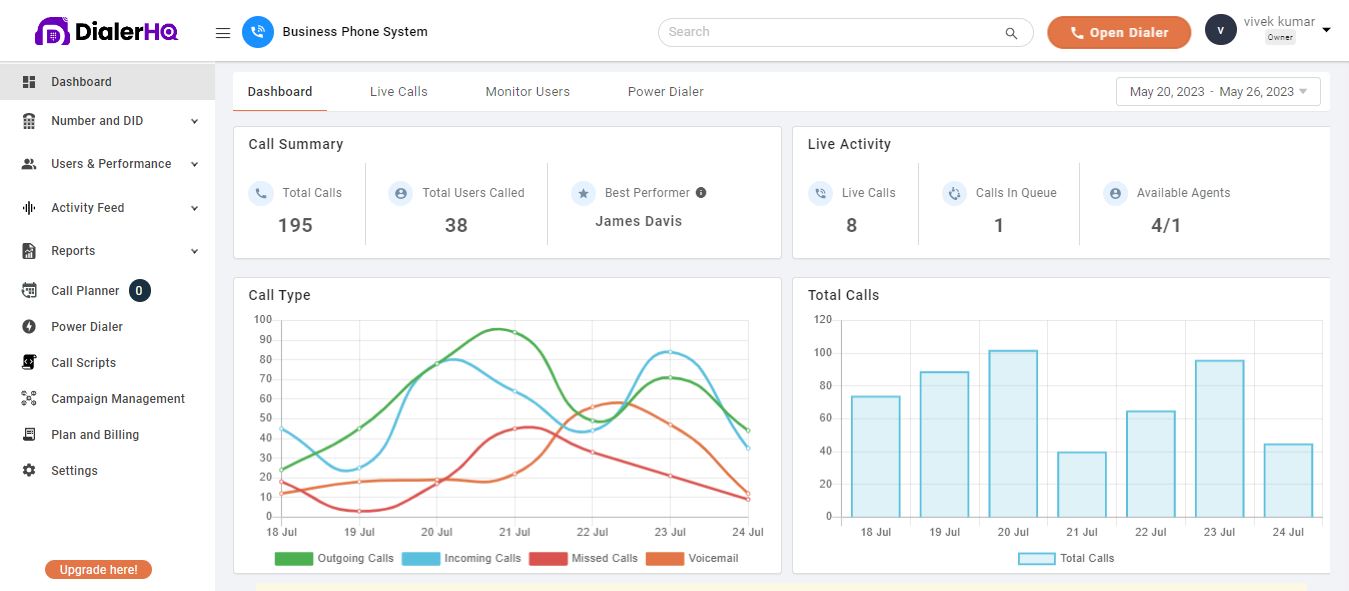 DialerHQ is a user-friendly VoIP communication platform designed to facilitate phone calls from your computer. It offers a simple and intuitive interface, making it accessible for both personal and professional use. DialerHQ primarily operates on the VoIP (Voice over Internet Protocol) system, ensuring cost-effective and efficient voice communication.
Features
VoIP calling
Call forwarding
Call tracking
Automatic Call Distribution (ACD)
Call history
Pros
Cost-effective VoIP calling.
Contact management for efficient communication.
Call recording and history for reference.
Conference call capabilities.
Potential for integration with other apps.
Cons
Limited advanced features compared to some business-focused VoIP solutions.
May have limitations in terms of international calling rates.
Pricing 
Basic – free
Bronze – $7.99 per user per month
Silver – $11.99 per user per month
Platinum – $19.99 per user per month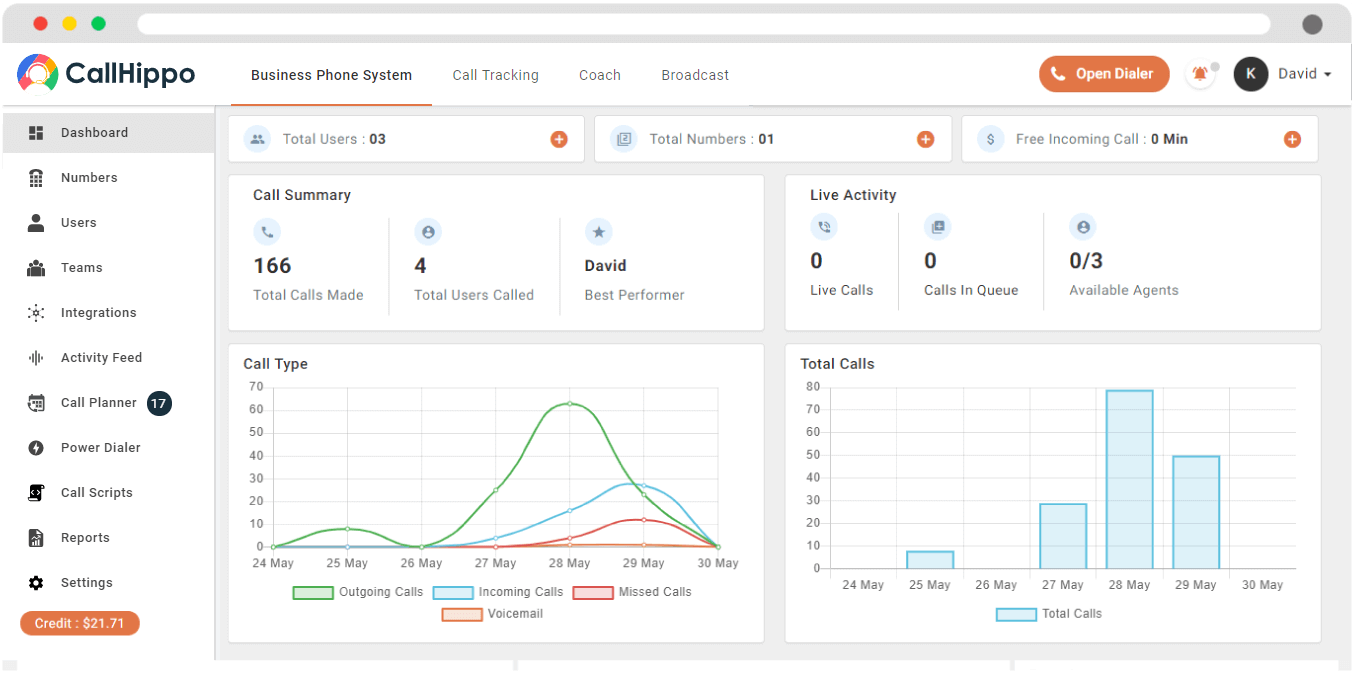 CallHippo is a VoIP-based phone system designed primarily for businesses. It offers a range of communication features aimed at improving customer service and team collaboration. While it caters to professional needs, it can also be used by individuals looking for a robust communication solution.
Features
Virtual phone numbers
Call forwarding
Automatic call distribution
Interactive voice response
Reports and analytics
Pros
Suitable for business use with virtual phone numbers and advanced features.
Call forwarding and IVR enhance customer service.
Integration with CRM systems for seamless operations.
Call analytics for data-driven decision-making.
Multi-user accounts support team collaboration.
Cons
May be overkill for individuals or small-scale personal use.
Pricing may not be as competitive as some other VoIP services.
Learning curve for advanced features.
Pricing 
Basic – $0
Bronze – $16 per user per month
Silver – $24 per user per month
Platinum – $40 per user per month
Skype is a well-known platform that offers both personal and business-oriented services. It allows users to make voice and video calls from their computers to other Skype users or phone numbers globally. Skype is renowned for its reliability and widespread user base.
Features
Instant messaging
Voice and video calls
Screen sharing
Conference calls
International calling
Integrations
Pros
Reliable and well-established platform.
Voice, video, and text communication options.
Screen sharing for collaborative work.
International calling at competitive rates.
Integration with Microsoft products.
Cons
Ads in the free version can be intrusive.
Some features may require a paid subscription.
May not be as feature-rich as some business-focused VoIP solutions.
Pricing 
Custom pricing based on different countries.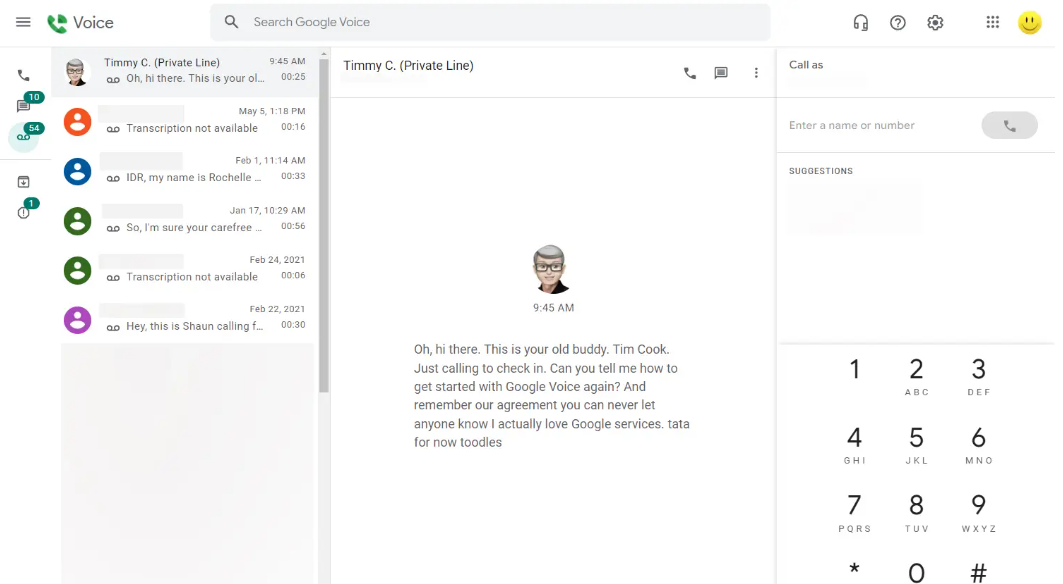 Google Voice is a communication service by Google that allows users to make phone calls, send text messages, and manage voicemail from their computer or mobile devices. It is known for its integration with other Google services and offers both personal and business features.
Features
Voicemail transcription
Call forwarding
Text messaging
Integration
Custom voicemail greetings 
Pros
Free to use with many essential features.
Integration with Google services.
Voicemail transcription for easier message retrieval.
Custom voicemail greetings.
Call forwarding for flexibility.
Cons
May not offer as advanced business features as some dedicated VoIP solutions.
Limited international calling capabilities in the free version.
Some users might find the interface less intuitive compared to other options.
Pricing 
Zoom is primarily known as a video conferencing platform, but it also offers VoIP calling capabilities. It's widely used for remote work, webinars, and virtual meetings. While its core focus is video, it can be used for voice calls as well.
Features
Screen sharing
Voice calls
Meeting scheduling
Integration
Recording
Pros
Widely used for video conferencing and virtual meetings.
Reliable voice calling capabilities.
Screen sharing for presentations and collaboration.
Recording for documentation.
Integration with productivity tools.
Cons
Primarily known for video, which may lead to voice call features being overlooked.
Advanced features may require higher-tier subscriptions.
May not be the most cost-effective solution for voice calls alone.
Pricing 
Basic – free
Pro – $149.90 per user per year
Business – $199.90 per user per year
Business plus – custom pricing
Final Thoughts 
Each of the apps mentioned in this guide offers unique features and advantages, catering to a range of communication needs, from casual conversations to business meetings. With these powerful tools at your disposal, you can seamlessly bridge the digital divide and connect with others, regardless of distance or circumstance.
Frequently Asked Questions
Yes, you can call a phone number from computer for free using certain apps and services. Many Voice over Internet Protocol (VoIP) applications, such as DialerHQ, Skype, Google Voice, and Zoom, offer free computer-to-computer calls. However, keep in mind that there may be charges if you're calling a traditional phone number or making international calls, depending on the service and the destination.
You can call someone without a physical phone by using a VoIP (Voice over Internet Protocol) service on your computer or another internet-enabled device. These services allow you to make voice calls over the internet. Simply choose a VoIP app, register, and then dial the person's phone number or username to initiate the call. You'll need an internet connection for this to work.
In most cases, you'll need a phone number or an email address associated with your contact to make calls from your computer. Many VoIP services require this information to connect you with the recipient. However, some apps also support calls between users without the need for a phone number, using usernames or email addresses as identifiers.
Yes, you can make international calls from your computer using VoIP services like DialerHQ, Skype, Google Voice, or Zoom. These services often offer competitive rates for international calls, making it an affordable option for staying in touch with friends, family, or business contacts around the world. Keep in mind that charges may apply, so it's essential to check the rates with your chosen VoIP provider.
Yes, to make phone calls from your computer, you'll typically need a phone call app or software that supports VoIP. Some popular options include Skype, Google Voice, Zoom, and dedicated VoIP services like DialerHQ or CallHippo. These apps facilitate voice calls over the internet and often offer additional features like video calling, messaging, and call recording. You'll need to install and register with one of these apps to initiate calls from your PC.
You can make a call to your target audience usign a VoIP service.

Paras Kela is an accomplished IT professional with 7+ years of industry experience, including 4+ years as a dedicated content writer. His expertise lies in crafting informative blogs on VoIP and cloud telephony, among other technical subjects. Outside his professional pursuits, he cherishes quality time with loved ones, indulges in watching documentaries, and finds solace in gardening. Connect with him on LinkedIn.
Updated : November 17, 2023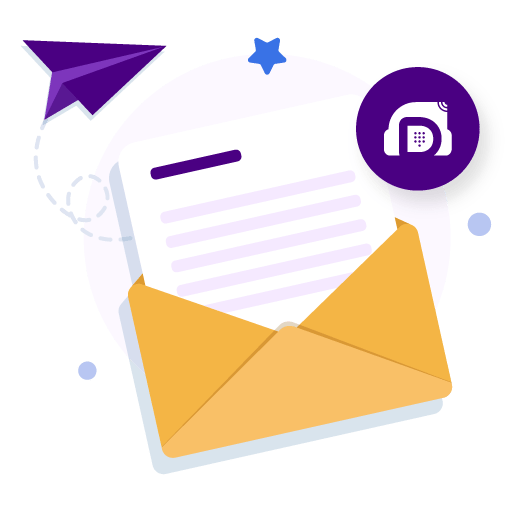 Let's Stay in Touch
Subscribe to our newsletter & never miss our latest news and promotions.

+15K people have already subscribed