Senior Writer: Priya Naha
Reading Time:
7
Minutes
Published :
June 23, 2023
Communication has always been the key to improved business relationships. The global need for communication has also led to a significant rise in smartphone users in Spain. It is estimated that there will be an increase of 46.4 million mobile phone users by 2028! But how to call Spain from the US?
You don't need to go any further because we have a comprehensive guide on calling Spain from the US without a problem.
Need a reliable and affordable business phone system? Look no further than DialerHQ.
This article provides step-by-step instructions, including country and area codes and important dialing advice. We'll equip you with the knowledge to make ideal international calls to Spain from a landline or mobile device. Read on for effective and seamless communication!
How to Call Spain from the US?
If you want to know how to call Spain from a US cell phone, we're here to help.
You must comply with simple guidelines for dialing to Spain from the US. Here are a few steps on how to call Spain from the USA:
Start by dialing "011" in the US, the international exit code.
Enter "34," Spain's country code, after the exit code.
Add the area code of the region you wish to reach.
Enter the 9-digit local phone number to reach your desired contact.
Example:
Suppose you want to call a friend in Barcelona whose phone number is 234567890. You'll first need to enter the US exit code (011), the country code of Spain (34), and the area code of Barcelona (93), followed by the local phone number.
The complete dialing sequence will look like this: 011+34+93+234567890.
Note that there can be additional costs for international calls. Contact your service provider to learn more about international calling rates and any appropriate plans or packages that can help you save money on these calls.
Expert Advice
"Virtual numbers are an excellent choice to call Spain from the US. They offer convenience, cost-effectiveness, and flexibility. With virtual numbers, you can make international calls without incurring hefty charges and receive calls on any device. Enjoy seamless communication with virtual numbers and stay connected with ease. "
How Do I Call Spain from a US Landline Phone?
You must take a few easy steps if you want to know how to dial Spain from the US landline. Here is a step-by-step guide to assist you in making a call effectively:
Step 1: Dial the International Access Code
Call the international access code "011" in the US to start. Using this code, you can inform your phone company that you want to make an international call.
Step 2: Enter the Country Code 
Enter the "34" country code for Spain after dialing the international access code. This code identifies the country you're trying to access.
Step 3: Dial the Area Code
The area code for the specific Spanish city or region you want to call should come after the country code. Various locations have different Spanish area codes. For instance, Barcelona has the area code "93", and Madrid has "91".
Step 4: Dial the Phone Number 
Finally, call the local Spanish number of the person or company you wish to contact. Depending on the area, this number often has seven or eight digits. Before making the call, ensure you have the right number and that there are no mistakes.
Example:
Suppose you want to call a client in Madrid whose phone number is 123456789. You'll first need to enter the US exit code (011), the country code of Spain (34), and the area code of Barcelona (91), followed by the local phone number.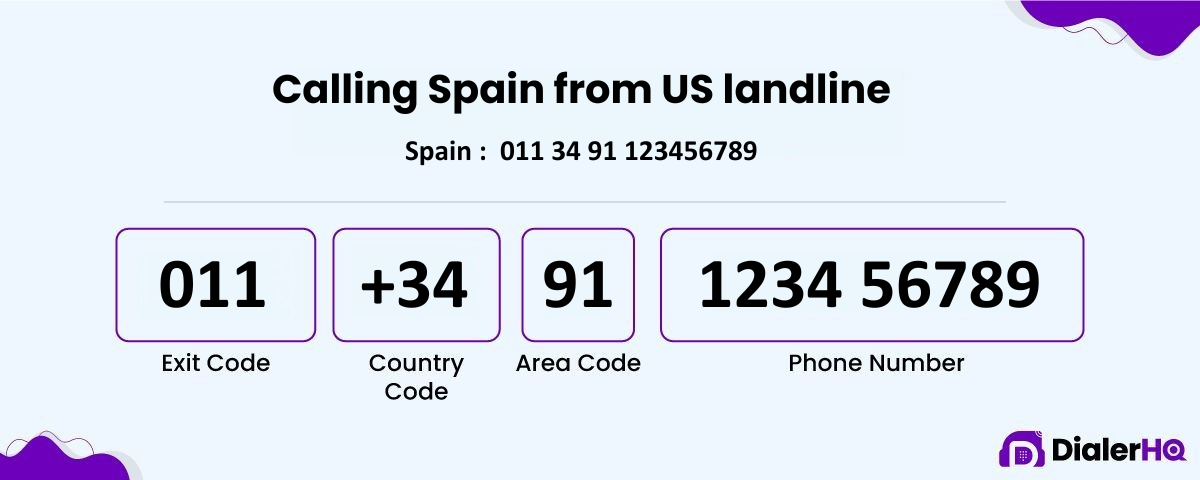 The complete dialing sequence will look like : 011+34+91+123456789.
It's crucial to remember that some service providers require you to enable this option before you can use your phone account for international calling.
Additionally, overseas calls may cost more than domestic calls. Hence, verifying your service provider's foreign calling rates is good or consider using a calling card for more cost-effective possibilities.
What is the Spanish Dial Code?
The Spanish dial code is +34. When calling Spain internationally from another country, this special code is used. Calls to Spain are normally placed by first dialing your country's international access code, then the country code for Spain, which is +34, followed by the local area code and the subscriber's phone number.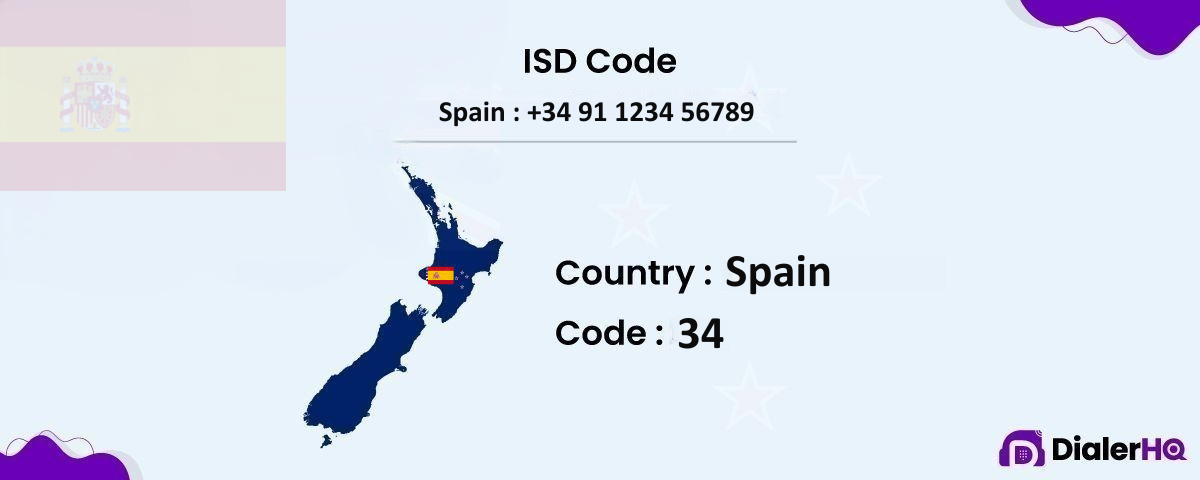 The international access code, which changes depending on the nation you are phoning from, is represented by the + symbol. If you want to call Spain from the United States, dial 011-34, followed by the local area code and the subscriber's number. The International access code is 00 in some nations, such as the United Kingdom. Therefore, you would dial 00-34 and the remaining digits.
Spain is the only country with the area code +34, making it possible to efficiently route international calls to the right location inside the Spanish telecommunications network. Through this system, people worldwide can connect with friends, family, colleagues, and various services in Spain.
It's vital to remember that you would dial the local area code first, followed by the subscriber's number while making a domestic call within Spain. For instance, to contact a number in Madrid from Spain, you would first dial the Madrid area code, then the subscriber's phone number.
The Spanish dial code, +34, is a crucial link between Spain and the rest of the globe, enabling smooth cross-border communication and keeping people and businesses connected globally.
List of Major Spain Area Code
Spain uses an extensive phone numbering system with multiple area codes. These area codes are used to designate specific regions of the nation.
Here is a list of the main area codes in Spain, whether you plan a business there or are just eager to learn more about its telephone system.
| City | Area Code |
| --- | --- |
| Madrid | 91 |
| Barcelona | 93 |
| Valencia | 96 |
| Seville | 95 |
| Malaga | 95 |
| Bilbao | 94 |
| Granada | 958 |
| Alicante | 96 |
| Zaragoza | 976 |
| Palma de Mallorca | 971 |
Download Spain Area Code Template
What is the Perfect Time for Calling Spain from the USA?
Timing is essential to making international calls for an effective and practical conversation. Finding the ideal time for your call requires considering the time difference between the USA and Spain if you plan on calling Spain from the USA.
Spain is in the CET (Central European Time) time zone, typically six hours earlier than EST (Eastern Standard Time) in the USA. The Central European Summer Time (CEST), typically observed from the last Sunday in March to the last Sunday in October, is also observed in Spain.
You must consider the time difference and whether daylight saving time is considered when choosing the best time to call Spain from the USA. Let's deconstruct it:
Standard Time (Eastern Standard Time, or EST): The time difference between Spain and the USA is six hours when daylight saving time is not in effect. Therefore, The time would be 6:00 PM in Spain (CET) if it was 12:00 PM in New York (EST).
Daylight Saving Time (Eastern Daylight Time – EDT): When the USA observes daylight saving time (also known as Eastern Daylight Time, or EDT), the time difference between Spain and the USA is shortened to five hours. For instance, if it's 5:00 PM in Spain (CEST), it's 12:00 PM in New York (EDT).
It is best to consider the local conventions and refrain from calling too early in the morning or too late at night to ensure you are phoning Spain at a convenient time. In Spain, contacting between 9:00 AM and 4:00 PM is generally appropriate.
Whenever calling Spain from the USA:
When calling during Eastern Standard Time (EST), consider doing it in the USA between 12:00 PM and 12:00 AM (midnight).
When reaching the USA during Eastern Daylight Time (EDT), consider doing it between 12:00 and 11:00 PM.
Is Calling Spain from the USA Expensive?
The cost of making a call to Spain from the USA can vary based on your plan and service provider. Although international calls can typically be more expensive than local calls, the cost has declined lately due to technological developments and the availability of various calling options.
For overseas calls, traditional landline carriers often charge higher prices. However, many individuals today choose alternate communication channels, such as Voice over Internet Protocol, or VoIP, services, because they can interact for much lower costs. Spanish calls can be made at affordable rates using similar services like Skype, WhatsApp, and Google Voice.
Additionally, several mobile phone providers now provide add-ons or packages for international calling that let you contact Spain for a lower rate. To find out the exact charges for calling Spain, it is necessary to verify with your service provider.
Using internet-based communication services like WhatsApp, Facebook Messenger, or other messaging apps that offer audio and video calling functions is another cost-effective choice. These services use your data plan or Wi-Fi connection, making international calls economical with their assistance.
The cost of calling Spain from the USA need not be prohibitive. Finding affordable solutions for international calls is achievable because of the availability of multiple communication channels and the competitive pricing provided by different providers. You may make inexpensive calls to Spain without breaking the bank by comparing your options and rates.
Lower Your Calling Costs to Spain Using DialerHQ
DialerHQ will lower your calling expenses and improve the cost and accessibility of communication. You can get significant savings on your calls to Spain using DialerHQ while still getting a smooth and high-quality call connection.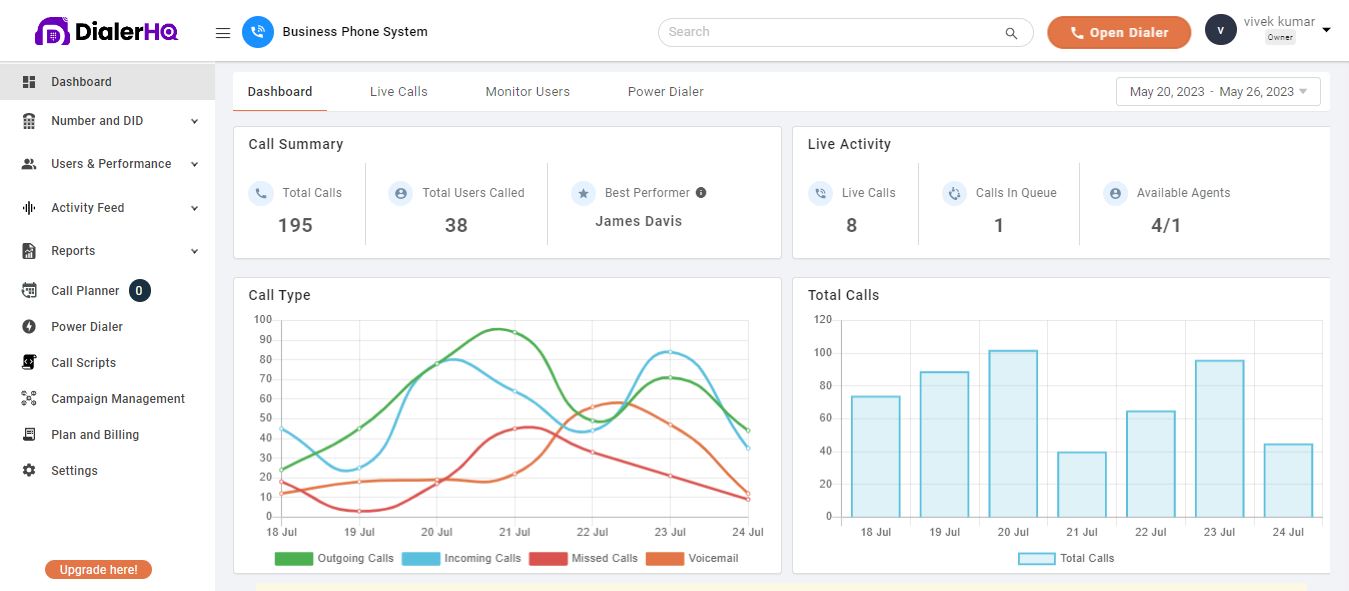 With modern technology, DialerHQ can put you in contact with family members or business partners in Spain for a fraction of the price. DialerHQ ensures you can maintain clear, uninterrupted conversations without worrying about high costs, whether you need to conduct personal or business calls.
You can access a feature-rich platform created to enhance your calling experience by using DialerHQ. Here are a few of the primary benefits you might expect:
1. Call Recording
You can conveniently record crucial discussions with people you know in Spain with DialerHQ's call recording tool. It can be useful for retaining a record of significant private conversations or for business needs.
DialerHQ's service does not have hidden costs due to the transparent pricing policy. To guarantee a hassle-free calling experience, what you see is what you get.
3. Mobile and Web Accessibility
You can place affordable calls to Spain with DialerHQ's web-based platform and user-friendly mobile software from your smartphone or tablet. You can easily stay in touch with your Spanish connections at home, work, or on the go.
4. Speed Dial and Contact Management
By using the speed dial tool and keeping your contacts within the platform, DialerHQ allows you to save time and effort. Your Spanish contacts can be conveniently stored and organized, with speed dial numbers assigned and accessed with a single click. You may communicate with your connections fast and effectively using this streamlined procedure.
5. Flexible Plans
Every user has distinct calling requirements. To address this, DialerHQ provides customisable options that may be tailored to meet your unique needs. Select a plan that best suits your needs, and take advantage of the freedom to modify it as your needs change.
Conclusion
It's easy to call Spain from the US, but there are a few things to remember. You can quickly reach your target contact using the proper international dialing format, including the country code for Spain (+34) and the area code for the particular city or location.
Other affordable choices include using internet-based calling services or international calling subscriptions. With the help of these practical calling ideas, you can stay in touch with friends, family, and business partners across the Atlantic.
FAQs
Spain's country code is "34."
To call a mobile number in Spain from the US, follow the same procedure as calling a landline. Dial the international exit code "011," then Spain's country code "34," the area code, and finally, the mobile number.
Yes, there are time zone differences to consider. Spain is typically 6 to 9 hours ahead of the US Eastern Time. Ensure you are calling at an appropriate time to avoid disturbing the recipient.
Calling internationally may incur additional charges based on your phone plan. Contact your service provider to understand the rates for calling Spain.
Consider using international calling cards, Voice over Internet Protocol (VoIP) services like DialerHQ, or mobile apps that offer competitive rates for calling Spain from the US.
Yes, various online platforms and apps offer international calling services like DialerHQ offers complimentary Malaysian numbers and unlimited calls without hidden fees. Advanced features become accessible upon plan updates.

Priya is a seasoned writer with over 5 years of experience, specializing in VoIP and cloud telephony. She is also well informed about content and digital marketing. Her expertise extends to SEO, ensuring her work not only informs but also ranks. She's your go-to writer for the telecom industry. Connect with her on Linkedin.
Updated : November 17, 2023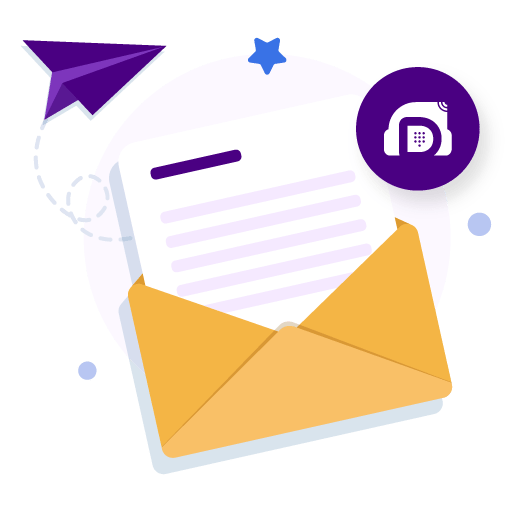 Let's Stay in Touch
Subscribe to our newsletter & never miss our latest news and promotions.

+15K people have already subscribed