Senior Writer: Hiba Ali
Reading Time:
3
Minutes
Published :
September 25, 2023
Mexico's economy is growing; therefore, more and more businesses are expanding their target market to Mexico. To implement this successfully, you also need to have a phone system that allows you to make 800 number calls from Mexico.
Need a reliable and affordable business phone system? Look no further than DialerHQ.
In fact, did you know that 62% of foreign-born Mexicans have lived in the United States for over 20 years? This leads to more calling frequency to Mexico from other countries. In this blog, we will carefully lead you through each and every step of dialing 800 from Mexico.
Expert Advice
"When calling an 800 number from Mexico to the United States, use "001" or "+1" as the international dialing prefix. Check your phone's balance before calling to avoid interruptions. Get help from your service provider if you run into any problems. Remember that calling from abroad can cost extra, so check your plan or think about using VoIP services that are more affordable. "
How to Dial an 800 Number from Mexico? [In 4 Steps]
If you're wondering how to dial an 800 number from Mexico? This section will help you. Let's say you need to contact a business with an 800 number from Mexico, which is based in the U.S., and you don't know what to do. Below are the vital steps and nuances involved in making such international calls.
Step 1 – Dial Mexico's international access code usually "00" or "+."
Step 2 – Enter the U.S. country code and include the digit "1"
Step 3 – Dial the 800 Number
Step 4 – Use the correct prefix or access code. For instance, a caller in Mexico might dial 001-880-555-5555 if the US toll-free number is 800-555-5555.
You May Also Read : Step-by-Step Guide on How to Call the USA from Overseas
How to Call a 1-800 Number from Mexico?
Calling a 1-800 number from Mexico can be done using various methods, depending on your location, the cell phone you're using, and your service provider. Here are some common ways to answer the question of how to call 1800 from Mexico.
1. Direct dialing
Direct dialing is a straightforward method to connect with a 1-800 number from Mexico. Here's how to dial 1800 from mexico.
International access code: Begin by dialing the international access code for Mexico, which is typically "00" or "+." This code indicates that the call is being placed overseas.
Country code: Dial the "1" country code for the US and Canada after the international access code.
Dial the 1-800 number: Following the country code, enter the specific 1-800 number you wish to call. For example, if you intend to call "1-800-123-4567," you would dial it as "00" (or "+") + "1" + "800-123-4567."
2. Use a calling card
Let's know how to dial a 1800 number from Mexico using a calling card.
Purchase a calling card: Get an international calling card to make an international call; they are usually available online, in pharmacies, convenience stores, and other locations.
Follow card instructions: You'll need to dial an access number and enter your unique PIN to access the card's credit
Dial the 1-800 number: After following the card's instructions, dial the 1-800 number you intend to reach.
3. Use a VoIP service
This is your second response regarding calling an 1800 number from Mexico.
Download a VoIP app: Start by downloading a VoIP app such as Skype, WhatsApp, etc.
Add credit if necessary: In order to make sure you have sufficient credit, check the app's settings.
Dial via the app: Simply dial the 1-800 number directly within the VoIP app, following its dialing format.
4. Use a local or international calling plan
Here's another answer to how to call 1800 number from Mexico.
Check with your phone service provider: Contact your service provider in Mexico to inquire about international calling rates and plans.
Explore international plans: When dialing 1-800 lines from Mexico, explore specific international calling plans available from some providers.
5. Google Voice app
For calling Mexico using 1-800 number from Google Voice, you can follow these steps:
Log in: Open the Google Voice app on your smartphone or tablet and login if needed.
Dial: To make a call, just tap the Dial icon and enter the 1-800 number.
See notification: A carrier message alerting you to additional costs may appear. Icon of phone; tap "Got it" and then tap.
Click the icon: Initiate your call by clicking the phone icon.
Wrapping Up
In conclusion, dialing 800 number from Mexico doesn't have to be a complicated question. Follow the step-by-step guide outlined in this blog. Now, you can easily connect with businesses, customer service hotlines, or loved ones across borders. Thus, pick the pricing category that best suits your requirements and tastes, and keep in mind that there may be costs associated with making international calls.
Frequently Asked Questions
To dial a US 800 number from Mexico, follow these steps:
Dial the Mexico exit code, which is "00."
Dial the US country code, which is "1."
Replace the "800" prefix of the phone number with "001-880."
Dial the rest of the phone number. For example, if the US toll-free number is 800-555-5555, dial: 001-880-555-5555.
To call a toll-free number from Mexico to the US, use the following steps:
Dial Mexico's exit code, "00."
Dial the US country code, "1."
Replace the initial "800" prefix of the toll-free number with "001-880."
Proceed to dial the remaining digits of the toll-free number.
Yes, you can call an 800 number from outside the US. To do so, follow the steps outlined for dialing from your specific country to the US. Typically, this involves dialing the US country code, "1," and then entering the 800 number as you normally would, without any additional prefixes.

Hiba is a seasoned expert with extensive experience in the dynamic and ever-evolving field of Voice over Internet Protocol (VoIP) and cloud telephony. She is passionate about leveraging VoIP technology to help companies gain flexibility, scalability, and cost savings. Her journey in this domain has been marked by a commitment to staying at the forefront of emerging trends and technologies, ensuring that they provide readers with the most up-to-date and relevant insights. Connect with her on LinkedIn.
Updated : November 17, 2023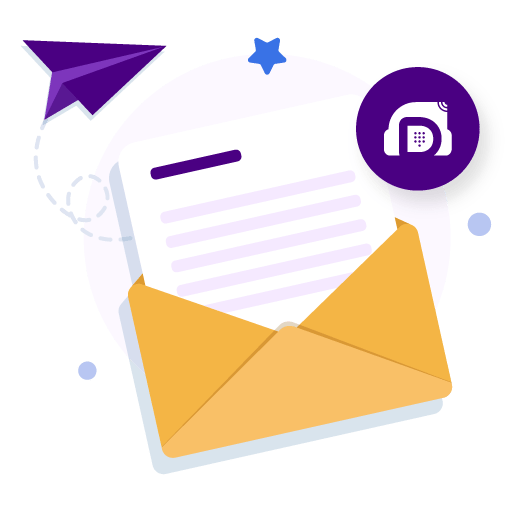 Let's Stay in Touch
Subscribe to our newsletter & never miss our latest news and promotions.

+15K people have already subscribed