Senior Writer: Paras Kela
Reading Time:
7
Minutes
Published :
September 29, 2023
Do you want seamless communication with customers to extend customer support and make sales? Well, given the two communication platforms–contact centers and call centers, you can only make an unbiased choice by being clear about call center vs contact center.
Need a reliable and affordable business phone system? Look no further than DialerHQ.
73% of top business leaders believe customer service and business performance are directly related. So, to improve your business performance, you must enhance your customer service, which you can best do by choosing the right communication platform – call center or contact center.
We have curated this guide on call centers vs contact centers to acquaint you with their meaning, working mechanism, and types. We have also covered the call center and contact center difference and answered which one to choose (contact center vs call center). Let's find out!
Expert Advice
"There's no right choice between contact centers and call centers because both cater to different activities, goals, and business scales. You can expect more centralized control over your multiple digital channels and overall communication strategy with contact centers. However, with call centers, you get a more specialized service for phone calls. Choose the one you feel more resonated with. "
What is a Call Center?
A call center is a solution that facilitates agent-customer business communication through VoIP to promote holistic customer service, technical support, sales, and more. Unlike the traditional call center, this solution can be on-premise or virtual. Note that this communication focuses on telephone calls between businesses and customers.
Today, most businesses rely on call center software – on-premises or cloud-based (managed and maintained by the VoIP software provider). Companies use call centers for one of two purposes–one-way inbound / outbound calling or a blend of both. Such business call center is run by remote, in-office, or third-party agents.
How does Call Center Software Work?
Now that you know what exactly a call center software is, let's understand how it works to manage your business communications. Notice how this software can facilitate a seamless communication flow between customers and agents:
1. Receives Customer Calls
When a customer calls your support number, the call center software provides them with a personalized menu, aka Interactive Voice Response. Customers must then key in the relevant response that best aligns with their issue. This act routes their call to the best-suited agent or department via the software's call-routing feature.
2. Manages Customer Calls
Now, as the phone calls are routed to a specific agent, the software equips them with customer information to better and more quickly meet their needs. To provide customer-specific information, the software runs through its database; if found, it retrieves the relevant historical data for the agent's reference. Otherwise, it adds the customer as the new caller.
3. Queues and Connects the Calls 
After the software manages the pre-interaction affairs, it queues the call via its call queue feature as per the database mapping and the option the customer chose initially via Interactive Voice Response. Once the assigned agent accepts the call, they cater to the customer inquiries over the phone or invite supervisors to help.
4. Performs During and Post-Call Functions 
Even after putting in efforts, there are chances that the customer issue remains unresolved. The software allows you to record the conversation via a call recording feature to cater to this.
Call center software enables call center agents to set the status for each conversation–open, closed, resolved, or follow up through the agent dashboard to categorize and monitor the unclosed discussions or conduct follow-ups. Regular follow-ups and focusing on issue resolution can help you deliver a positive customer experience and encouraging customers to spend 140% more.
However, if the conversation is closed, the software allows ticket closure and feedback collection via automated survey call or email. On receiving the customer responses, the software logs it for future reference or service enhancement.
You May Also Read : Best Call Center Software: Comparison (Pricing, Feature, Pros & Cons)
Types of Call Center Software
Different call center software solutions perform different functions. So, you must adopt the one that fits perfectly into your business processes. Let's dive into the types of call center software:
1. Virtual Call Center
Virtual call centers are cloud-based call center software that facilitate remote working for agents on their preferred devices–laptop, tablet, mobile, or desktop. You don't have to worry about its maintenance, as the software provider is responsible for hosting and maintaining it. These are quite affordable and offer flexibility as they charge you on a monthly per-user subscription.
Best For
Mobile or remote call centers
Geographically apart teams
Features
Auto attendant
Call center monitoring
2. Inbound Call Center
Inbound call center software is designed to cater to customers' and prospects' incoming calls and issues. It has a features stack that helps you smoothen your business communication, enhance customer support, and reduce manual effort.
Best For
Customer support or service
Appointment scheduling or bill payment
Features
Call routing
CRM integration
IVR self-service
3. Outbound Call Center 
The outbound call center enables you to make outgoing / outbound calls to reach customers and leads seamlessly. You'll see this software in companies that utilize outbound calls to reach their sales-worthy prospects and upsell qualified customers.
Best For
Sales outbound calls
Payment or appointment reminders
Extensive market research
Features
Outbound auto dialer
Call script
4. Blended Call Center
As the name suggests, blended call center software is a sum of both inbound and outbound call centers. They are designed to help agents with inbound and outbound calls based on their volume of phone calls and business needs or goals.
Best For
Call centers experiencing a high number of phone calls daily – inbound and outbound calls
Features
Call transfer
Internal wiki
You May Also Read : Inbound Vs. Outbound Call Centers
What is a Contact Center?
Contact center software is a business solution that enables businesses to interact with their customers, and prospects via multiple channels–email, voice/ video, SMS, webchat, and social media. All of these modes are centralized in one user interface and app.
Modern contact center software focuses more on internal communication than call centers and owns a stack of high-utility workforce management features. You can utilize these features to analyze, automate, and manage your contact center agents' schedules and activities. From real-time chat messaging to screen sharing and file sharing, contact center software lets you do it all, and more, seamlessly.
How does a Contact Center Work?
The working of contact center software is simple to understand because it unifies all customer-agent communication digital channels – web chat, SMS, email, video, and voice in its dashboard. Its multichannel and omnichannel dashboard eliminates the agent's need to toggle between different windows to interact with customers.
Contact center solutions, aka contact center as a service platform, aim to give contact center agents and supervisors desktop-accessible multichannel communication features.
Contact center shares the same features as the call center software–queueing, monitoring, analytics, and routing, but leverages them for digital multichannel communication.
Here are some other functionalities of typical contact center solutions –
Eases out the process of evaluation and monitoring of agent performance
Facilitates minor issues resolution via self-service customer support through IVR and chatbots
Automates repetitive business tasks–task management and training
Empowers your marketing and admins to better analyze marketing campaign success and automate marketing messages. Companies with data-driven marketing strategies are 6x more profitable.
Lets you capitalize on omnichannel routing so that customers are always connected with the most suitable agent regardless of the digital channels they choose to contact through
Offers trend forecasting and cross-channel analytics
Types of Contact Centers
Contact centers come in different types and have different features and capabilities, making them suitable for some and not lucrative for others. Let's dive into its types –
1. Omnichannel Contact Center
The omnichannel contact center aims to sync and centralize all the conversations between customers and agents for smooth toggling and an organized view of different communication channels. The customer's live, recent, and historical data can be found in this software's dashboard.
Best For
Businesses that need different contact center agents

to interact with one customer simultaneously

Company's customer service teams that want to stay connected with customers across different channels
Features
Omnichannel user dashboard
Multiple communication channels
2. Multichannel Contact Center
The multichannel contact centers have similar functionality to the omnichannel contact centers but provide limited channels, each with separate interfaces. These contact centers do not give you a centralized view of customer data.
Best For 
Companies with small to mid-size teams that can work well with limited digital channel
Businesses that prefer keeping different communication channels separate
Features
Voice calling
Instant chat
Analytics
3. Premise-Based Contact Center
Premise-based contact center software requires hardware the user has to host on-premise, not the software provider. If you choose these contact centers software, its maintenance charges are on you.
Best For 
Businesses that want to utilize their existing hardware
Firms with small teams already relying on landline phone systems
Companies that have no utility of third-party integrations
Features
Compatibility with existing hardware
Mandatorily needs in-house IT staff
4. Cloud-Based Contact center
Unlike the premise-based contact center, the cloud-based contact center is a solution your provider hosts, not you. So, the maintenance and updation of contact centers falls on the provider, eliminating the need for you to incur any additional costs. Also, these contact centers require zero hardware on the site.
Best For
Ever-expanding remote teams
Companies planning to onboard and adopt additional service areas, features, and channels
Features
Multiple automation
AI support
Key Differences: Contact Center VS Call Center 
People often get confused about the difference between call centers and contact centers, which is wrong because they are distinct. To avoid any confusion, let's get a quick overview of call center vs contact center:
| Basis | Contact Center | Call Center |
| --- | --- | --- |
| Communication channels | Email, phone, live chat, social media, and more, allowing better workload distribution | Phone, blocking agents' time for individual calls |
| Utility | Customer relationship management and customer service | Sales, technical support, and telemarketing |
| Focus | Customer engagement | Call metrics |
| Customer experience | Connected | Disjointed |
| Queue management | Omnichannel queue management across different channels | Call distribution |
| Agent management | Lower burden on agents | Higher burden on agents |
| Support type | Proactive and reactive support | Reactive support |
| Self-service options | Community forums, self-service portal, support chatbot | IVR system |
| Automation options | Ticket creation, assignment, updates, and time-triggers | Outbound calling, voice mails, call routing |
| Centralized overview | Yes, with integrations | No |
Contact Center Vs. Call Center: Which One to Choose?
Now that you are well acquainted with both software – contact center and call center, you must be confused about which one to adopt for your business, right? Well, you must choose the one that best aligns with your communication goals and your pre-decided way of communication. Here are some insights into contact center vs call center :
You must choose call centers if –
You're sure most of your customers prefer contacting you over calls rather than any other medium. This will ensure no money or resource wastage by unutilized contact center features.
Call flow management is your core goal, and you want to measure your call volume via analytics and custom reports.
You must choose contact centers if –
Your customers contact you across multiple channels
Your short-term goals include expansion, as your growing customer base will want to contact you over their preferred channel other than call
Let's give you some instances –
Suppose your services or apps encourage customers to contact your business through their preferred channel–app, email, website, or social media. In this case, you would want to provide the top-notch customer service that an omnichannel contact center offers.
Does your business require you to communicate with customers over outbound or inbound calls? The high utility features like call queueing and auto dialing can help you extend customer support affordably, which is best found in call center software.
Frequently Asked Questions
Call centers aim to offer enhanced customer support and improve customer satisfaction via phone calls.
Call centers usually handle inbound calls using IVR to directly handle or transfer the call to a suitable department or agent.
Some majorly used technologies by call centers are IVR, voicemail messages, VoIP, call center queue management, and pre-recorded response.
Call centers measure performance via key metrics like customer satisfaction, service level, average call handling time, and first call resolution.
The main goals of contact centers are improving customer satisfaction scores and enhancing customer experience by reducing response time.
Contact centers manage multiple communication channels by catering to each channel's interactions separately and bringing them together under one centralized view.

Paras Kela is an accomplished IT professional with 7+ years of industry experience, including 4+ years as a dedicated content writer. His expertise lies in crafting informative blogs on VoIP and cloud telephony, among other technical subjects. Outside his professional pursuits, he cherishes quality time with loved ones, indulges in watching documentaries, and finds solace in gardening. Connect with him on LinkedIn.
Updated : September 29, 2023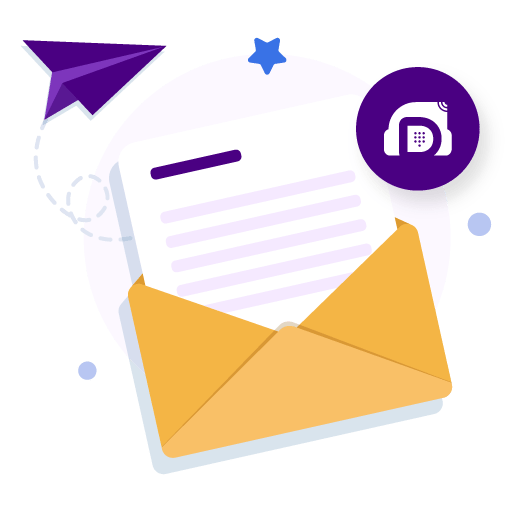 Let's Stay in Touch
Subscribe to our newsletter & never miss our latest news and promotions.

+15K people have already subscribed