Get Private Number Calling App Test
Unlock a New Level of Privacy and Convenience with Our Exclusive Private Number Calling App
Protect your identity and personal information with our private number calling app.
Enjoy seamless and secure communication without compromising your privacy.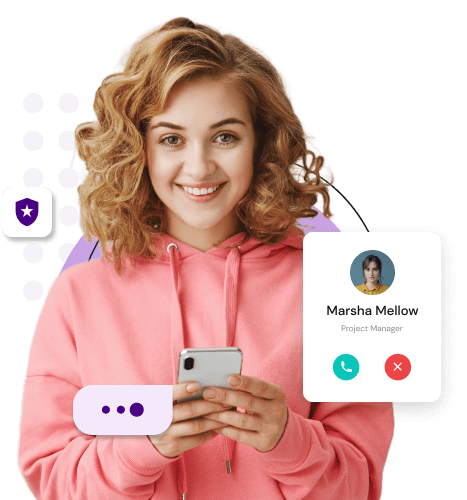 DialerHQ: Connect, Communicate, Save!
Elevate your business game with our powerful platform that combines cutting-edge features, user-friendly setup, and insightful analytics.
Effortless Onboarding
DialerHQ's intuitive setup gets you up and running in no time. No complex configurations, no tech expertise, no additional hardware. Just buy virtual numbers and start making calls.
Futuristic Features
From a power dialer that maximizes agent productivity to rich analytics that optimizes customer interactions– our platform is designed with 50+ features to give you the edge.
Data-driven Insights
Our data-driven dashboards and analytics provide real-time insights into your campaigns. Monitor agent performance, track call outcomes, and measure ROI – all in one place.
Private Number App – Add A Second Phone Line Now
Apart from helping you separate your professional and personal lives, a private calling app manages
your phone calls and reduces communication expenses.
Keep Your Privacy High
our private calling app is a smart alternative to keep your privacy intact. End-to-end encryption ensures completely secure and reliable business communication. If you need to separate your business and personal life, the DialerHQ app helps you maintain a clear difference. Managing clients becomes simpler with a Private phone number app. Be it approaching new clients with a new number or making impressing old clients with a new number, the private phone call app helps your business create trust and build a credible image in the market.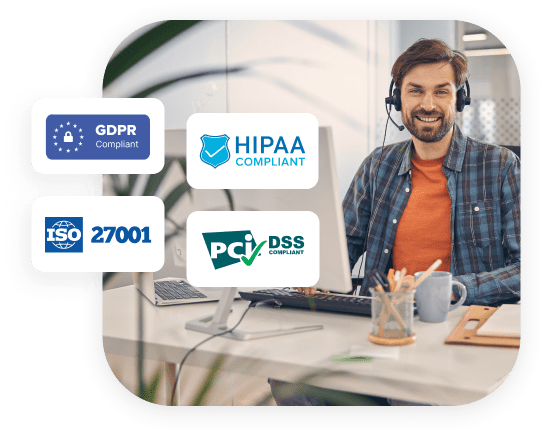 Be Available Round-The-Clock
Remain available for your professional or personal contacts every time by using a free private call app. You can freely make calls at any hour of the day, to anyone you want, from anywhere from this international calling phone app. The freedom to use private numbers for business or personal use reduces your time barrier. You can be available for your dear ones or clients at any hour of the day. So, you are just one call or text away from them, regardless of where you are!
Get the Affordable Pricing
Remain available for your professional or personal contacts every time by using a free private call app. You can freely make calls at any hour of the day, to anyone you want, from anywhere from this international calling phone app. The freedom to use private numbers for business or personal use reduces your time barrier. You can be available for your dear ones or clients at any hour of the day. So, you are just one call or text away from them, regardless of where you are!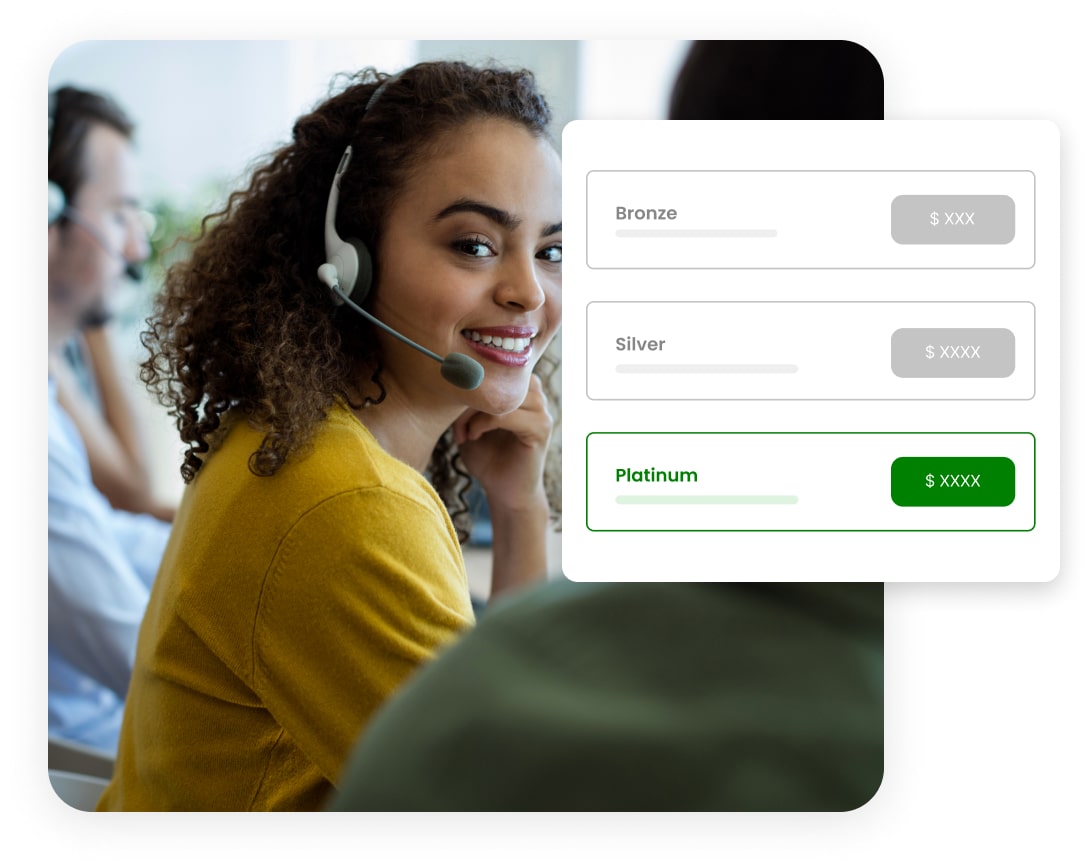 Seamless Set Up
A private number app involves a hassle-free set up. It is simple to use and doesn't involve any technical skills for setup or operation. While owning a mobile phone and a new number definitely demands hardware, network connectivity, and two SIM card management, with a private number app, you don't need anything. The seamless virtual number setup allows effortless calling and texting. It makes it convenient for anyone to use it without any trouble. So, even non-technical people can use the private calling app easily.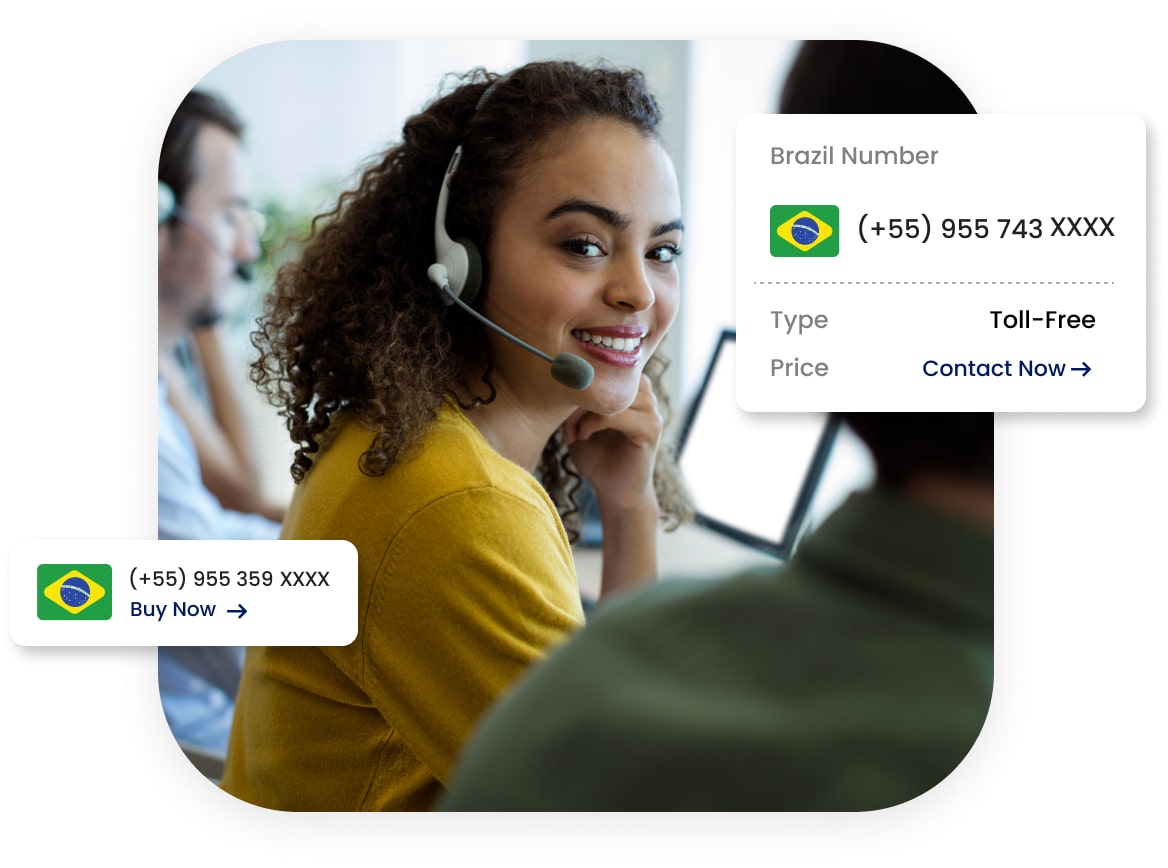 Top 8 Free Private Phone Numbers Apps for Users in 2023
iPhones today have made the world a small place. But, they also have complicated things when it comes to managing your personal life, business life, and a side gig, all using a single phone. Regular alerts and buzzing is tough to handle and even harder when you have no idea why people are contacting you.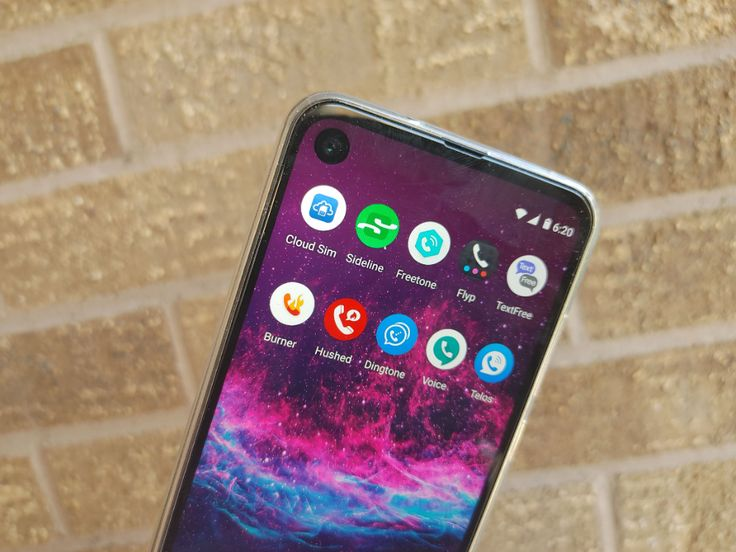 Luckily, there are some options to make things simpler to handle and effective at the same time. A simple way for professionals to separate their work life and personal life is getting a free phone number app for iPhone. 
So, if you're someone who wants to get a free private phone number app, without adding a new SIM or phone, we will provide you with all the details related to it.
Private Phone Number Application
Today, you can choose any private calling app to buy a private phone number for your iPhone device. This will provide you with a private calling number that will work flawlessly on your iPhone device and help you separate business and personal use.
Private number calling app rely on an internet or cellular connection to make calls or send texts rather than the usual cell signal.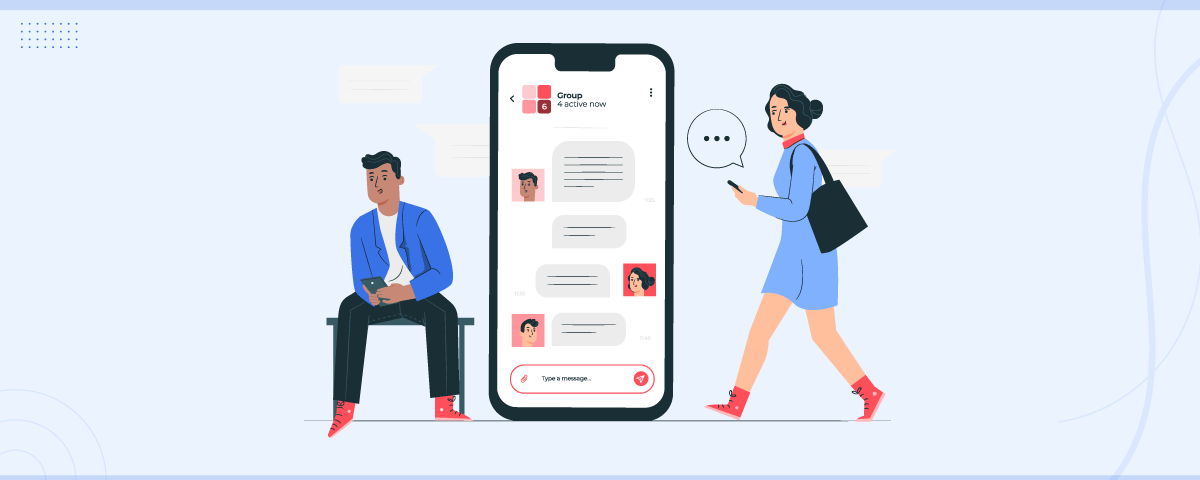 A DialerHQ app for iPhone is the most efficient, reliable, and cost-effective option to get a DialerHQ without a SIM card or without new phone number subscription
Go through the various market options to choose a reliable service provider like DialerHQ to gain an instant competitive advantage and increase bottom-line results.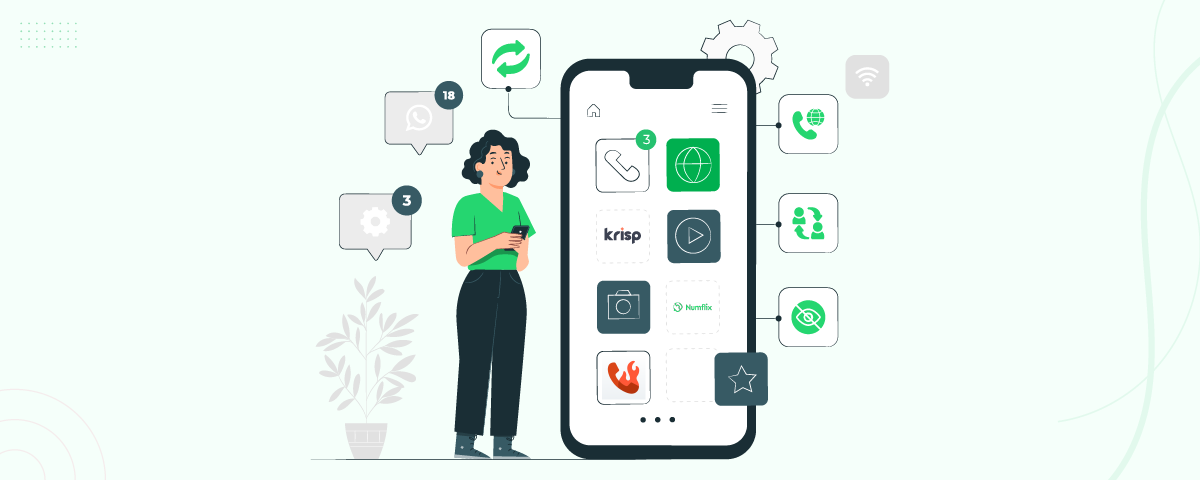 Reasons to Use iOS App For Private Phone Number
There are several reasons to buy an iPhone DialerHQ app, but the major one is to increase operational efficiency.
Managing your personal and professional life
With a private phone call app for iPhone, you can segregate your personal and business life into two numbers without using any private phone call app iPhone or private number app free download subscription plan.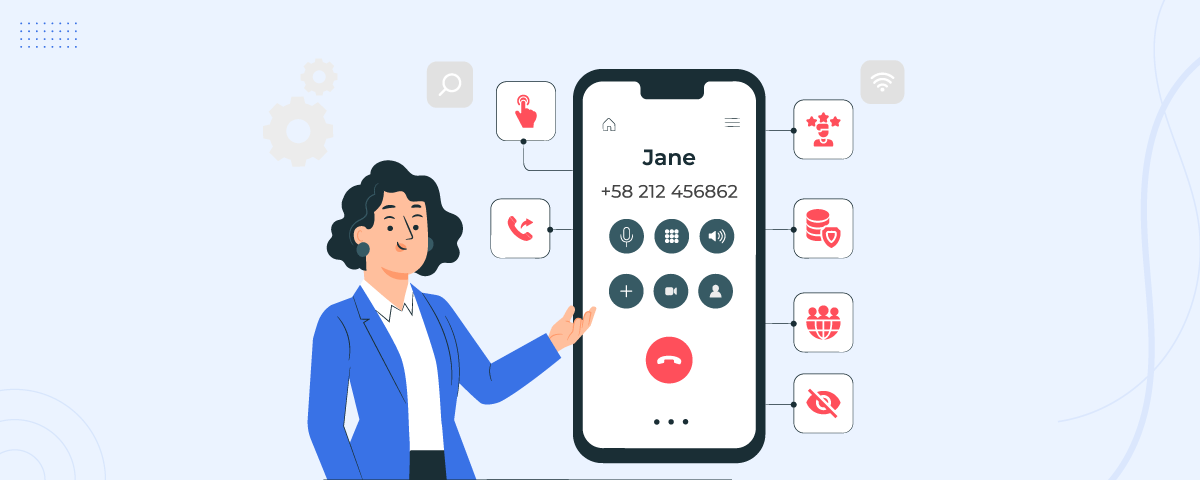 Getting a temporary phone number just makes it simpler to organize your busy life. It also helps you screen calls. So, if you accept business calls only during specific hours, using a business phone number will help you know when you are receiving them and when a friend wants to contact you.
Of course, you can go for the reverse also. If you want to concentrate more on your work, you can screen your personal line and accept major business calls on the primary number with the private calling app.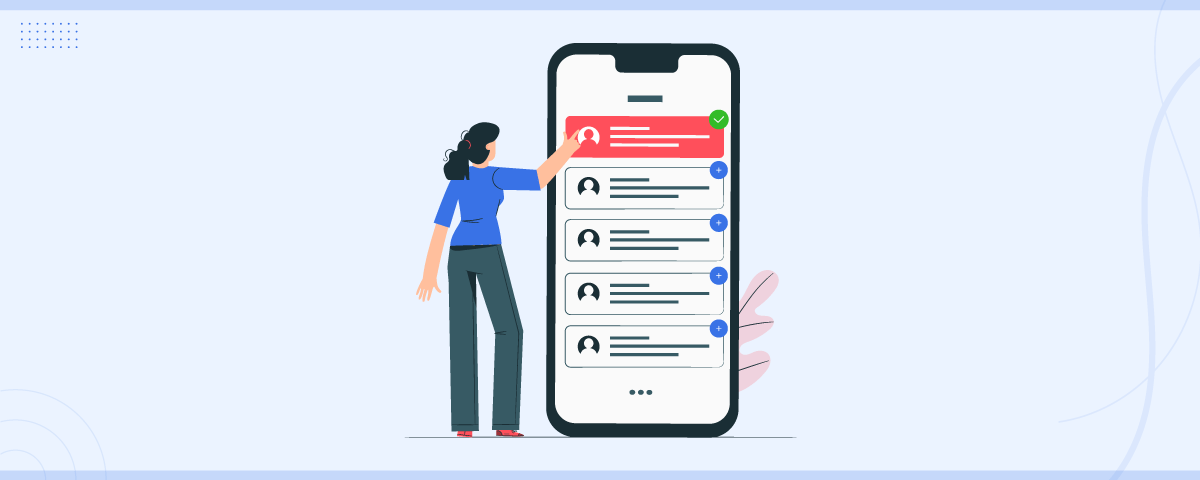 International calling
If you wish to expand your business globally or you have a call center for international calls, you can choose a local phone number through your DialerHQ app. A free private phone number app can help in streamlining business communication and help businesses increase customer engagement and responsiveness.
Privacy
Last but not least, a free private call app provides you with better privacy. If you think people can collect more data about you from your primary phone number, you can choose a DialerHQ via a private calling app and can protect your online privacy.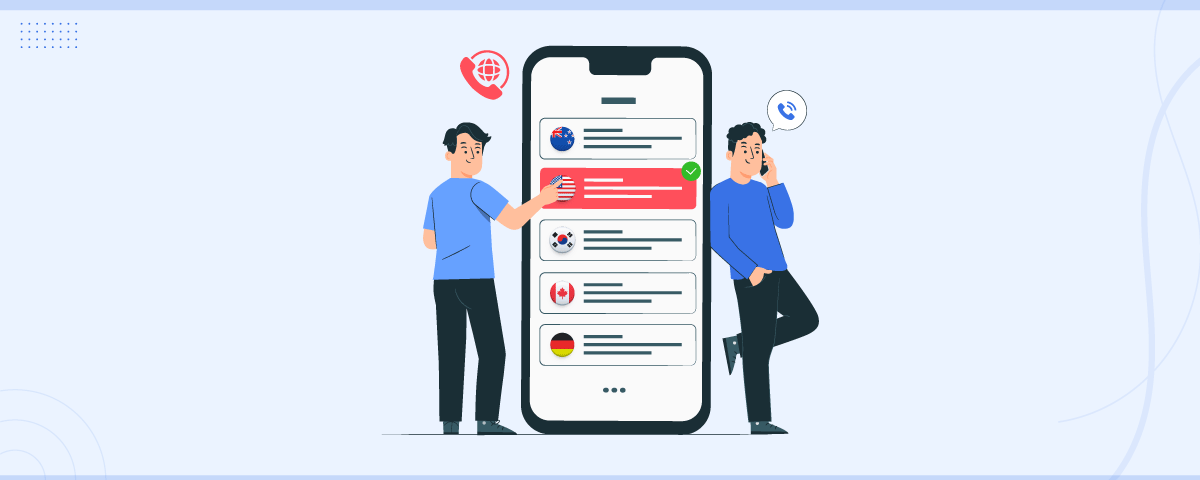 This privacy makes things simpler for you, especially when you plan to drop your primary number at any time. 
Now that you know all the reasons to add a free private phone number app for iPhone to your life, you should know which is the best free private phone number app for iPhone.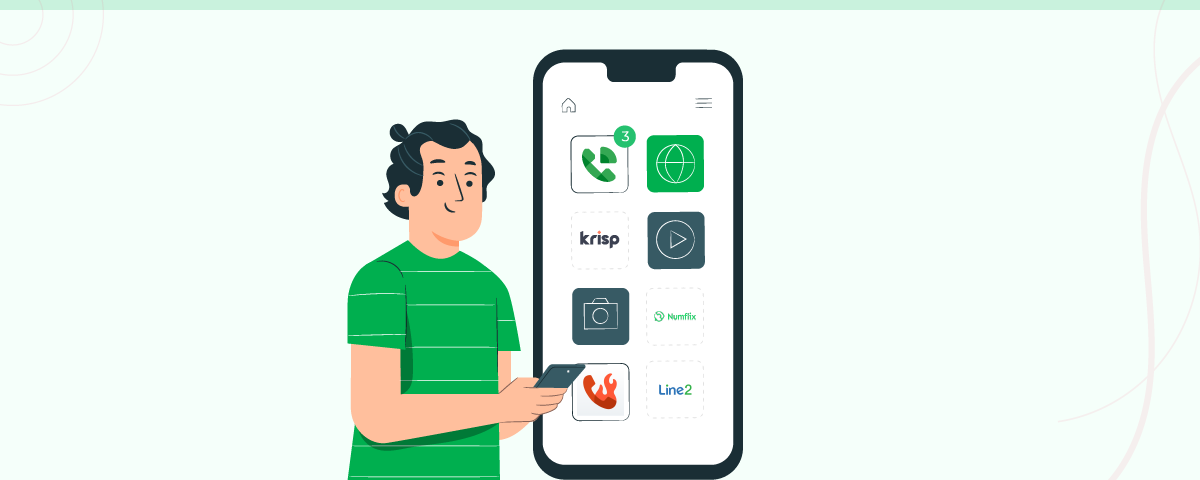 The Best iPhone App for a Private Phone Number
Well, you don't have a winner here when it comes to selecting the best private number calling app. However, there is a list of the best options mentioned below; you can pick the feasible ones, depending on their features and benefits.
DialerHQ

Krisp

DialerHQ +

Numflix

Sideline

Burner

Hushed

Google Voice

Line2
Best Private Phone Number Apps
Check out the list of best private phone number apps for iPhone: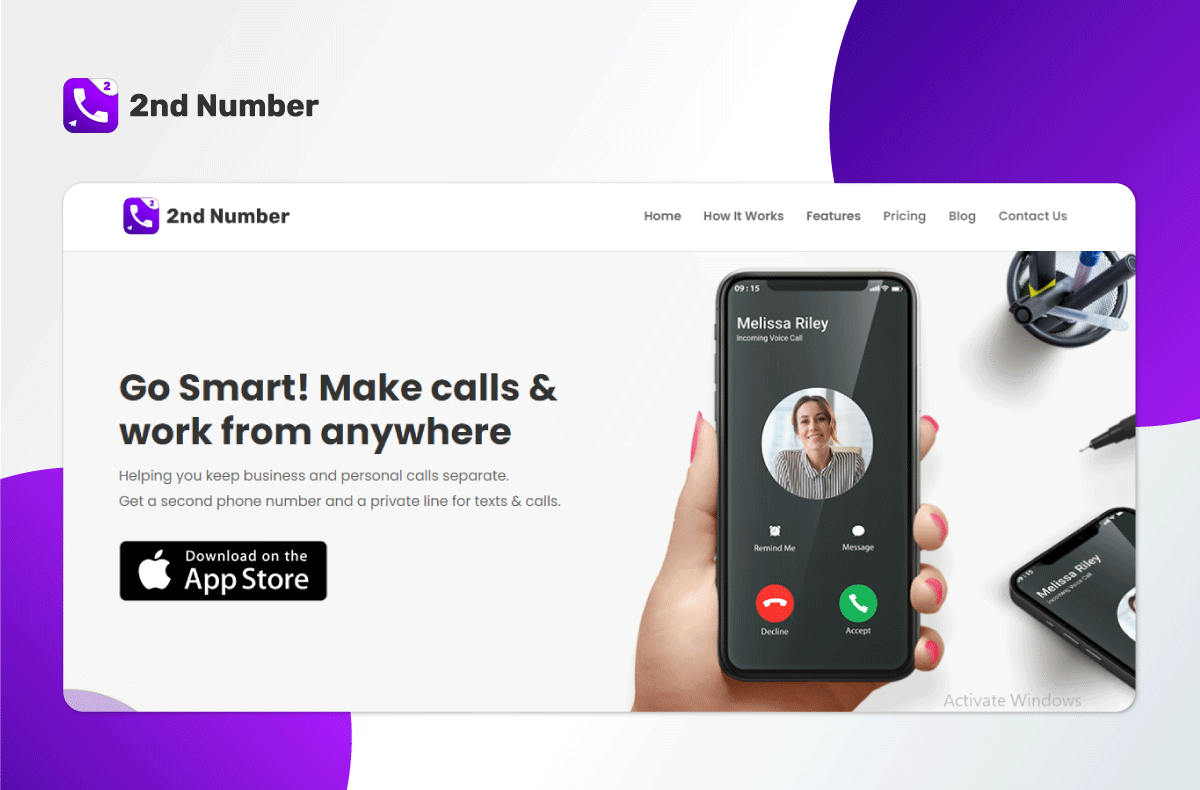 DialerHQ is one of the most reasonable, affordably priced, and high-quality private number app available for iPhone. The app offers global calling and texting services to its users by picking a private number. You can use it for professional or private reasons. It uses VoIP calling and texting and helps you keep your first number and DialerHQ completely separate. 
The private number calling app offers a seamless and easy setup, without the need for any new hardware. You just need to install the private calling app and pick a phone number according to your preferred code. 
DialerHQ offers you facilities like call routing, call recording, call forwarding, easy texting, and more. So, you can use all these benefits by paying a small fee.
Basic features:
High-quality calling: The app offers an enhanced calling experience with clear voice quality.
Call forwarding, call recording: You can easily access features like call recording and call routing in this app.
Text and call internationally: Using DialerHQ, you can make calls and send texts anywhere around the globe at minimal charges.

Krisp is one of the most useful iPhone private phone number calling apps accessible on the Apple Store. Apart from offering a private phone number, Krisp is well-decked with an innovative noise-cancelling feature to increase the quality of your phone calls. It is a great benefit for those who are always on the go.
Krisp also allows its users to keep their privacy intact and receive phone calls from US and Canada from anywhere across the globe. For higher privacy, you can validate your number and add a caller ID for calls.
You can enjoy 120 minutes of call time in the free version within Canada and US per week, and the subscription offers you unlimited calling. You can also avail yourself of different benefits and features with the subscription.
Basic features:
Noise-canceling: The app is powered with an appealing AI-supported noise-canceling functionality that allows users to enjoy high quality and clear phone calls, no matter where they are.
Private phone number: You will get a phone number to make and receive calls to the United States and Canada from anywhere across the globe.
Mobile dialer: The app offers noiseless incoming and outgoing calls with your known and unknown contacts.
Caller ID: Users can validate their phone numbers and make their caller ID to make calls for enhanced privacy.
Available on Mac, Windows and Chrome: Krisp works cross-platform, and there is a desktop version available to enjoy distant meetings and Zoom calls.
A free version with limited services while the monthly subscription begins at $3.33.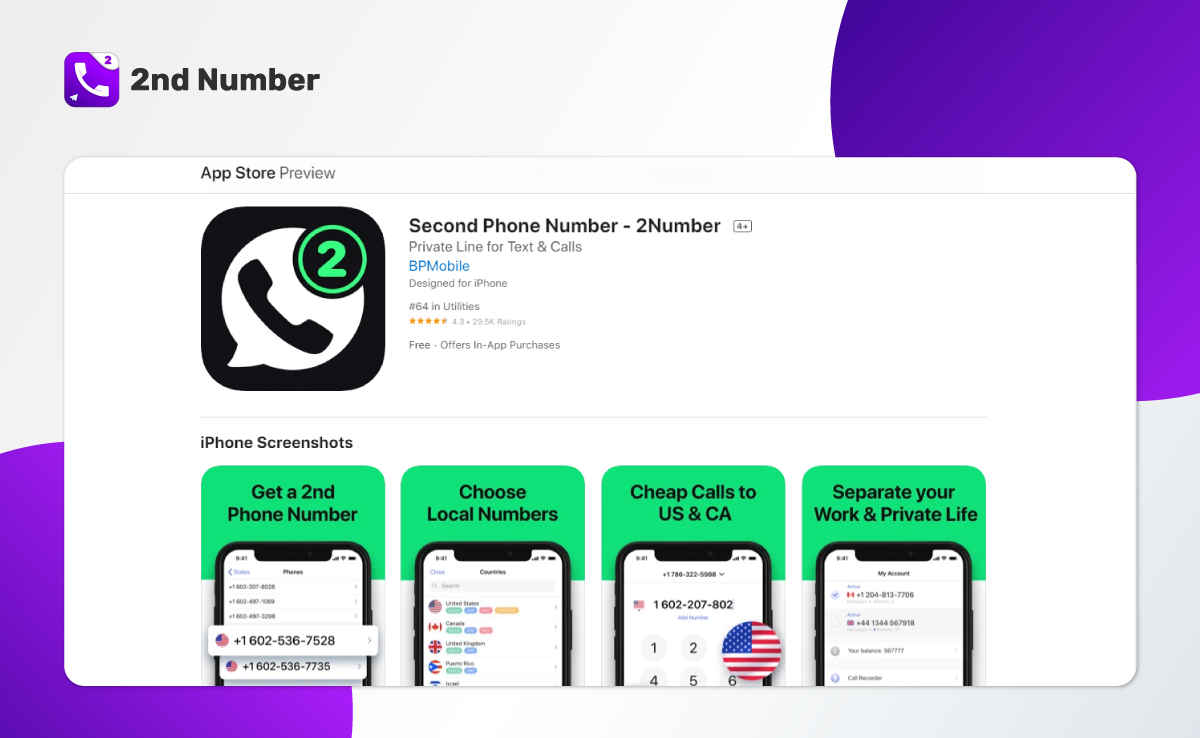 DialerHQ + is an iPhone private phone number app that offers you a broad spectrum of numbers to select from. They offer phone numbers in many area codes in the United States. So, you need to pick your selected area code and get a number you like.
The private phone call app offers unlimited texting and messaging services. You can also send pictures through your private calling number app. But the app is not available for free. So, you need to pay to get the second phone line. But, there are several subscription options and pay-as-you-go alternatives to make the deal ideally cost-effective for you.
Basic features:
Unlimited texting and messaging services: You can send text messages, videos, images, and voice messages through your free private call app.
Broad technology compatibility: The service is compatible with 3G, 4G, and Wi-Fi to offer better connections, regardless of where you are:
Pick your area code: As there are many options for phone numbers accessible in different areas, getting a preferred code and number is easy.
Temporary number: You can also pick temporary phone numbers for your travel to make local calls to your friend and family, rather than long-distance calls.
There is a free version with limited features, and the monthly subscription is priced at $12.99.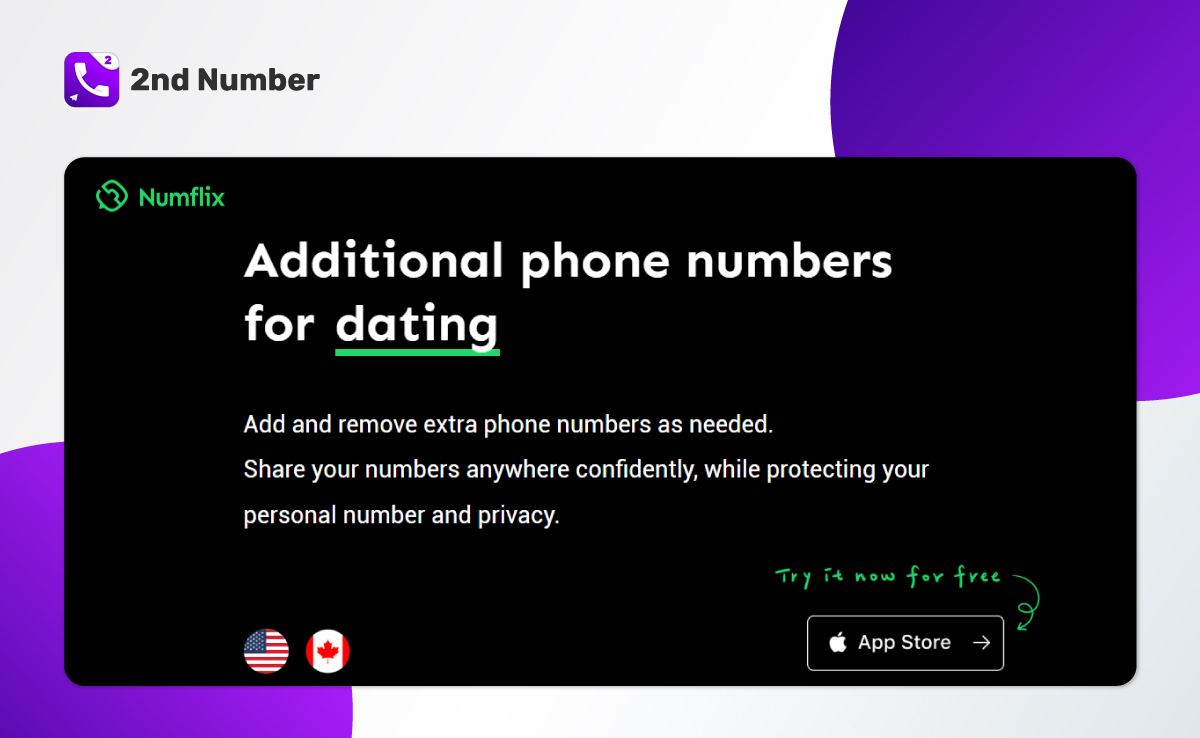 Numflix
Another amazing DialerHQ app that helps you manage your life with a second, third or fourth number is Numflix. The app helps you enjoy different numbers for different parts of your life, one to manage your business, the other for your personal life, the next one for your dating, and the other for your online sales listing on eBay and Craigslist.
The app offers several temporary phone lines to meet your unique needs, so you don't need to stick to a specific phone line. Once the need is over, you can get rid of the number.
However, Numflix offers you services like voice calling, messaging, texting, etc. However, you have to pay a small fee for every line you choose to use.
Basic features:
Calling, texting, and messaging: It works as a full-service phone app and gives you services like calling, texting, and messaging on every phone number you access through the app.
Compatibility with Siri: The private phone number app is compatible with Siri, so you can make calls using virtual assistance.
Caller ID: You can enjoy a properly functioning caller ID on all phone lines, without hindering the caller ID functioning of your primary phone number.
Compatible with all iOS devices: You can use the app on iPad and any other Apple device you want. It works perfectly well on all iOS devices.
You have to pay $1.99 for every temp line you choose to add and pay as you go charges.

 Sideline
Sideline claims that they offer services like conventional phone numbers but charge 80% less than them. You can enjoy the luxury of getting billed according to your flexibility – yearly, once in six months or monthly. Users enjoy limitless texting and calling on all subscription levels, along with other features.
The free trial works as a perfect option to make your decision. It runs on Android and iOS platforms and works with almost all brands of smartphones.
The subscription includes voice mail services and selecting an area code and phone number according to your preference.
Basic features: 
Zero Wi-Fi requirement: You don't need Wi-Fi to use this private number calling app. You can make and receive calls using regular service.
Utilizes carrier limits: You can access limits from your present carrier rather than paying for another unlimited calling plan using Sideline. As most subscription plans are limitless, the app gives you access to make any number of calls for any number of hours.
Number porting: If you have a DialerHQ, such as a personal line or business line, you can use the mobile number porting service onto Sideline to continue using the same number.
There is a 7-day free trial, and the monthly subscription starts at $9.99.

Burner
Burner is yet another private number app for iPhone made specifically for those who wish to own and drop phone lines quickly. It doesn't mean you can only use it for temporary usage. You can also enjoy a permanent DialerHQ service with Burner.
It routes phone calls from your private phone number to your primary number, which reduces its efficiency as a business number. However, you can surely use it as a dating number, craigslist ads number, gig work number and for anyone with whom you don't want to share your permanent phone number.
You can easily drop the number anytime you wish.
Basic features:
Helps you choose several numbers: Burner helps you create and drop multiple numbers as and when you want.
Unlimited calling and texting facility: Once you choose any of their subscription plans, you can enjoy unlimited calling and texting.
Three separate lines subscription: You can subscribe for up to three lines. These subscriptions will automatically renew till you burn the number.
The app is available for free for 7 days, and then you have to pay for a subscription, which starts at $4.99 every month.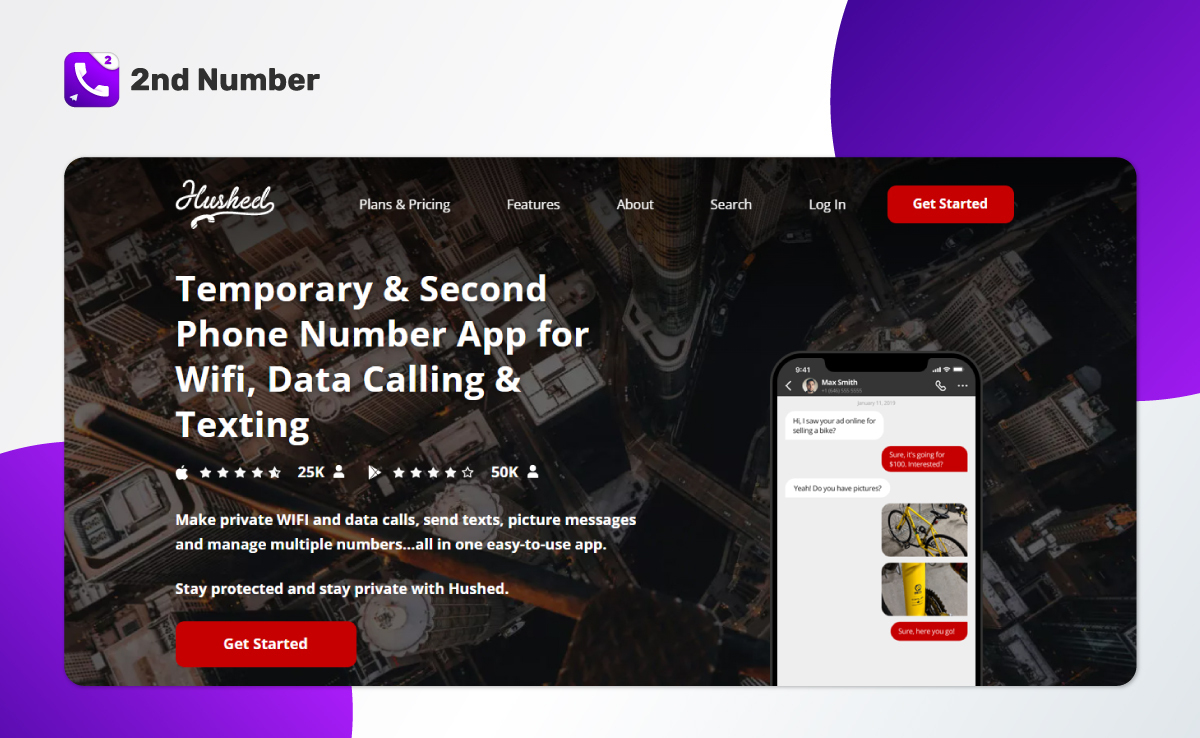 Hushed
Hushed allows its users to make anonymous calls by hiding their identities. So, if you want to make anonymous calls and don't want the receiver to know anything about you, Hushed is a great option. You can include any quantity of phone numbers and delete them.
Every number is decked with personalized voicemail greetings, call forwarding and routing, automated reply messages, etc.
Hushed also lets users send text and images messages. After you've registered, you will get 20 minutes of free calling and 20 free texts for trial.
Basic features:
Over 300 area codes in the US: Hushed offers more than 300 area codes in the United States, United Kingdom and Canada. 
Multiple subscription plans: There are too many subscription plans to select from, including per call and per text. 
Toll-free number registration: Hushed offers its users a toll-free number registration facility.
The prepaid plans begin at $1.99, and the subscriptions start at $3.99 every month.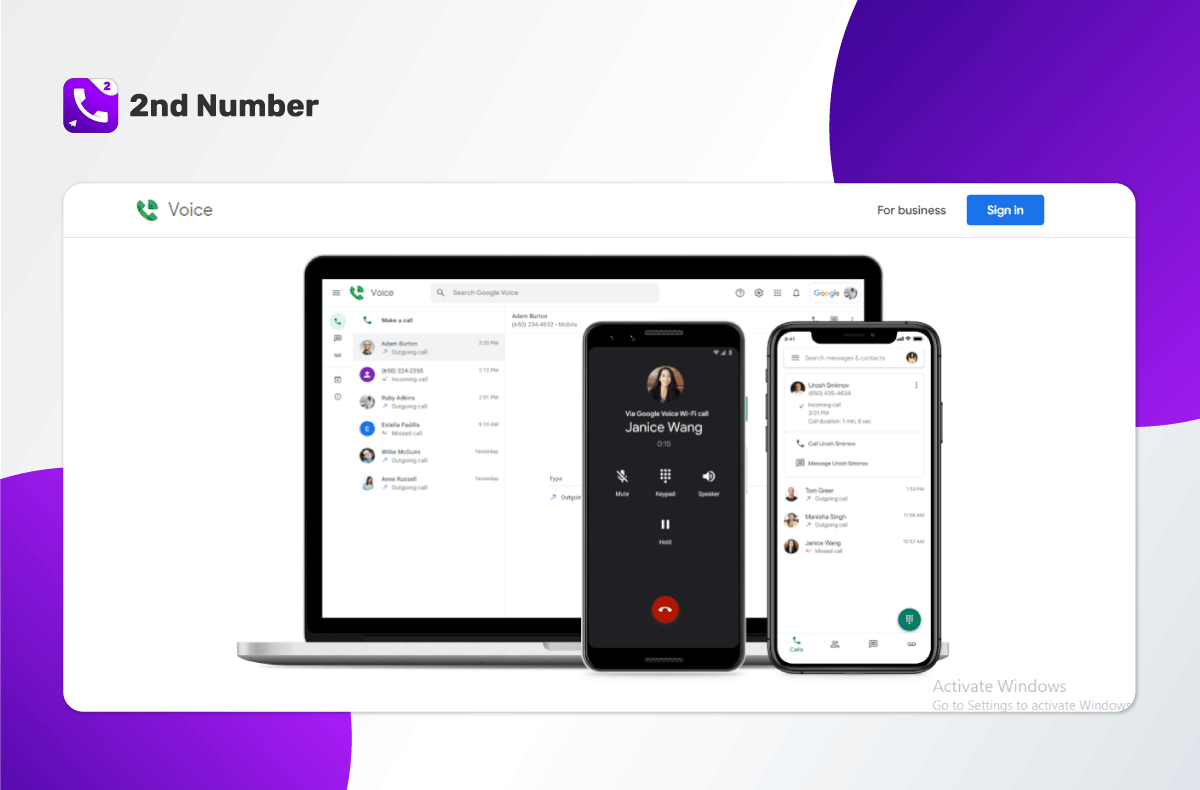 Google Voice
For those in the United States, Google Voice should be a must-try. Google's app offers you a free private phone number app for iPhone and Android to make calls to anyone with their Google account. So, you can access Google Voice in the United States using your Google Workspace account.
It allows you to get a virtual phone number to make calls, record them and send messages. It is somewhat equal to a real phone number, but the charges for international calls are high.
Google Voice is the best private number calling app for all phones, and you can access it from your PC. But, the PC version doesn't allow you to make calls.
Basic features:
Multiple services offered: It allows you to block numbers, record voice mails, forward calls and filter spam calls.
Cloud Storage: All your data is stored in the cloud to access your past transactions anytime on several devices.
Linked to Google Account: Google Voice is linked to your Google account.
Completely free: It is a f

ree private call app for iPhone

, Windows and Android variants.

Line2
Line2 is a majorly business-supportive private phone number calling app with features useful for different businesses. The app runs on VoIP and offers free calling and texting services all over the US and Canada.
It allows you to add up to 5 virtual numbers and port your current number to the app. The app is a great option for separating their business and personal phone number. 
Basic features:
Several business services offered: This virtual phone system app offers toll-free numbers to companies and allows for conference calls. It also has an auto-attendant service, where you can guide your clients through pre-recorded messages.
Compatible with all platforms: The app runs on iOS, Android, Mac, and Windows.
Clean and simple UI: Line2 has a simple and easy-to-use UI.
Unlimited VoIP calls and messages: You can make unlimited VoIP calls and send texts across Canada and the United States.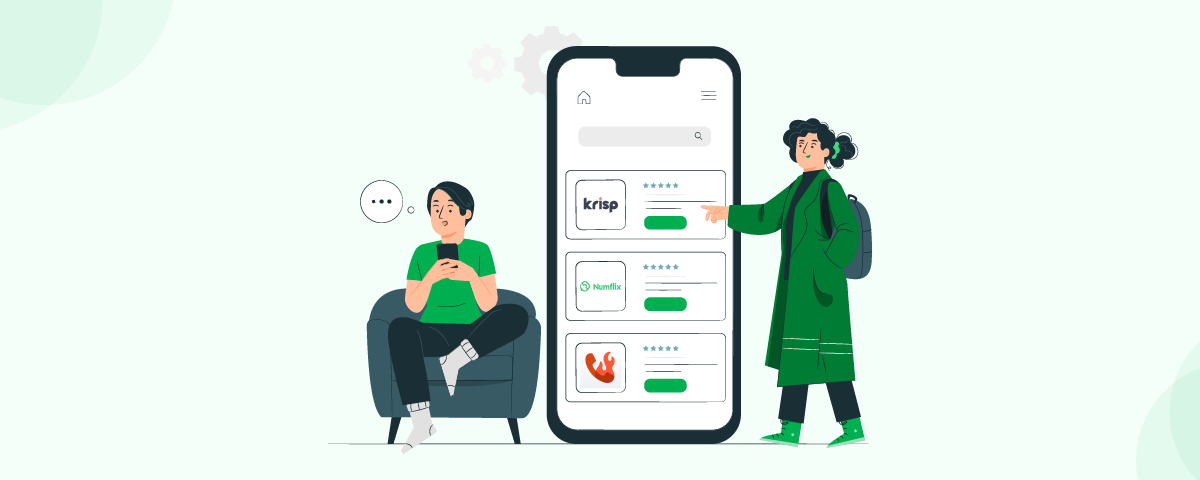 How to get DialerHQ app for an iPhone?
There are plenty of options in the market. You need to choose the best phone app with a low subscription price and good performance. You should also check out the features offered and the customer service provided. If an iPhone DialerHQ app offers you these services, you can go for it. 
The steps to to get the DialerHQ app for iPhone are:
Download the app

Choose the free trial

Select your preferred number according to the country code 

And you're good to go! 
There are apps specifically developed for iOS and Android, while some are developed for both.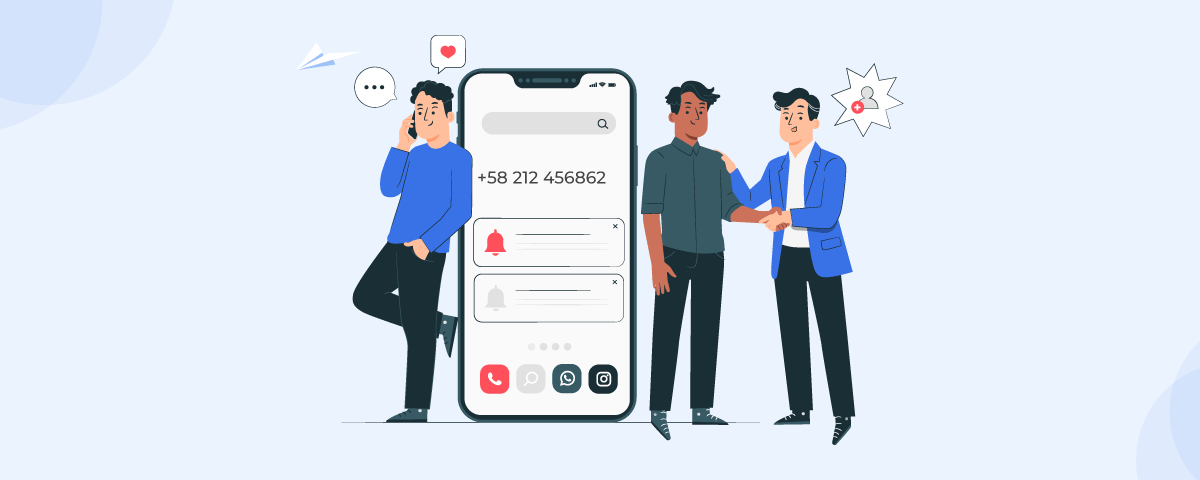 Wrapping Up
So, these are the best private number calling apps recommended for you. If you need to get a private phone number, be it for a business line or to enhance your personal life, these apps will help you do it without any hassle. They are simple to use and available in different price ranges.
 Irrespective of your reason, the list will prove to be a great match for your needs. Check out the user reviews to ensure the app is reliable before downloading it. Also, check out their regulations for your country's usage and follow accordingly. 
Lastly, different subscription plans include different services. Assess the services you need and then pick a subscription plan accordingly, and the iPhone with private phone number app will fulfill all your needs and requirements.
Get Your Custom Virtual Numbers In Minutes!
Amplify your business reach, slash calling expenses, and elevate customer satisfaction—all with DialerHQ's virtual numbers.
What is the cost of DialerHQ?
Apart from helping you separate your professional and personal lives, a private calling app manages your phone calls and reduces communication expenses.
Call Center Solution (CCS)
Ideal for Bulk Calling for Sales, Support and Call Center Teams
Power & Predictive Dialer
Automatic Machine Detection
Industry leading call connect rates
Compliance Call Recording
Forward To External Device
Smart DID Routing
Speed To Dial
Auto Rotate
Local Presence
Call Barging
Call Queuing
Create Team
Call Whisper
Post Call Survey
After Call Work
Target Vs Achievement
Multiple Level Call Transfer
Route to External Number
Forward to Multiple Device
Google Drive, AWS S3 Integration
Embedded Dialer Integration
Show More
Show Less
Start Free Trial
Office Phone System (OPS)
Ideal for Businesses to support their Customers and not for Bulk Calling
Unlimited calling in UK, US/Can, Aus
Manual Calling Dialer
Auto Rotate DID
Call Tagging
Custom Greetings
Create Team
Call Barging
Shared Inbox
Call Cascading
Audit Logs
Webhook
Phone Support
24*7 Support
Contact Us
Call Notes & Ratings
Dedicated Account Manager
Personalized Onboarding
Advances Integrations
Custom Integrations
Annual Business Review
Show More
Show Less
Start Free Trial
Why DialerHQ?
As a true "work from home phone system," CallHippo offers much more than just basic functionalities. Our feature-rich platform is complemented by world-class support, maximizing productivity for your remote team.
Select Your Global Number
With your private calling app, users can choose their preferred nation and phone number from the available options.
Enhance Call Quality
The call quality offered by private call apps is exceptional. Users can enjoy precise and crystal clear voice quality.
Global Calling and Messaging
Connect with professional and personal contacts all over the world, anytime and anywhere.
No Hardware Requirement
The set up is seamless and you don't need any hardware. The app runs on your phone with an internet connection.
Smart Portability
The private call online free app can be used on your phone with an internet connection from anywhere.
Frequently Asked Questions
Yes, a private number can be traced, but it depends on several factors, like the laws prevailing in the country you are residing as some countries don't allow it, technology and resources provided for call tracing, etc.
No, * 67 is not a private number, but it is an extension for users who want to keep their numbers private or anonymous. If the caller enters *67 before the number, the other person will not be able to see the number, and some other indicator of the caller will appear.
You can call back a private number in five ways. They are as follows:

Calling back a private landline number by dialing *69 and #69 for private mobile phone numbers, a private number can be called back within 30 minutes of receiving the call.
Analyzing and verifying the call logs provided by the service provider where the private number might be mentioned.
Search the number through reverse number lookup.
Third-party applications can be utilized to get private numbers and call back.
Call tracing services can be availed to unmask private numbers and can call back.
You can block a private number on Android and IOS devices. The process is as follows:

Android devices: Open the phone app > press the three dots on the top right corner > go to settings > select block numbers > enable block unknown or private numbers.
OS Devices: Go to settings > tap on phone > select call blocking and identification > enable the block unknown caller option.
There is no difference between a hidden and private number; they are just synonymous terminologies.
Dominate Local Markets with Virtual Numbers
Gain hands-on experience of DialerHQ's remarkable benefits and features.
Start your 10-day free trial today.