DialerHQ Vs Textnow
DialerHQ and TextNow are both popular virtual phone number providers, but they have distinct features and pricing. This comparison article will help you decide which one is the best TextNow alternative for your needs.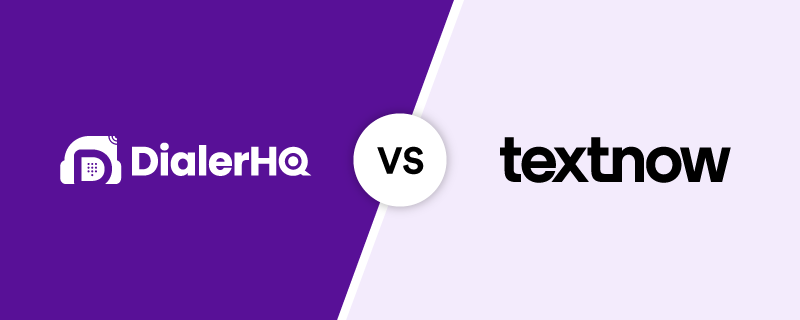 What sets DialerHQ apart from other alternatives to TextNow?
DialerHQ has a distinct advantage over TextNow, as it offers a range of advanced and useful features. Additionally, factors such as network coverage, global presence, activation process, and cost make DialerHQ a perfect TextNow alternative.
Innovative Features
Auto-attendance, IVR, Analytics
DialerHQ Vs TextNow: Feature-by-Feature Comparison
| Feature Comparison | DialerHQ | Textnow |
| --- | --- | --- |
| SIM Card Activation | Not Needed | Needed |
| Coverage | Global | USA |
| Number selection | Global | Local Number |
| Network Connectivity | High | Weak |
| Reach | International | Local |
| Device | On all Devices | Compatible Devices |
| Privacy | High | Limited |
| Hardware Needed | No | SIM Kit |
(Disclaimer: The information provided in this comparison table is accurate to the best of our knowledge but may be subject to change.)
Sign up for DialerHQ today and enhance your global presence!
DialerHQ's virtual phone numbers allow you to reach out to and serve customers in multiple countries with local numbers. Try it now.
Frequently Asked Questions
TextNow is a virtual phone number service that allows users to make and receive phone calls and text messages over the internet. Besides that, the solution comes with a number of features such as– call routing, call recording, call forwarding, voicemail, analytics and more.
The product is ideally used by individuals or businesses looking for a virtual number or who want to lower their phone bill.

Instead of TextNow, you can use DialerHQ– a leading virtual service provider that allows you to make cheap international calls and messages.
Moreover, DialerHQ houses a battery of advanced features that significantly help businesses in improving business communication, better-understanding customers, and boosting growth. Overall, DialerHQ is one of the best TextNow alternatives.
DialerHQ is an excellent free-texting app that offers multiple features and benefits. Known as one of the best alternatives to TextNow– it allows you to communicate with others without depending on a regular phone SIM.
In addition, it offers a range of innovative texting features. All these benefits and more make DialerHQ one of the best free-texting platforms to use.
Yes, you can certainly be traced from TextNow through your IP address. Nonetheless, the company takes precautions to protect user privacy by not storing IP addresses or personally identifiable information. Besides, they also allow users to use a dedicated communication number to conceal their identity.
To make a call to someone in Canada using a virtual number, follow the steps outlined below:
Step 1: Open the virtual phone app or website like DialerHQ and sign in to your account.
Step 2: Locate the call/dialer feature and click on it.
Step 3: Enter the phone number of the person you want to call in Canada, along with the country code +1 and the area code.
Step 4: Press the call/dial button.
That's all. However, it's important to note that some virtual phone number providers may have different call processes. So it is best to confirm the process before making an international call.
No, TextNow is not an actual or "real" phone number. Rather, it is a virtual phone number provider that allocates users a dedicated phone number to make calls and texts using the internet-based technology called VoIP.
Certainly! DialerHQ offers advanced features and benefits that make it a superior option to TextNow. It includes IVR, call routing, international call support and customization options– making it more suitable for business operations.
Also, DialerHQ offers more reliable services. For all these reasons, DialerHQ is a better alternative to TextNow for anyone needing a virtual phone number.
Yes, there are several apps that are like TextNow. However, DialerHQ stands out as the best alternative. This is because it offers advanced features such as IVR (Interactive Voice Response), call routing, and international call support, making it more suitable for business operations.
Other TextNow alternatives that you can consider include Google Voice, Burner, and Sideline. But DialerHQ is considered as the best TextNow alternative due to its advanced features, reliable services, and affordable pricing plans.
Don't settle for less. Upgrade to DialerHQ
Make international calls & texts without buying a SIM card.