DialerHQ Vs Textfree
Confused about which virtual number provider to choose between DialerHQ and TextFree? We have got your back. Review our in-depth, feature-by-feature comparison of these top virtual providers to make an informed decision and pick the best!
What Makes DialerHQ The Best TextFree Alternative?
DialerHQ has a distinct advantage over TextFree, as it offers a range of advanced and useful features. Additionally, factors such as network coverage, global presence, activation process, and cost make DialerHQ a perfect TextFree alternative.
Innovative Features
Auto-attendance, IVR, Analytics
DialerHQ Vs TextFree: Feature-by-Feature Comparison
| Feature Comparison | DialerHQ | Textfree |
| --- | --- | --- |
| App Size | 34.7 MB | 113.2 MB |
| Number selection | Global | Local Number |
| Voicemail | ✅ | 🚫 |
| Record Calls | ✅ | 🚫 |
| Multiple Numbers | ✅ | 🚫 |
| Call forwarding | ✅ | 🚫 |
(Disclaimer: The information provided in this comparison table is accurate to the best of our knowledge but may be subject to change.)
Sign up for DialerHQ today and boost your global presence!
DialerHQ allows you to reach out to customers in multiple countries with local numbers to build brand credibility. Try it now..
Get Started With DialerHQ in 4 Easy Steps
Embark on your DialerHQ journey now by following the 4 simple steps outlined below.


Choose your custom virtual number & make the payment.

Configure your account, features, and settings.

Start making and receiving calls anytime, anywhere.
How much does a DialerHQ subscription cost per user or per month?
Everything in Unlimited Plus

✓

$1500/month Spend Minimum3

✓

Power Dialer

✓

Voice Broadcasting

✓

Multi-level IVR

✓

Multiple Level Call Transfer

✓

Conference Calling

✓

Call Barging

✓

Route to External Number

✓

Forward to Multiple Device

✓

Single Sign On

✓

DID Group

✓

Call Whisper

✓

Intelligent Reports/Analytics

✓

Reports via Email

✓

Automatic Machine Detection

✓

Intelligent Call Recording
✓

Unlimited calls within the US & Canada2

✓

Free 1 standard Number per user

✓

Click To Dial

✓

Call Recording

✓

IVR

✓

Call forwarding

✓

SMS/Text messages

✓

Voicemail

✓

Webhook

✓

Role based access control

✓

Integration
Custom
Request Quote
Flexible pricing based on needs Contact Us
Everything in Free Software Plus

✓

Custom Reports & Analytics

✓

Customize Features

✓

Custom integrations

✓

Service Level Agreements

✓

Dedicated Account manager

✓

24X7 Support
Frequently Asked Questions
DialerHQ is the best alternative of TextFree. Here are some of the qualities that make DialerHQ a great TextFree alternative:
Auto-attendant (IVR)
Voicemail transcription
Call forwarding
Dedicated customer support
Call recording
Automatic call distribution
Dedicated mobile apps for iOS and Android
International calling & messaging
No, you cannot trace TextFree numbers.
Yes, Text Free offers unlimited text messaging and MMS picture messages.
Yes, TextFree minutes do expire. However, their system automatically recycles phone numbers for new users after 30 days of no outgoing calls and text messaging activity.
Yes, Textfree provides an actual phone number, allowing you to call local services and communicate with friends and family, even if they don't have smartphones.
TextFree: Top 10 Alternatives and Competitors
It might seem challenging to keep your personal and professional calls separate if you run a business. But with the prevalence of virtual calling and texting apps, you can buy a second phone number dedicated exclusively to work. One such app is TextFree.
TextFree is a free calling and texting app based out of the US. It allows you to choose a phone number from multiple area codes and send free text messages or make unlimited free phone calls.
Ideal as a small business communication solution, TextFree boasts a wide range of features, including unlimited free SMS messaging, customized voicemail greetings, and sending group messages, videos, picture messages, and emojis from your cell phone or the web.
However, the biggest drawback of TextFree is that it is only available for users in the US. TextFree will not work for you if you are based in another country. Moreover, the free plan contains ads, which can be cumbersome for businesses that need to make frequent calls.
This is why we have laid down some of the top TextFree alternatives, such as CallHippo, DialerHQ, and other free phone apps, and compared their features and pricing to help you decide. 
How To Select The Best TextFree Alternatives?
If you are confused about how to choose the best TextFree alternative, here is a guide to help you decide.
1. Ease Of Use
Ease of use is important when choosing a VOIP service provider. A second phone calling app should not require any additional hardware or setup. You should be able to access your phone number on your smartphone, desktop, or tablet if you have an active wifi or data connection.
2. Cost
Do you want an unlimited free calling facility? Or are you looking for robust business texting services? Based on your requirement, you need to pick a virtual platform that will serve your purpose. Then again, you will find paid and free calling apps offering different solutions. The paid platforms generally have a prepaid or subscription plan model. Choose the one that fits your budget while meeting your business needs. 
3. Features
Some calling apps offer unlimited free calling and bulk SMS facilities. Similarly, to run SMS and MMS campaigns, look for a provider offering text messaging communications tools. Some virtual service providers use the phone's voice network or internet VoIP data mode to make calls. 
Other features to look for include free mobile apps, world-class customer service, the ability to make both local and international calls and track text message delivery, and more. 
For instance, CallHippo, Twilio, DialerHQ, and Burner offer both calling and texting features. Whereas, ProTexting is an excellent option for an SMS marketing software platform. 
4. Security
Security is of utmost priority while making work-related calls. Secondary phone number apps should be able to mask your identity while calling or texting through wifi or cell data.
Best TextFree Alternatives Comparison Table
If you're looking for a textfree alternative, there are many options available. This comparison table highlights the features, cost, uses and security of the top 10 textfree  alternatives, including DialerHQ,  CallHippo , Doctible , Burner , TextNow, Dingtone, Twilio, ProTexting, 2ndLine, TalkU. The table provides a quick overview of each option, making it easier for you to decide which alternative may be the best fit for your needs.
| Skype Alternatives | Uses | Features | Pricing | Security |
| --- | --- | --- | --- | --- |
| DialerHQ | Business and Personal communication | Conference calling, voicemail, call recording, CRM integration | Starts at $12/user/month | 256-bit AES encryption |
| CallHippo | Business and Personal communication | Virtual phone system, call forwarding, IVR, call analytics | Starts at $16/user/month | 256-bit SSL encryption |
| Doctible | Business communication | Appointment scheduling, patient messaging, online reviews | Custom Pricing  | HIPAA-compliant |
| Burner | Business and Personal communication | Temporary phone numbers, call forwarding, text messaging | Starts at $4.99/month | End-to-end encryption |
| TextNow | Personal communication | Free phone numbers, texting, calling, voicemail | Custom Pricing  | TLS encryption |
| Dingtone | Personal communication | Free phone numbers, texting, calling, voicemail | Free with ads, starts at $0.99/week for ad-free version | End-to-end encryption |
| Twilio | Business and Personal communication | Cloud communication platform, voice, SMS, video | Custom Pricing  | TLS encryption |
| ProTexting | Business and Personal communication | SMS marketing, mobile keywords, autoresponders | Starts at $24/month | 256-bit SSL encryption |
| 2ndLine | Personal communication | Temporary phone numbers, texting, calling, voicemail | Starts at $4.99/month | TLS encryption |
| TalkU | Personal communication | Free phone numbers, texting, calling, voicemail | Free with ads, starts at $2.99/month for ad-free version | End-to-end encryption |
Best TextFree Alternatives in 2023
There are many innovative VoIP apps available in the market that can streamline your business communication. It is important to choose the best platform for your business to gain a competitive edge.
Here is a list of some apps like TextFree that you can consider using.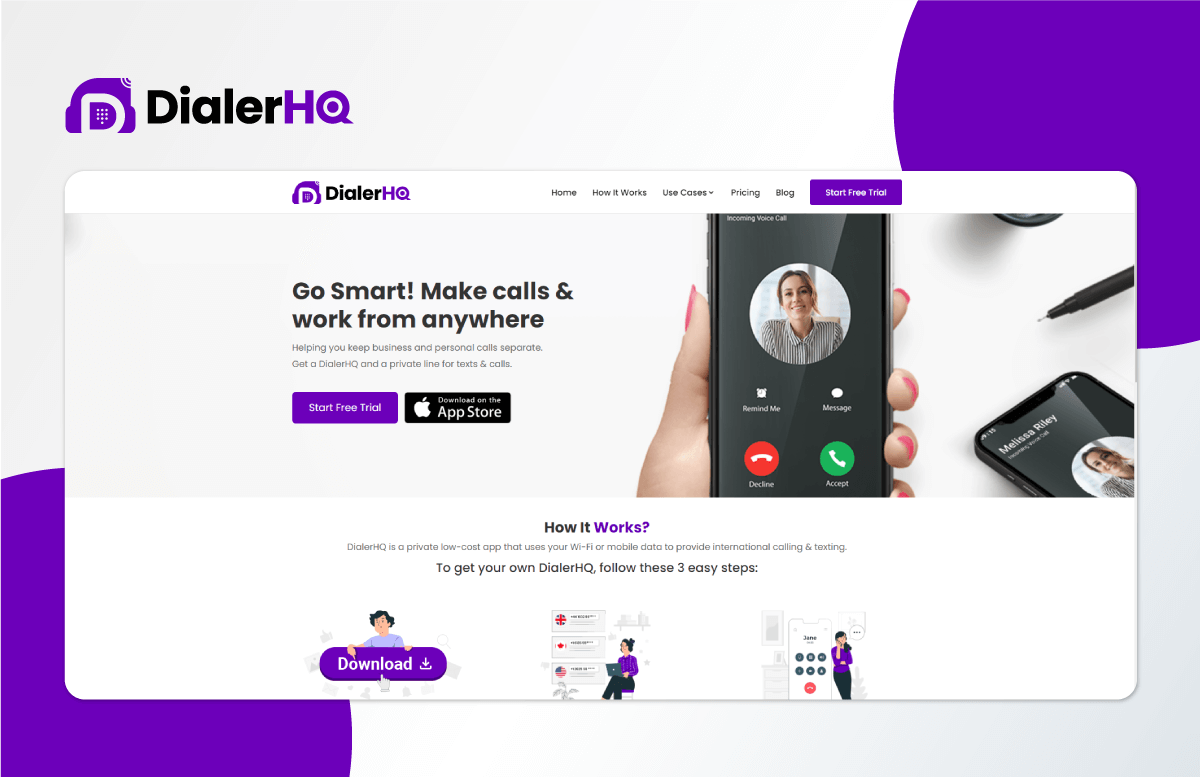 DialerHQ, a virtual phone number platform that helps keep your personal line private and enables you to easily manage multiple numbers. To get a virtual phone number using DialerHQ, you can Sign up on the platform or download the app from the Apple Play Store, choose the country code, and select from a list of phone numbers.
Uses
With DialerHQ, you can choose from a range of product categories such as a temporary phone number, private phone number, virtual mobile phone number, business phone number, or toll-free number.
Features
International number selection

Call forwarding & call barging

Call tracking 

Access your calls, texts, and account on a single dashboard 

Multiple phone numbers
Cost
DialerHQ has three plans – Free Software, Unlimited, and Custom.
Under the Unlimited Plan, users can access unlimited calling within the US and Canada, along with call forwarding, IVR, call recording, a free phone number per user, voicemail, role-based access control, and webhook. It starts from $12 per user per month.
The Free Software Plan is offered for unlimited users and comes with power dialing, voice broadcasting, multi-level IVR, multiple-level call transfer, and conference calling. It requires a minimum of $1500 spent to access this plan.
The Custom Plan provides flexible pricing plans and includes custom reports and analytics, customized features, service level agreements, a dedicated account manager, and 24/7 support.
Security
Using DialerHQ, you can ensure safety and privacy by maintaining a second private phone line exclusively dedicated to business or work purposes.
CallHippo is another TextFree app alternative ideal for customer service representatives to manage their business operations seamlessly and boost productivity.
Uses 
CallHippo provides virtual calling that lets you make free calls, track and record all their phone calls, route calls to the next available support agent, and improve call logging.
Features
Call broadcasting and routing

Customized voicemail

Get toll-free phone numbers

Free phone number for making unlimited calls
Cost 
CallHippo provides four pricing categories – Basic, Bronze, Silver, and Platinum. You get a new phone number to make free international calls across all plans. 
The Basic offers a free temporary phone number using which you get access to the click-to-dial, smart switch, call forwarding, and voicemail.
Under the Bronze Plan, you can avail of free numbers, SMS, shared inbox, call routing, and campaign management for $16 per user per month.
The Silver Plan costs $24 per user per month and comes with role-based access control, free call recording, IVR, call queuing, call tagging, and pause-resume recording.
With the Platinum Plan, you can purchase advanced tools such as power dialing, voice broadcasting, multi-level IVR, conference calling, call barging, intelligent call recording, and SSO for $40 per user per month.
Security
CallHippo helps you maintain privacy by providing a separate mobile phone number and business phone line. This enables you to keep your personal phone number data secure.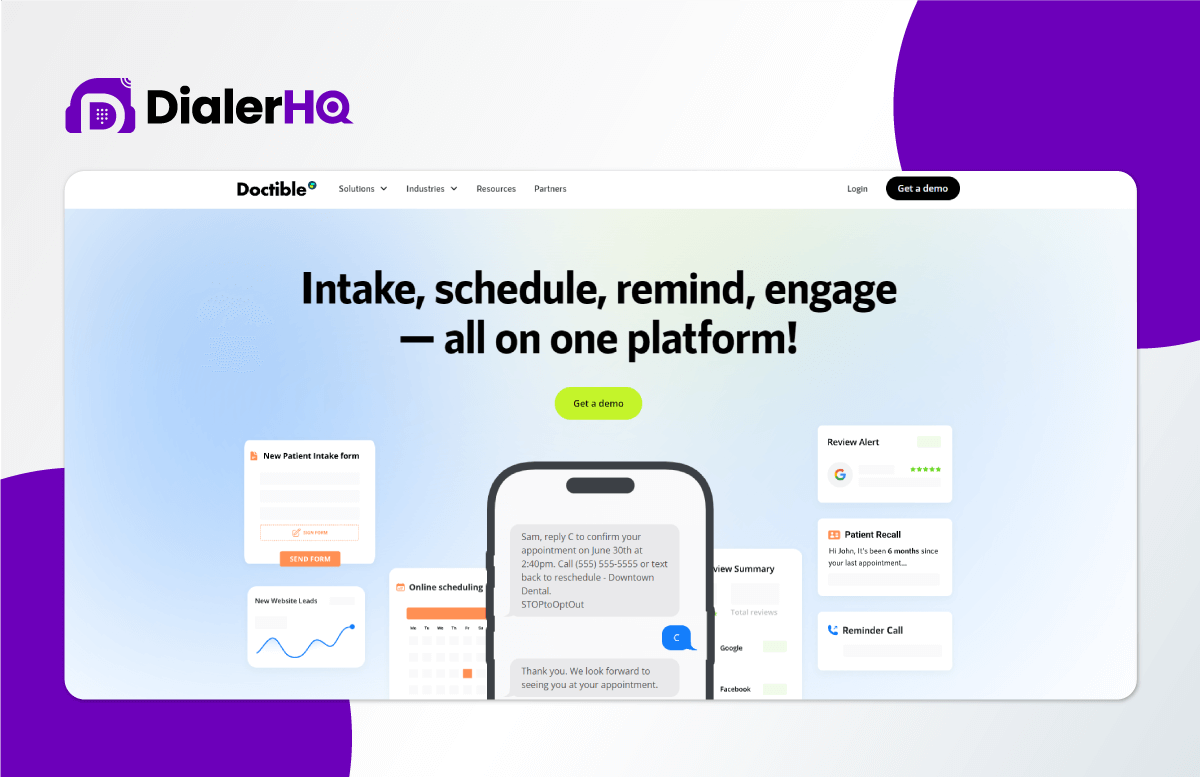 If you work at a hospital or clinic and are looking for a TextFree alternative to business text messaging solutions, look no further than Doctible.
Uses
Doctible is built for dentists, orthodontists, optometrists, and medical providers, allowing patients to book appointments independently. Not all texting software is equipped to send automated SMS text messages for upcoming appointments, but Doctible does.
Features
Smart appointment scheduling 

Digital web forms

Voice reminders

Website messenger
Cost
To purchase a pricing plan from Doctible, you can book a demo and avail of customized pricing plans.
Security
Doctible follows HIPAA's privacy and security rules that ensure that patient data is secure.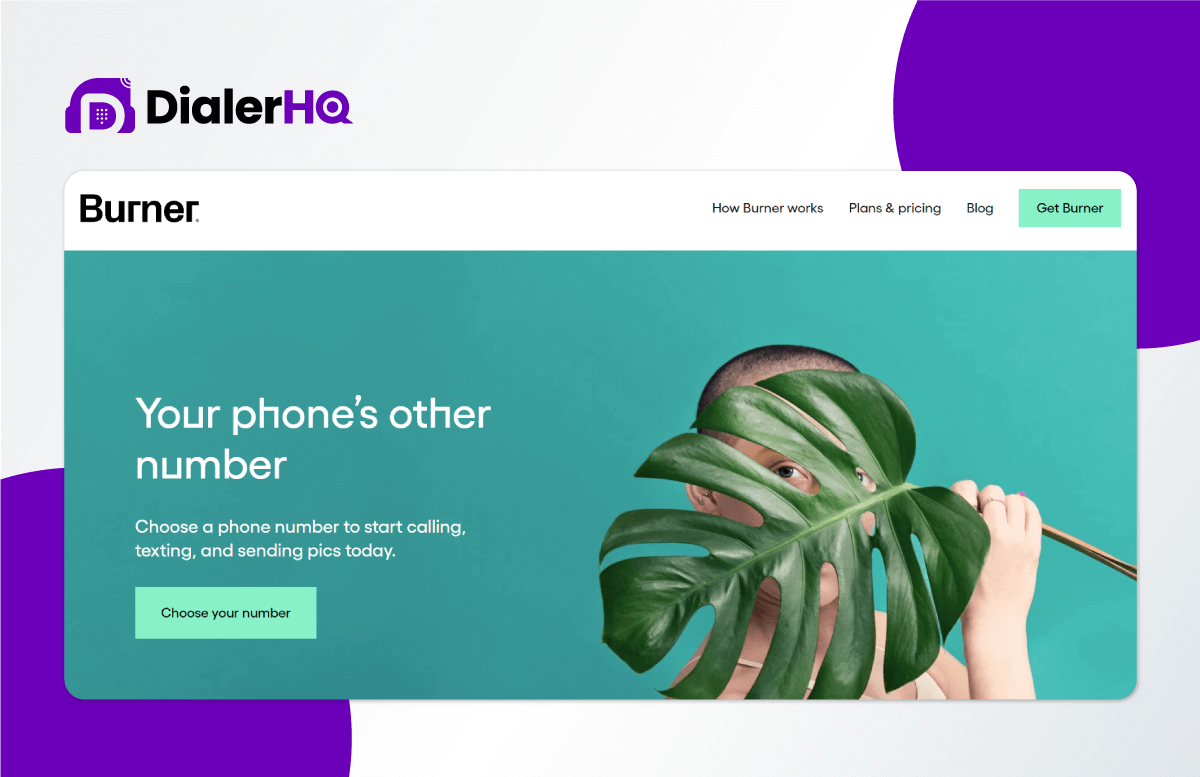 Burner is another alternative to TextFree that helps you call, send picture messages, and more. This instant messaging app assures your privacy by blocking or muting spammers.
Uses
The free phone app allows you to create different numbers for different types of contacts and only allows your preferred contacts to contact you.
Features
Spam detection and blocking

Auto replying

Contact segmentation

Unlimited calls and texts
Cost
Burner has two pricing plans that start from $4.99 per month. Each plan includes unlimited calls and texts, local phone number selection, spam call blocking, conversation tracking, and auto-replying to texts. 
Security
With Burner, your numbers cannot be traced to your personal contact, ensuring anonymity. Further, only your chosen contacts can call or text you, preventing any spam or fraudulent calls.

TextNow is similar to TextFree, which provides free cell coverage across the US using a SIM card. It's a highly reliable platform for connecting with clients in different regions.
Uses
With TextNow's wireless network services, you can make unlimited calls. It also lets you port in your existing phone number for free.
Features
Mobile number portability

Free texting and calling 

Second phone line

Wireless coverage on your mobile device
Cost
TextNow has a free version available, but it comes with ads. If you want to remove ads, it starts at $9.99 per month. 
Security
Using TextNow, you can buy a new phone number or port your existing number to the new SIM card, helping keep your personal and professional calls separate.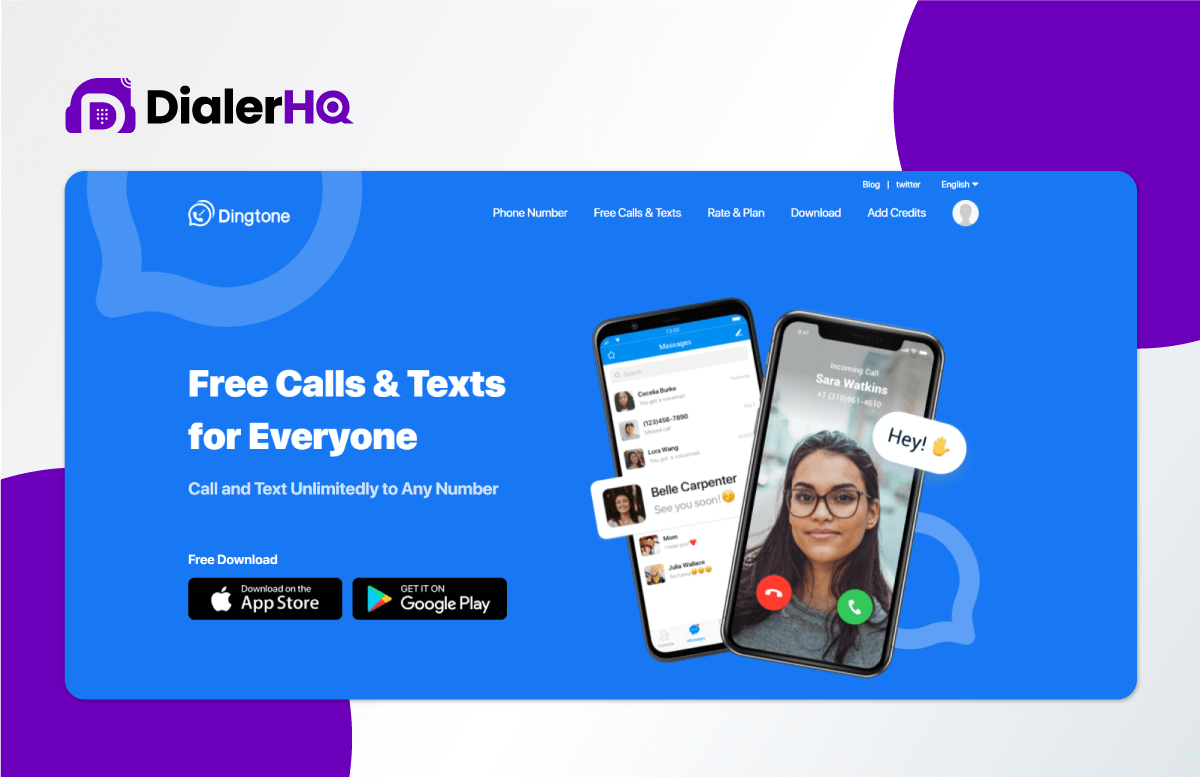 Dingtone is a free calling app that also works as a basic business phone system that enables call forwarding, voicemail, etc. It also lets you send SMS and MMS text messages online for free. 
Uses
Dingtone lets you make free international calls to the US and Canada with an instant data connection. 
Features
Manage multiple numbers 

Global number selection

Free international call from your phone to any mobile or landline phone number

Free SMS text messaging online
Cost
Dingtone lets you make free international calls over the data connection. If you want to use the phone network, you can still make free calls from the Dingtone-to-Dingtone app. 
Or, you can use Dingtone credits to make low-cost international calls anywhere in the world.
Security
Dingtone provides a second phone number that looks like a real number but is accessed from the app to send calls and texts. This ensures the privacy of your personal data and does not require purchasing a new SIM card.
Twilio is a free phone number app that helps you send, receive, and monitor international calls and SMS messages worldwide. 
Uses
With Twilio, you can create omnichannel communication channels, protect transactions, prevent sign-up fraud, and unify customer data to boost engagement.
Features
Monitor your phone numbers' complete lifecycle from provisioning to reporting

International phone number selection

SIP forwarding

Free video calls on one-on-one
Cost
Twilio's pricing starts from $0.05 per active per month and comes with cross-channel communication on SMS, phone calls, MMS, Chat, and WhatsApp. The plan allows you to enjoy free video calls, archive and recall your conversation history, integrate backend business systems, and verify caller identity. 
Security
Twilio improves the security of your phone number by verifying caller identity and filtering any spam or fake callers.
If you are looking for a TextFree alternative that primarily deals with texting and SMS marketing, ProTexting is an excellent option.
Uses
With ProTexting, you can get a free phone number instantly and start sending SMS and MMS instantly to your customers.
Features
Send free text messages to group

Two-way messaging

SMS autoresponders

Contact management
Cost
ProTexting has five pricing plans – Free Trial, Startup, Economy, Standard, and Premium.
The Free Trial lasts for 14 days and comes with free incoming messages, MMS tools, 50 credits, and one keyword.
With the Startup Plan, you can get up to 1000 credits, MMS features, and instant access to text codes for $49 per month.
Under the Economy Plan, there are additional tools, such as two keywords and up to 1700 credits, for $79 per month.
The Standard Plan starts from $149 per month and has 3300 credits and up to four keywords.
Under the Business Plan, you can buy 6700 credits and six keywords for $299 per month.
Security
This free texting app ensures data security by providing a separate number for sending SMS and MMS. Here, you can share images, texts, and other media files without affecting your personal information.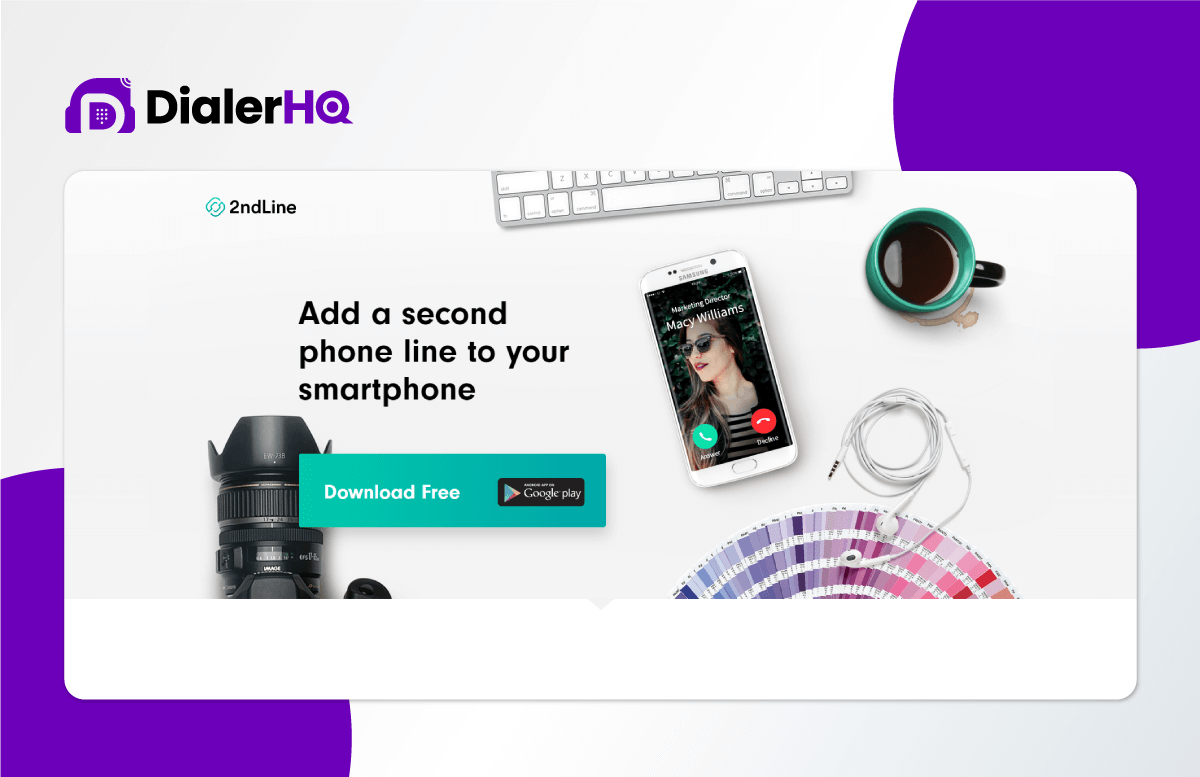 2ndLine is another well-known TextFree alternative that lets you make international calls at an affordable price. It provides a second line to your smartphone for sending calls and texts privately.
Uses
Using 2ndLine, you can make international calls or send SMS messages from the US or Canada.
Features
Make free calls using your cell phone

Choose from a list of international phone numbers

Unlimited calling and texting in the US and Canada

Send free text messages
Cost
2ndLine is completely free to use for making international calls to the US and Canada with an active internet connection. 
Security
By providing an additional phone line, 2ndLine ensures privacy by keeping personal and work-related calls separate.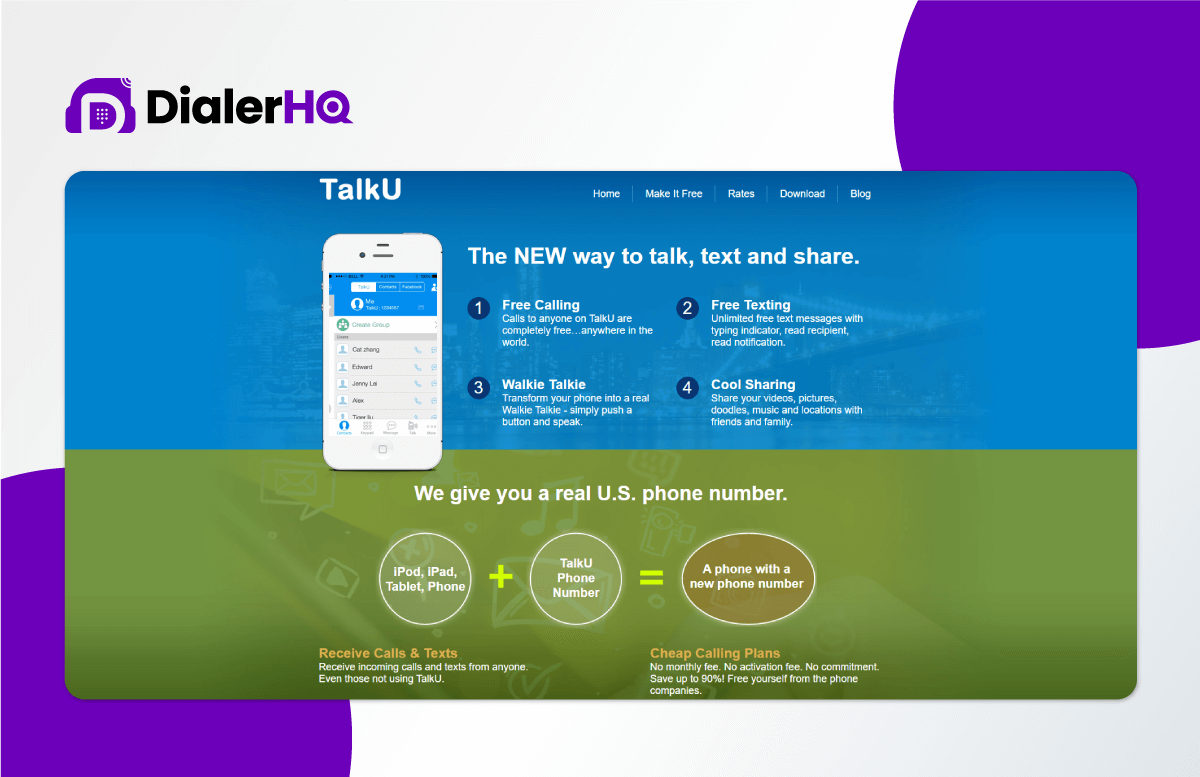 Ideal for those living in the US, TalkU provides users with a real US phone number to help them make calls, share files, and send files for free anywhere in the world.
Uses
TalkU gives you a free phone number to make international calls, enjoy video calls, and send MMS messages online. 
Features
Voicemail customization

Screen all incoming calls

Inexpensive international calls

Send unlimited SMS messages
Cost
TalkU lets you make free international calls over the data connection. If you want to use the phone network, you can still make free calls from the TalkU to TalkU app. 
But if the recipient is not on TalkU, you can still make affordable international calls to any phone number in over 200 countries.
Security
TalkU ensures your privacy by masking your real identity while making calls through the web.
Conclusion
While TextFree is an excellent virtual calling and texting platform, its availability only in the US makes it difficult for people living in other countries to access it. Fortunately, there are various alternatives to TextFree that offer similar or more functions at lower costs. 
So, which TextFree alternative should you choose? Depending upon factors such as ease of setup, features, pricing, and security, you should select the platform that best suits the needs of your business.
Don't settle for less. Upgrade to DialerHQ
Make international calls & texts without buying a SIM card.