Best Aircall Alternative
Looking for the best Aircall alternative? Switch to DialerHQ– the best alternative to Aircall that is feature-rich, comprehensive, affordable, and simple to use. Here is the complete analysis– feature by feature.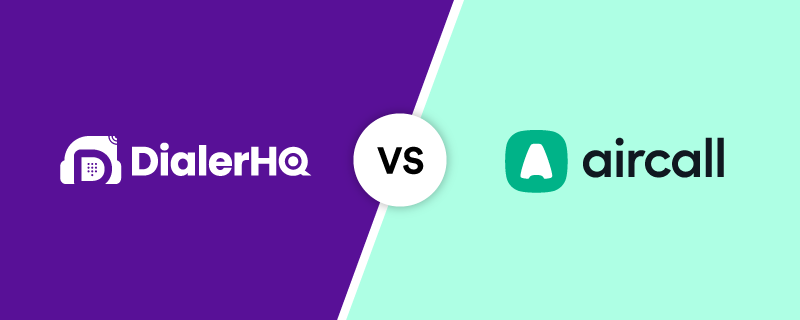 Why is DialerHQ the Best Aircall Alternative?
DialerHQ is the best alternative to Aircall, offering a range of features that significantly enhance your business communication. In addition, its user-friendly interface, worldwide network, 24/7 customer support, and affordable pricing options further contribute to its popularity.
Cross Platform
Desktop, Android, and iOS
Innovative Features
Auto-attendant, IVR & Analytics
Easy-To-Set Up
Start making calls within minutes
Aircall Vs DialerHQ: Feature-by-Feature Comparison
| Feature Comparison | DialerHQ | Sideline |
| --- | --- | --- |
| Call Quality | Excellent | Average |
| User Interface | User-Friendly | Complex |
| Network Connectivity | High | Weak |
| Administration | Flawless | Needs Improvement |
| Security | Enterprise-grade | Weak |
| Customer Support | Multi-channel | Minimal |
| Pricing | $10 per month | $30 per month |
(Disclaimer: The information provided in this comparison table is accurate to the best of our knowledge but may be subject to change.)
Sign up for DialerHQ today and enhance your global presence!
DialerHQ allows you to reach out to customers in multiple countries with local numbers to build brand credibility. Try it now.
Get Started With DialerHQ in 4 Easy Steps
Embark on your DialerHQ journey now by following the 4 simple steps outlined below.


Choose your custom virtual number & make the payment.

Configure your account, features, and settings.

Start making and receiving calls anytime, anywhere.
How much does a DialerHQ subscription cost per user or per month?
Frequently Asked Questions
DialerHQ is indeed one of the top Aircall competitors out there. This is because it houses a range of quality features, offers quality customer support, has affordable pricing options, and is easy to use. All these factors make it one of the best Aircall alternatives.
The cost of Aircall per month depends on the plan you choose as well as the number of users. However, The minimum plan starts at $30 per user, per month.
Just like DialerHQ, Aircall is a cloud-based phone system that is primarily used for business communication. It provides virtual phone numbers and comes with call center features, allowing organizations to make and receive calls from anywhere, at any time, at affordable rates.
Yes, it is 100% safe to use Aircall. The provider uses TLS 1.2 and AES 256 encryption methods to encrypt both your data in transit and during storage.
Don't settle for less. Upgrade to DialerHQ
Make international calls & texts without buying a SIM card.